In Debut Novel, Meghan MacLean Weir's 'The Book Of Essie' Explores A Life Of Uninterrupted Spotlight
When you're immersed in a political smog as thick as the one that's descended on 2018, shapes can be distorted, sounds can be confusing. For example, in recent months you might think you had misheard many evangelical leaders support — and even praise — a president with a public history of serial adultery, boorish behavior toward women, and cruel disrespect to military families grieving for lost loved ones.
Oh wait, all that happened. And here we are.
Given this ethically muddled landscape, the opening sentence of Meghan MacLean Weir's novel "The Book of Essie" incites a nod of cynicism more than shock: "On the day I turn seventeen, there is a meeting to decide whether I should have the baby or if sneaking me to a clinic for an abortion is worth the PR risk."
The person narrating this extraordinary scene is Essie Hicks, a daughter in the spectacularly popular reality TV series "Six for Hicks." What began years before as a Christmas TV special of her father preaching at their New Light megachurch has burgeoned into a long-running chronicle of the pious, attractive and ever-growing Hicks family. The Hicks seem a mashup of the Kardashians and the Duggars, overlaid with brittle sophistication.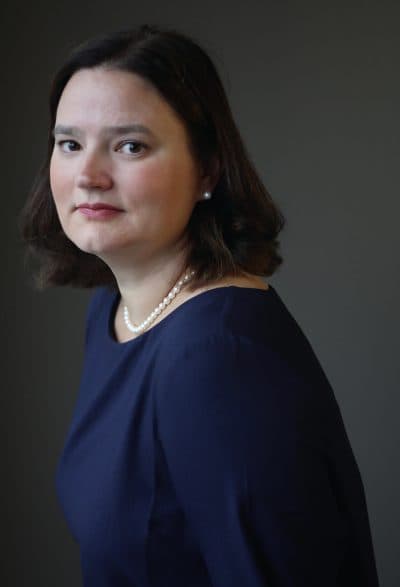 Having grown up on camera, Essie is hyper-aware of how her every action — at school, at home, in church — is perceived. She is also sharply adept at seeing right through others' words to the motivations behind them.
Weir, who is a physician in greater Boston, is the author of the memoir "Between Expectations: Lessons from a Pediatric Residency." Even though she was not raised in a reality-TV family, Weir does have some experience being in the public eye: she grew up in the rectory of an Episcopal church in Southbridge, Massachusetts, where her father was the pastor.
Essie's social radar is especially sensitive to the words and deeds of her mother, a woman whose outward piety masks her obsession for luxuries and her constant craving for the manic devotion of her fans. Weir does a fine job of portraying Essie initially as a teen whose mindset is reflexively strategic, and increasingly as a young woman with an elegant intelligence and a beating and quite breakable heart.
Essie does not want to have an abortion, but she also does not want to marry the baby's father (whose identity remains unknown for much of the novel). What she wants is to escape her family. Through the years, she has figuratively curled her lip at how her parents have shifted priorities to secure as much income as possible from "Six for Hicks," whether it's the carefully chosen tie her father wears for his sermons, or the college one of her older brothers attended (it was "a bit liberal for my parents' taste, but the campus looked lovely on camera"). Her mother publicly rails against abortion and her father skillfully transforms any occasion into evidence of a national war on Christians (as when spring school vacation does not coincide with the Easter holiday). Weir gives just enough depth to the parents to keep them a step above cartoon villainy; they're soulless, grasping humans.
Essie has warmer feelings for her father than her mother, but these are complicated. She knows their TV kingdom is built on the foundation of her father making people, as she sees it, "afraid of the very worst versions of themselves." Her unexpected pregnancy is her ticket out.
It takes some convincing, but Essie manages to persuade Roarke, a high school senior from the other side of the economic tracks, to stage a romance with her that will culminate in a nationally broadcast wedding. Roarke has always stayed well away from the Hicks, but he has his own reasons to collaborate with Essie and escape their small midwestern town.
Essie and Roarke embark on a kind of cracked-mirror Romeo and Juliet affair: much intrigue is hidden from the four parents, but both families are thrilled about the nuptials, anticipating it can only strengthen their houses. Events progress at a page-turning pace, in a story told in rotating perspectives of three main characters: Essie, Roarke and Liberty, a journalist and former member of an extreme religious cult, whom Essie has enlisted to tell what could be a bombshell of a story about Essie and the entire Hicks family. Each chapter is written as first-person, which generates elements of both immediacy and unpredictability; although, the three main characters all relate their stories in a somewhat flattened voice. If you open to a page without looking at the chapter title, you might not be able to immediately distinguish one narrator from the next.
To his surprise, Roarke is drawn to some aspects of being a new reality TV star. As a stylist attends to his face and hair, he considers "It's not that I look any different, not really, but somehow the makeup blots out more than just my imperfections. It makes me feel like I'm covered in armor and impenetrable…"
We live in an era when you don't have to be a reality TV star to feel like your every action could be monitored — you just have to own a smartphone. "The Book of Essie" proves to be a tale built on timely, contemplative topics: like the perils of adapting too well to a life in the uninterrupted spotlight; whether it's possible, or desirable, to escape the long reach of family; and ultimately, whether it's possible to create your own self while still caught in the strong gravitational field of those who created and tried to shape you.
---
Meghan MacLean Weir will be discussing "The Book of Essie" at Brookline Booksmith on Tuesday, June 12 at 7 p.m. and at The Concord Bookshop on Thursday, June 14 at 7 p.m.