For Fitchburg, A 64-Foot Paper Airplane Is More Than A Paper Airplane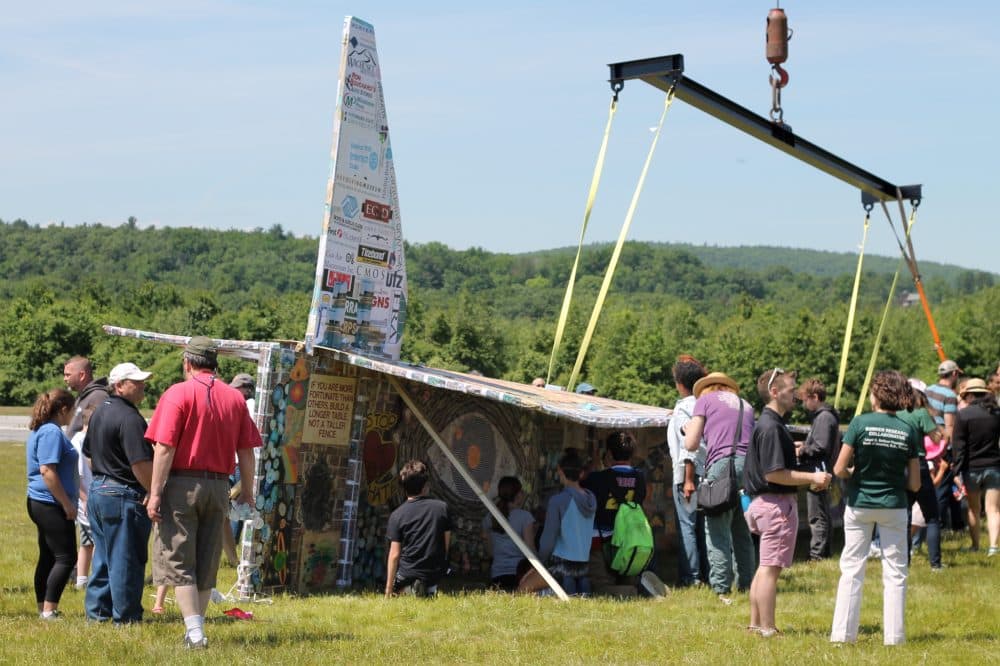 This article is more than 3 years old.
You know the little paper airplanes you'd fold in class and throw when no one was looking? This is a story about one of those, but much bigger. No, bigger than that. Really big.
Jerry Beck, the founder and artistic director of the Revolving Museum, unveiled what he's calling Project Soar on Tuesday morning at the Fitchburg Municipal Airport. At 64 feet long and about 1,500 pounds, the paper airplane may be the largest paper airplane sculpture in the world.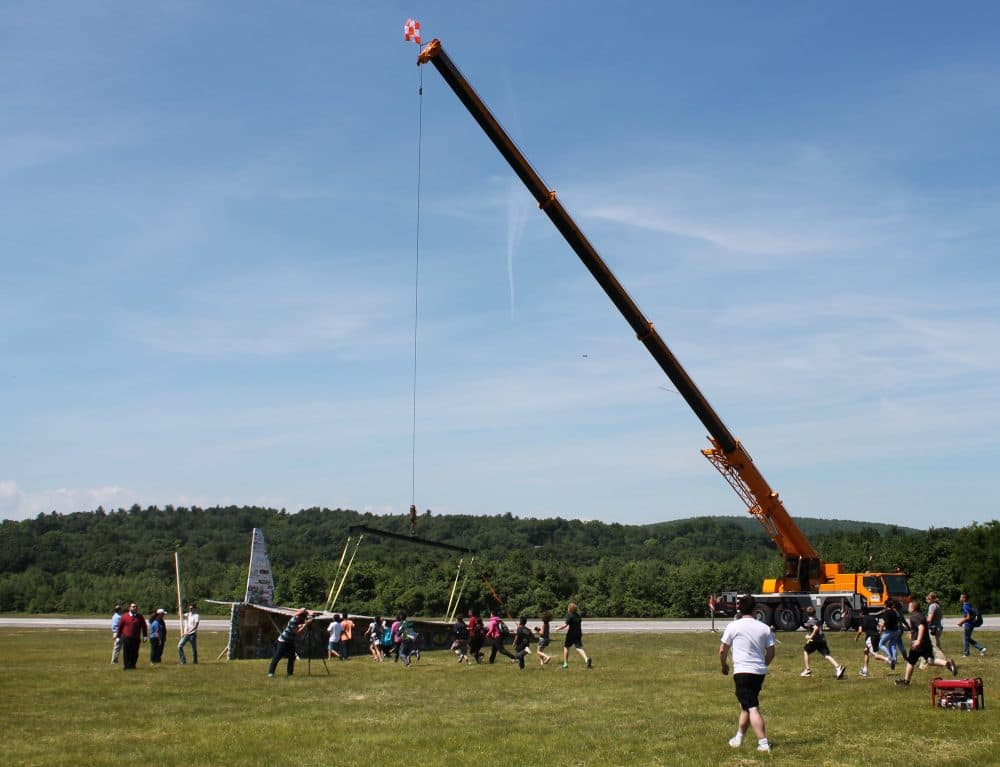 It all started about three years ago, with a paper airplane in the eye. Georgie, now 12, had hit her father, Jerry, with the tip of a plane she brought home from school. After a brief father-daughter talk about safety, there was a request: She wanted to make the world's largest paper airplane.
With a father like Beck, that idea didn't just filter into the ether. Beck just happens to specialize in grandiose public art projects and community collaborations. His organization, the Revolving Museum, is known for creating things like a four-story pinball machine and refashioning abandoned railway cars into gallery spaces.
"I couldn't say no to my daughter," Beck remembered. "I mean, I only have one daughter."
So, they set to work. But Beck decided they shouldn't just aim to make the largest paper airplane, they should also engage as many people from the community as possible. He rounded up more than 5,000 people — artists, high schoolers, children, residents across the state, civic leaders, engineers — to give his daughter's idea life.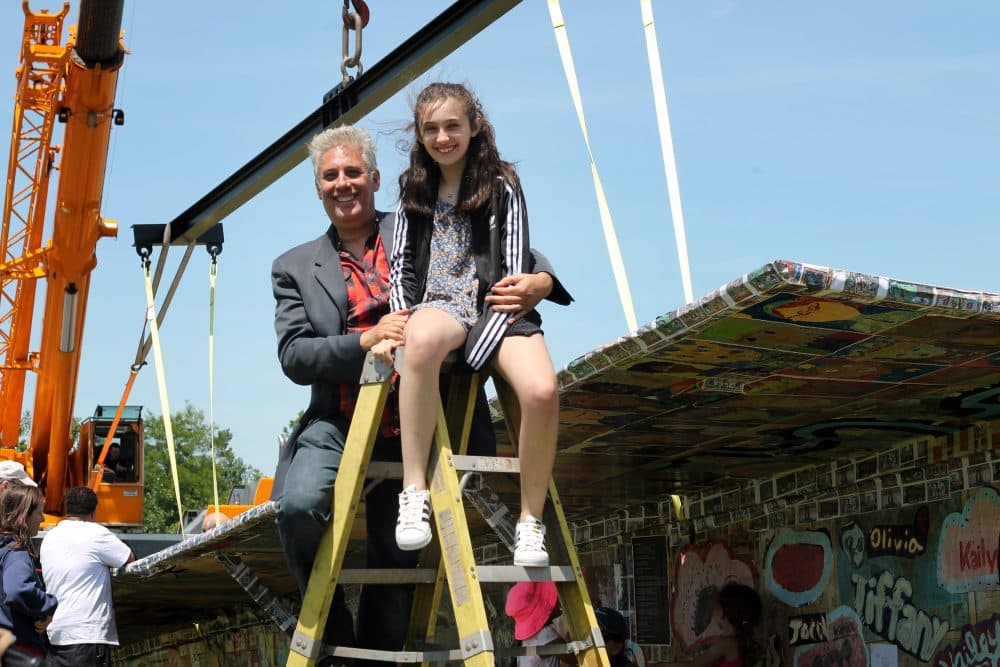 They made the body of the sleek paper airplane out of one-inch-thick corrugated cardboard. Then they collaged it with their drawings, photos, poetry and even historic documents.
One of the images affixed to the underside of the plane's wing is a 12-foot print depicting the Nashua River.
Artist Kathryn Finelli, who was raised in Fitchburg, created the piece to tie the paper airplane back to the city's past as a top-producing paper mill.
"It shows the Nashua River Way," she explained on Tuesday, "once polluted by the very paper mills this plane is connected to, but now represents renewal, restoration and revival."
The public art project linked the Fitchburg community to communities all the way in Worcester, Boston and Nashua, New Hampshire. Beck asked students and citizens to leave their unique, artistic mark on the plane — whatever that may be.
"Artists have always changed the world," Beck said. "Every important movement in the world, artists have been at the forefront. And it's about your creativity. That's important. It's not about if you could do a perfect painting in a museum, it's about being creative in your everyday life."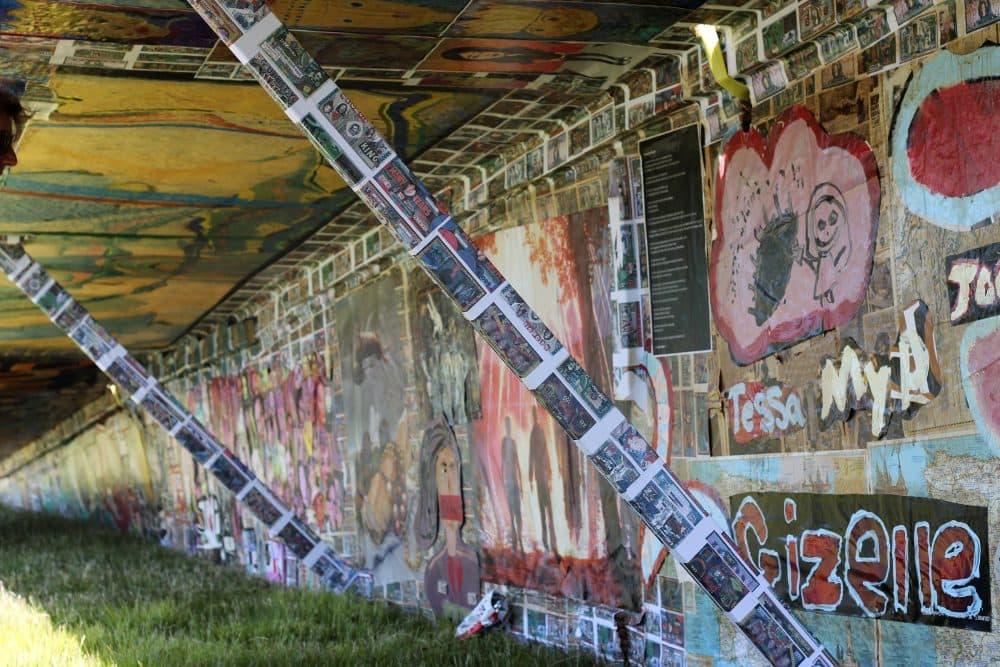 Matthew Kroch, a 17-year-old rising senior at Fitchburg High School and a member of the Fitchburg Cultural Council, said the project is also a testament to how cultural diverse the region is.
"We knew that this project would be big, and just very extravagant. But we didn't really imagine that it would be this big," he said, looking at the unveiled project in the airport field on Tuesday morning. "I mean, there are people from all over the state here, right now, in Fitchburg."
The plane was suspended in the air by a crane for a short time on Tuesday morning but the organizers said it was not safe for the creation to be airborne. Afterward, independent judges measured the creation to submit to the Guinness World Record. They want to create a new category for World's Largest Paper Airplane Artwork, or Sculpture.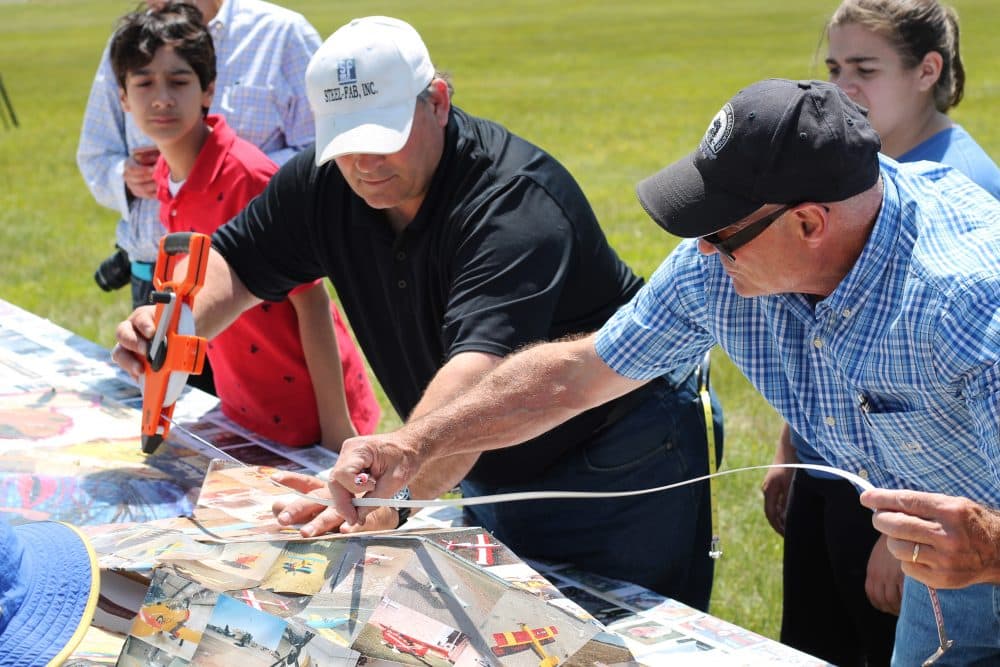 There's currently no category for just size. However, there is a record set for Largest Paper Aircraft. The Braunschweig Institute of Technology in Germany created a paper airplane in 2013 with a wingspan of 59 feet. It flew a distance of about 59 feet.
Over the next year, the organizers say they will see if Project Soar could go airborne — and beat that record. They'll be moving to a larger space at the Tenderness Gathering Place in nearby Lunenburg to expand the wings.
"Everybody is inspired by paper airplanes. Everyone has flown one," Beck said. It's "an act of wonder, you know, to see it fly and move through space like that."