How Your School District Scored On The MCAS Over The Last 10 Years
Though Massachusetts public schools rank first in the nation, significant disparities remain between various demographics: White students, for example, score higher on the MCAS than minority students or English language learners. There are also significant score disparities between individual school districts.
The interactive above allows you to see some of those gaps for yourself.
Use the dropdowns to select:
an MCAS test (math, English or science);
the statewide results, a school district, charter school or vocational school;
and, if you like, a particular demographic group, including students with disabilities or English language learners.
The resulting charts show you how the students you chose scored on a specific section of the MCAS test over the last 10 years.
The amount of green in a given year reflects the proportion of 10th graders who are meeting state standards on the test. Students who fail to score in the green — proficient or higher — are asked either to retake the test or to demonstrate their competency in other ways in order to receive a high school diploma.
Here, for example, are the math MCAS scores for Lawrence. Many of the city's students aren't meeting state standards on that exam. However, the percentages of students scoring advanced or proficient has increased in recent years (a state-appointed receiver has run Lawrence Public Schools since 2012):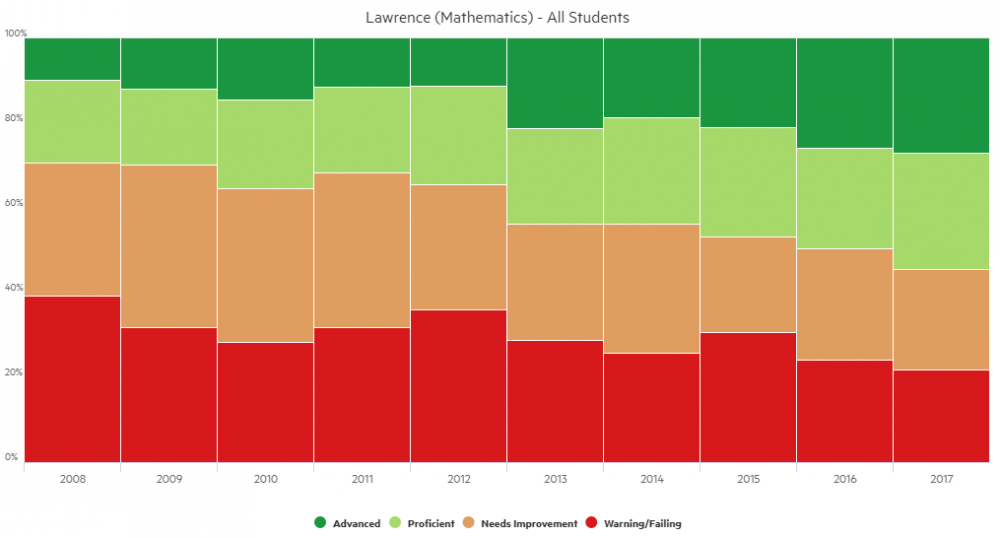 Or, on a bigger computer screen (like a desktop), you can compare two districts side by side. (That option isn't available on your mobile screen.)
Here, for instance, is Lexington, left, and Fitchburg. As you can see, the vast majority of students in wealthier Lexington scored advanced or proficient on the English MCAS exam. In Fitchburg, where almost two-thirds of students are considered "economically disadvantaged," scores were consistently lower than the state aggregate: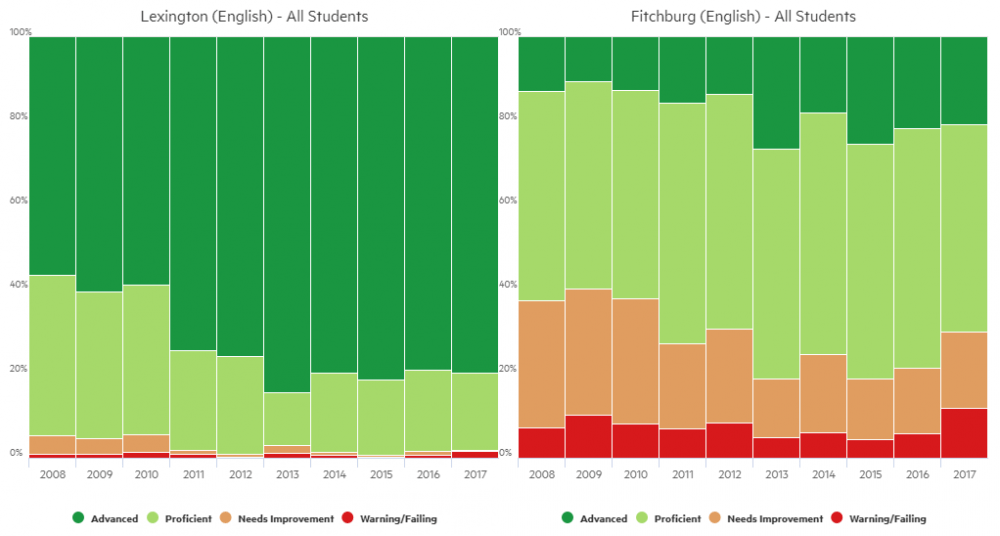 A note: These scores are from what is now called the "legacy" MCAS test. A new version of the test was first administered to grade schoolers in the spring of 2017. (That test has been described as more difficult.) High school students will take that exam for the first time next spring.
This interactive is part of our series examining accountability in the 25 years since Massachusetts lawmakers passed the 1993 Education Reform Act. You can find the full series here.
Join our Facebook group to continue the conversation with other parents, teachers, administrators and WBUR's education reporters.