In The Running For Amazon's HQ2, Suffolk Downs Turns Toward Redevelopment
Play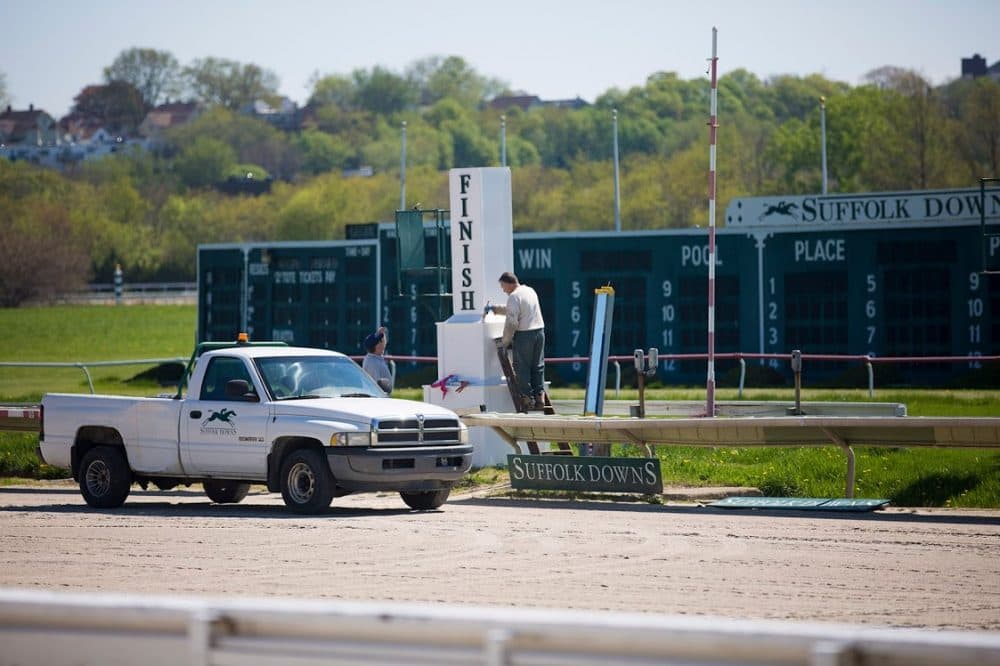 This article is more than 4 years old.
The Suffolk Downs racetrack is one of 20 sites still in the running to become Amazon's second headquarters. The stakes: 50,000 high-paying jobs.
A decision by the retail giant is expected this summer, and as the competing bidders enter the home stretch, oddsmakers say Suffolk Downs is a sound bet.
But win, place or show, redevelopment of the historic racetrack will transform the region far into the future.
$155 Million For 161 Acres
When it comes to being a prime piece of real estate ripe for redevelopment, Suffolk Downs has it all: location, location, location. The track borders Boston's unique nature preserve and recreation area, Belle Isle Marsh; it's within minutes of Logan Airport; and with two Blue Line stops along the track's backstretch, it's a 12-minute ride to downtown.
But challenges come even with that location.
"We like big, complicated projects. The more complicated the better for us," said Tom O'Brien, founder and managing director of the Boston-based HYM Investment Group.
He said that's "because we think we can get it at a better price," O'Brien said.
HYM paid $155 million for the 161-acre racetrack site. It's the largest redevelopment project in the region — more than twice the size of the Boston Public Garden and Boston Common combined.
Complicating matters is the fact that a third of the property is in Revere, and the rest is in Boston — meaning O'Brien has two local governments to deal with.
"I've done probably 250 different meetings at this point now between East Boston and Revere since May of 2017," he said.

The pace of the project picked up and the original design changed last fall, when Amazon sent out a request for proposals for a second headquarters.
To enable HYM to compete in the bidding, O'Brien got a temporary waiver of state environmental regulations.
His original plan called for building 5.25 million square feet of commercial office space on the site and 450,000 square feet of retail, plus 10,000 housing units.
The Amazon version would increase the office space by 50 percent, and reduce residential housing to 7,500 units. Amazon wants at least half a million square feet of office space ready to occupy in 2019.
Community Concerns
Suffolk Downs is hallowed ground for thoroughbred racing. Some of the greatest horses in history, including Seabiscuit, ran there on the one-mile clay track.
The racetrack was built in the Great Depression. Originally it was supposed to have been a residential community, but the builder went bust.
A bid to turn the fading track into a casino lost in 2014. It was a come-from-behind community effort that many in the area now want to repeat.
"In many ways I'm hoping that Amazon does not choose Boston," said Madeline Steczynski, a longtime East Boston resident. "It's nothing against them. I just hope they'd move to a place where the impact wouldn't be so harsh."
Steczynski calls East Boston her "beloved neighborhood."
"In my perfect scenario, I would love to see a lot of open space and a lot of humble housing for hard-working people," she said. "I would love to see it be an extension of the kind of community that East Boston has been for years."

James Aloisi, who was born in East Boston, said that what makes the neighborhood an exciting place to live is its diversity. He said he appreciates the impact thousands of jobs Amazon would bring to the area, but he has concerns.
"Certainly the highest and best use of Suffolk Downs is as a development site, not as a racetrack, so this is all to the good," he said. "The question will always be, what does that development look like? Is it conducted in a way that makes sense from a mobility perspective, and from a community quality of life perspective?"
Aloisi is a former head of the state's Department of Transportation. Mass transit is his No. 1 concern.
"This is all an urban ecosystem. Suffolk Downs is connected to it. We've got to make sure that it all works in a coherent way," he said. "It's also about how you give people who live in Revere and East Boston — and who will be living at Suffolk Downs — the social and economic justice to move freely around to access important institutions like Mass. General Hospital, which they cannot do today on the Blue Line."
Aloisi said connecting the Red and Blue lines downtown is critical if redevelopment of Suffolk Downs is to be successful.
O'Brien said that the region can't grow unless it invests in two things: more housing and better transportation.
He sees the redevelopment of Suffolk Downs as more than a collection of mixed-use buildings, office space and apartments.
"This is really about building a community, so we think there's a great opportunity to create a diversity of housing types," he said.
But what about all those public institutions that communities typically have, like libraries and schools?
"Public is public space," O'Brien said, adding that 40 acres of the site will be dedicated to public open space.
He also said that retail is a big priority for the Suffolk Downs redevelopment.
"The fundamental part of making these things successful is to have great retail," O'Brien said. "People want to be where there's interesting, active places to have a meal, to go shopping. That's what makes community."
O'Brien predicts that redeveloping Suffolk Downs — turning it from a racetrack into a community — will take 15 or 20 years, with or without Amazon.
"We have a great vision," he said. "We had that vision before the Amazon process started, and we'll have the same vision afterwards."
Amazon says it'll choose the site for its $5 billion "HQ2" in the coming months.
The last race at Suffolk Downs will be run in August.
This segment aired on June 19, 2018.