In 'Black Memorabilia,' Boston Filmmaker Shows How Some Profit From Racist Objects
03:23
Play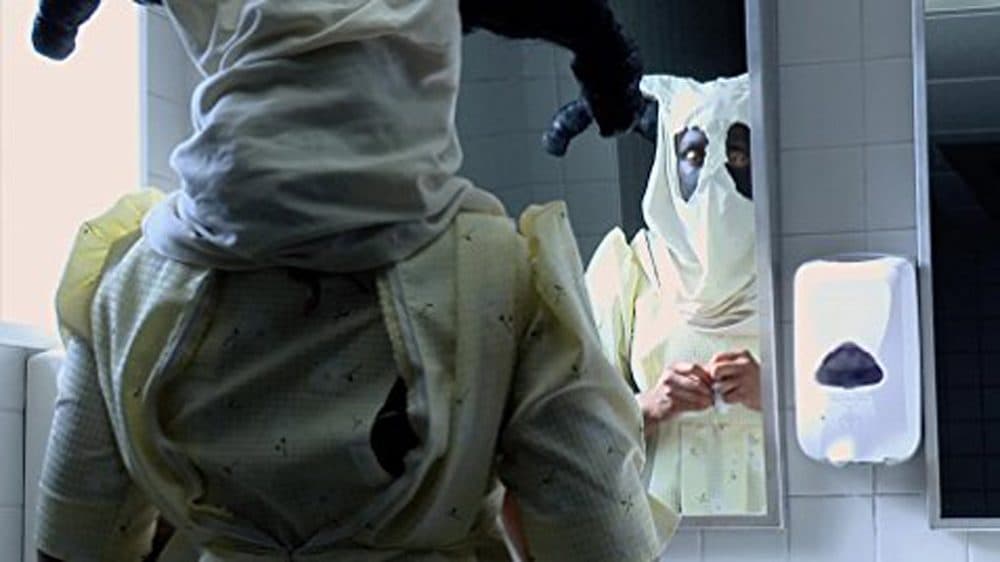 This article is more than 3 years old.
Boston-based documentary filmmaker Chico Colvard's latest film, "Black Memorabilia," begins in a remote village in China. A family of iron workers there works in the same mines as their ancestors toiled within for hundreds of years.
The village lies outside Shijiazhuang, the capital and largest city of North China's Hebei Province, which is more than three hours from Beijing. After a long day's work, the family gathers to watch television. The family sees news of racial unrest in the U.S. and reports of what the "Black Lives Matter" movement seeks to accomplish.
The next day, the family goes back to work, making hundreds of objects called "jolly n----- banks."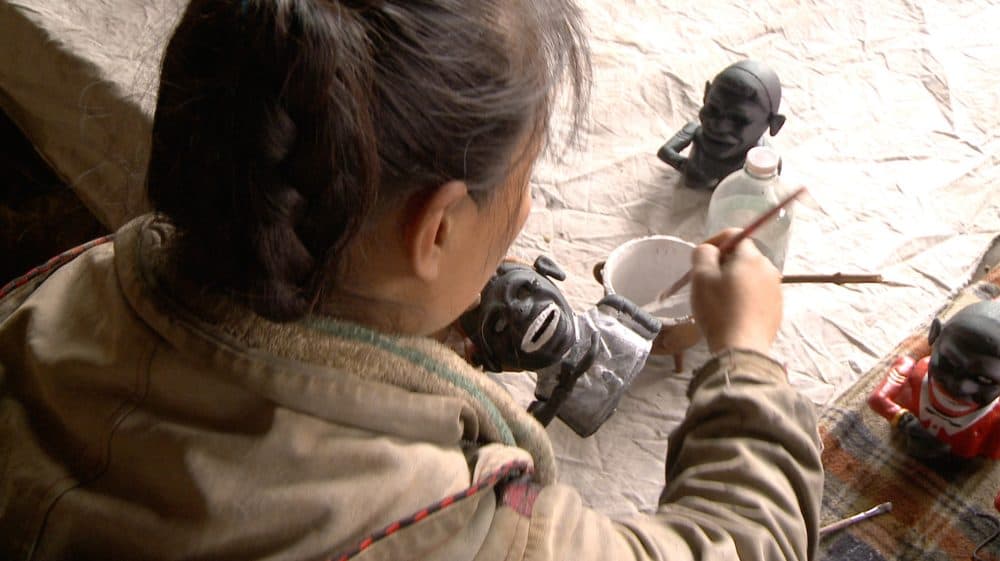 The small, hollow vessels are reproductions of vintage coin banks. Picture an iron bobble-head — a cartoonish, racist depiction of a black man with exaggerated features. One of the women in the family painstakingly colors every inch of the money bank, and then wonders where the hundreds of objects are shipped.
"Like everyone, I've always had some kind of relationship to black memorabilia. It's inescapable," Colvard, who is also a professor at the Massachusetts College of Art and Design, said in a recent interview. "I was the first one to run to the TV and watch "Little Rascals" and not realize how racist the imagery of Buckwheat — and how damaging — that imagery was in my relationship with my white friends."
"Black Memorabilia" also profiles a white southern antique dealer named Joy who sells these racist artifacts.
"Right now, black history is probably the hottest collectible going," Joy says. "Seems like if there is anything that relates to a black person at all, somebody brings it up at the show."
She also sells Nazi and civil war memorabilia with racist imagery at antique shows across the U.S.
Unlike the caricatured, dehumanizing objects Joy peddles, Colvard presents the collector in a nuanced, fully human way — showing her dancing with her partner, hanging out with friends at an American Legion get-together, showing off her collectibles.
"I really wanted to begin exploring sort of ways to move beyond, I guess indicting people, really, because it just seemed like a nonstarter to me," Colvard said.
Colvard sought to subvert the expectation that as a black filmmaker, he'd have to unpack his feelings about the memorabilia in the film. If he were white, he said, that kind of inserted point of view would never be expected of him.
"I resisted being the angry black man — intentionally so. It's not that I'm not angry. It's not that I'm not black. I'm all those things," he said. "But I thought this conversation could go further if I did something a little bit more subversive, a little bit differently."
In the final act of the film, Colvard introduces us to Alexandria Smith, a black artist who uses blackface in performance and visual art in Brooklyn, where she's showed her work at various galleries.
In one scene, she dresses like a little girl she's imagined named Marjorie, wearing a floral, prairie dress. Her face is painted with deep black paint, and she wears a pillowcase over her head with big holes around the eyes that reveal her painted skin. Smith feels uncomfortable in the costume, but it somehow also feels necessary, she says in the film.
"[I'm] reclaiming it and trying to take ownership of it, and control and power away from those that were using it to hurt us," Smith adds.
Colvard's documentary is a thought-provoking meditation on how society still thirsts for these racist objects — and how those who trade in them profit while others feel the weight of their harm.
---
"Black Memorabilia" will play on Saturday, June 23 at the Museum of Fine Arts as part the 20th annual Roxbury International Film Festival. The festival runs from June 20 to June 30.
This segment aired on June 20, 2018.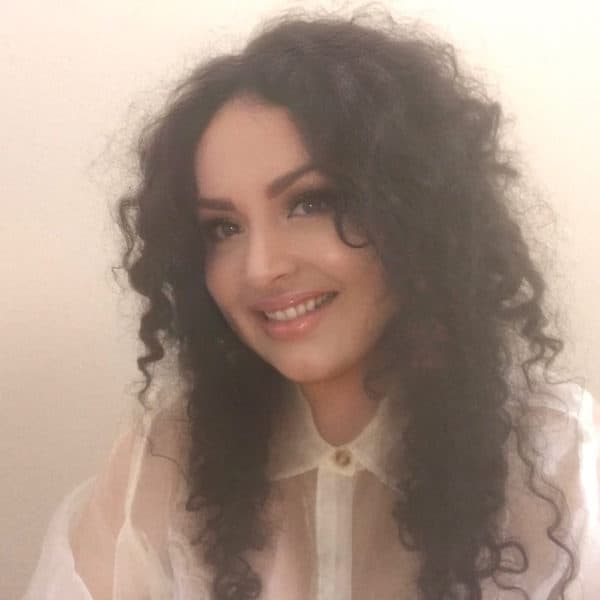 Maria Garcia Managing Editor
Maria Garcia is WBUR's Managing Editor and the creator of "Anything for Selena."