'Born For This' Brings The Music, If Not The Life, Of BeBe Winans To The Stage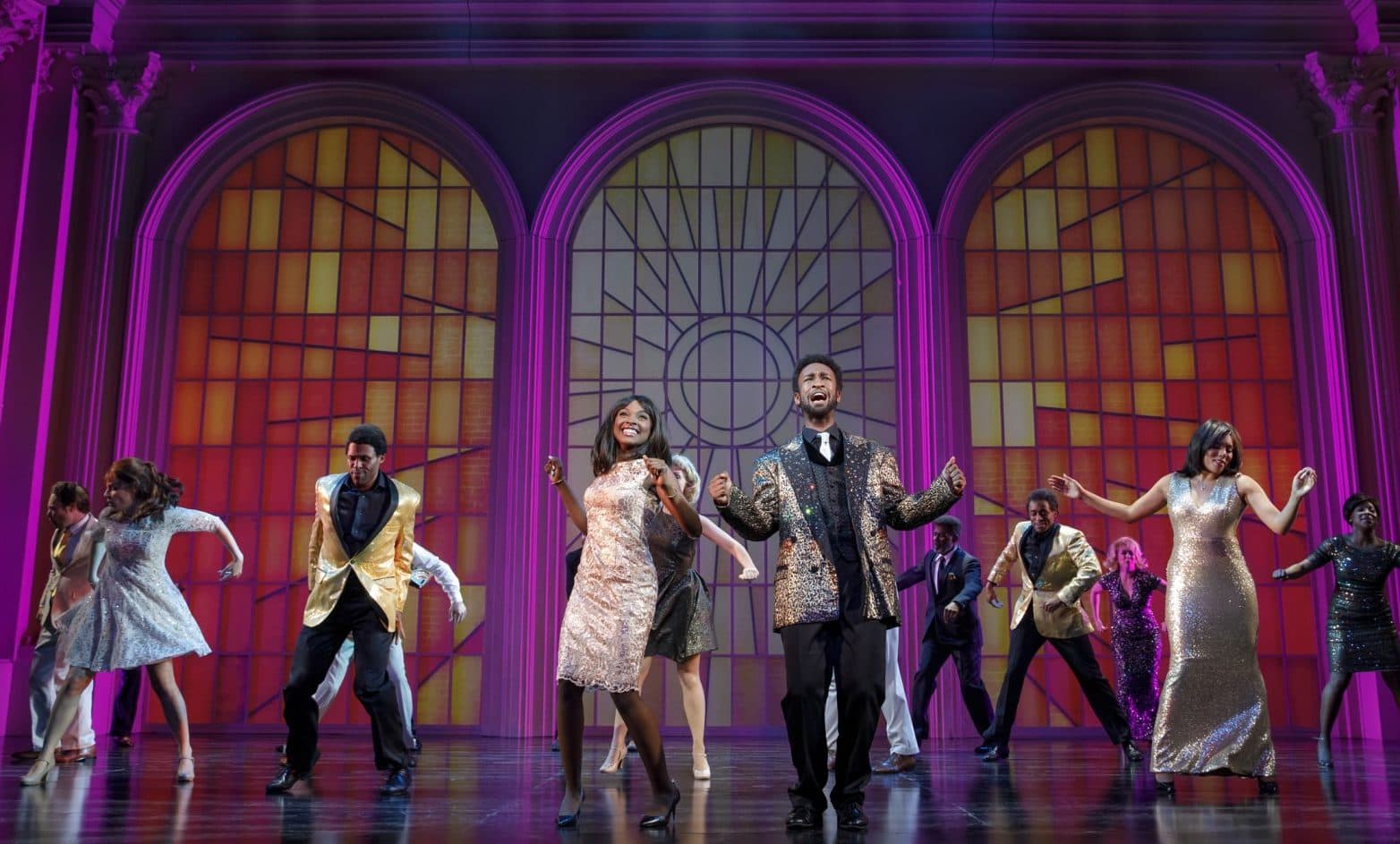 This article is more than 4 years old.
Every inch of the glossy "Born for This" — the autobiographical musical about BeBe Winans that's playing at the Cutler Majestic through July 15 — looks ready for Broadway, from Neil Patel's expressionistic scenic design to Jason Lyons' theatrically painterly lighting, and from William Ivey Long's knockout costuming and Warren Adams' choreography to Charles Randolph-Wright's direction. The songs range from soft pop to fiery gospel, and the singing is excellent. This is a musical with a capital M. Yet the production's sheen varnishes over dramatic bumps and grooves that might, if allowed, give the show a greater sense of authenticity. For all its verve and technical mastery, experiencing this show is a little like listening to an all-digitally sourced CD and missing the crackle and vitality of analog recordings on vinyl.
The story is drawn from Winans' own life and career, with the six-time Grammy winner writing original music and lyrics for over two dozen songs that chart the journey of his teenage self (played by Donald Webber Jr., magnetic in the part) and his younger sister CeCe (Loren Lott, who brings sweetness and smarts to the character). Presented with an unexpected opportunity, the two venture from their family home in Detroit to North Carolina, where they join Jim and Tammy Faye Bakker's "Praise the Lord" program, and, eventually, establish their own recording careers. It's a curious path for two of the younger members of an already successful musical family to take — their older brothers had already found success as The Winans, a Temptations-like quartet — but it's also inherently dramatic and validating. After all, until the PTL gig, BeBe had been relegated to serve as his brothers' driver.

Those who remember televangelist Jim Bakker (convincingly played here by Chaz Pofahl) probably recollect that he fell from grace, convicted of financial crimes, while his celebrated wife Tammy Faye (a scene-stealing Kirsten Wyatt) went on to find a new level of more mainstream, if campy, celebrity. The play offers another view of the Bakkers, starting with the way they integrated their television program; CeCe and BeBe are the first African-Americans to be included among the PTL's vocalists, joining the broadcast in the early 1980s.
"Born for This" recounts an ugly racist backlash, but Jim and Tammy Faye evidently mean it when they say they regard BeBe and CeCe as their spiritual children, and they protect the siblings accordingly ... even though the Bakkers do play to racist stereotyping, insinuating that brother and sister are sinners saved from lives of prostitution and drug addiction. (The musical revels in the irony of this, presenting CeCe and BeBe as unblemished in faith and sheltered to the point of being shocked by the sort of everyday profanity that the spirited Tammy Faye sometimes lets fly in off-camera moments.)
Jim Bakker's crimes are acknowledged here, but only in passing, which is how "Born for This" approaches anything that smacks of human failing. When CeCe falls in love and gets engaged after she and BeBe achieve stardom, BeBe takes it hard: He accuses her of being "selfish" and sabotaging their careers, though clearly he's the one too focused on his own ambitions. These family tensions are echoed in the way their older brothers express envy and resentment at how BeBe and CeCe's success has eclipsed their own. But these sources of conflict never become central to the show.
It's only in Act Two that we discover where all this is going, as BeBe struggles to hold on to his faith while pursuing fame. Until then, any number of intriguing avenues open up and are then neglected, including a hint of romance between BeBe and Penny (Maddie Shea Baldwin), a white woman and fellow PTC vocalist. This is touched upon twice: The first time, BeBe, focused on his songwriting, fails to notice Penny's signals of interest; the second time, Tammy Faye — her maternal protectiveness lapsing — warns BeBe that either his friendship with Penny cools off, or Penny's prospects for continued employment with PTL do. Gallantly, BeBe steps back from his relationship with Penny, but because that relationship is left largely undefined it's impossible to know how much of a sacrifice this really is.
Similarly, we hear a lot about BeBe's drinking and gambling, but we never see him in a card game or drinking anything stronger than Diet Coke. Just how much danger does the world at large pose to his soul?
BeBe and CeCe were destined to record eight albums together (not counting their first record, a single they recorded for PTL); the siblings also performed with Whitney Houston and pursued successful solo endeavors. Any show about their careers has to be a musical, almost by definition, and there's no question as to the quality of the songs, the orchestra's performance, the singing, or the musical direction.
Even if you're not a  fan of easy listening — and many of the songs in this show are the easiest of easy listening — there are enough lively standouts to keep your ears excitedly attuned. Thrilling standouts like the rocking gospel song "I Got a New Home" (led by Milton Craig Nealy, in the role of Pop Winans) and the sweet and powerful "Seventh Son" (a solo by Nita Whitaker, playing Mom Winans) all but stop the show, and uplifting songs "Gotta Keep Movin'" and "Book of Life" fill the house with a joyous spirit.

---
"Born For This" is at the Cutler Majestic Theatre through July 15.