In 'Leave No Trace,' Debra Granik Crafts A Memorable, Powerful Coming Of Age Story
This article is more than 4 years old.
Anyone who enjoys deep woods camping, with just a tent and a sleeping bag, understands the shock of returning to civilization. It can feel almost disgraceful to resume daily habits like letting water run down the drain or bagging up plastic packaging as trash. It can be even more jarring to realize it's nearly impossible to live any other way.
In Debra Granik's masterfully crafted new film, "Leave No Trace," a dad and his teenage daughter attempt to live "off the grid." Do not miss this film. "Leave No Trace" is the best film I've seen so far this year and I expect to be talking about it again come awards season.
In the opening scenes, the film establishes Will (an intensely interior Ben Foster) and Tom (wise newcomer Thomasin McKenzie) as naturalists and survivalists, in harmony with the old growth forest where they've set up camp.
With limited gear, they forage for mushrooms, cook meals over self-sparked fires and play chess. They appear appropriately bonded and trusting of one another; if they spar it's over the outside world creeping in. It does so quickly in the film, with the first of many startling cuts to human-made sound, starting with a distant chain saw.
What the outside or "civilized" world wants to know, including the somewhat complicit audience, is: What are they hiding from? It takes the whole movie to find out. And unlike the legacy of escapism narratives that precede "Leave No Trace" (like "Into The Wild" or "Captain Fantastic"), where the need for isolation is suspect, this film uses the yearning for independence from human-made systems as a reason to root for its main characters. ("A lot of people like to imagine they could live the way you guys have lived," says Mr. Walters, a man who hosts them on his tree farm.) This is just one of a dozen searing one-liners that a less confident filmmaker would've fumbled.
Instead, Granik's taut screenplay (an adaptation of the novel "My Abandonment" by Peter Rock), co-written with her frequent collaborator Anne Rosellini, pairs spare dialogue with indelible imagery in one scene after another. For example, once officials extract Will and Tom from Forest Park (shot on location in Portland, Oregon), Will, a military veteran, takes a psychological test surrounded by a "forest" of computer towers. A mural of trees is wallpapered behind him and cars wiz by the window. A robotic voice asks, "It seems like no one understands me. True or false?" He couldn't seem more out of his element and the film begs to know how so many of us cope in simulated forests every day.
In a separate room, a social worker instructs Tom: "Don't make any stray marks… the computer can't tell the difference between bubbles and doodles," she says, underlining that society has intervened because Tom and her dad have strayed from the norm. Or that they're strays who just "need a good home."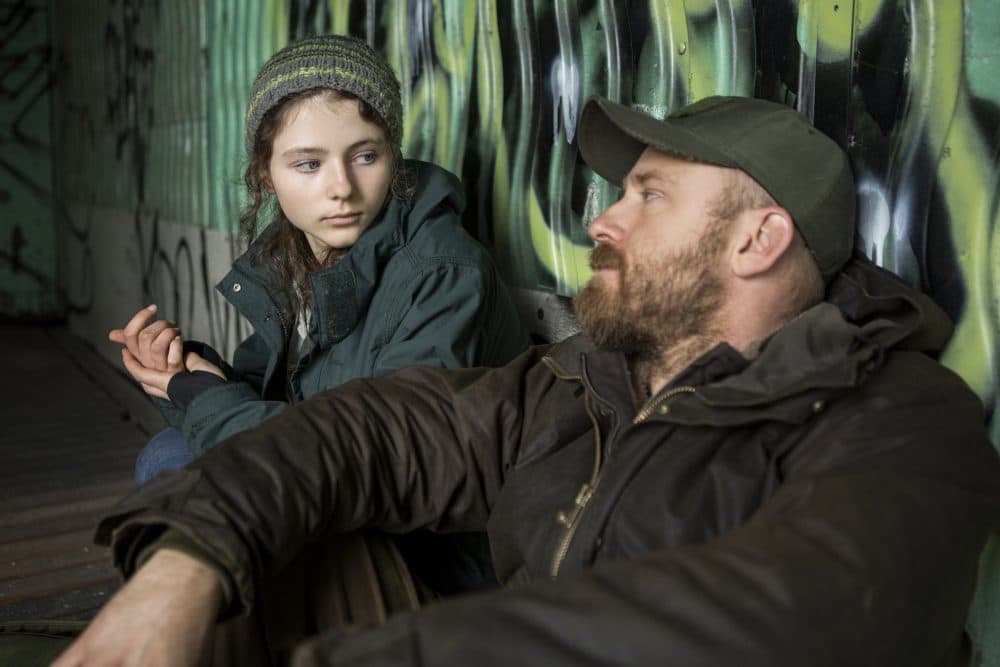 Rural life on the margins is familiar terrain for Granik, whose last film was the 2014 feature documentary, "Stray Dog." It's a gripping portrait of a biker-veteran she encountered while shooting her most known film, "Winter's Bone" (2010), which earned four Academy Award nominations and launched Jennifer Lawrence to stardom. Stray Dog was one of many Ozark locals Granik cast in "Winter's Bone," a choice that added to the film's highly praised authenticity and a tactic she effectively uses here, too. The 4-H kids in "Leave No Trace" are really 4-H kids and the flag waving For His Glory Dance Troupe really does hail from Clackamas, Oregon.
It was a risky move for Granik to follow her artist's nose with "Stray Dog" instead of following Hollywood's directive to go bigger after "Winter's Bone." As a result, after "Leave No Trace" premiered earlier this year, coverage frequently trumpeted Granik's big "return" as if she'd somehow disappeared. One story outlined what Granik's so-called "prolific" (male) director counterparts had accomplished within the same time frame. So much for #MeToo. (Lucrecia Martel and Miranda July have similarly been called out for lapses between films, though July wrote two books since her last feature.)
The context is relevant because Granik makes the kind of films #MeToo allies are begging for. Both "Leave No Trace" and "Winter's Bone" are female-driven stories, on- and off-camera. They're about young women who live outside the dominant culture and have learned to play by different rules. When a social worker wants to snap a picture of Tom and her dad, they stand as a family would in 1890, stoic, doubtful of the purpose. Tom likewise studies another teen snapping selfies on a bus. Watching her discover a world that other kids can scarcely disengage is both refreshing and nerve-wracking. (And makes it an interesting foil to the forthcoming tech-submersed coming-of-age movie, "Eighth Grade.")
But that double-edge sword of opting in or out is the point of "Leave No Trace's" gratifying story arc. Tom is a great kid. The kind who helps carry in the groceries. Civilization has chewed up so much — privacy, the forest, her father's mental health and possibly his entire generation. But Tom isn't afraid. She sees beauty in community. She's open to its many forms. She figures out it's pretty much impossible to live any other way.
---
"Leave No Trace" opens on Thursday, June 28 at Kendall Square Cinema and on Friday, July 5 at the Coolidge Corner Theatre.