Mass. Teachers' Unions Say They're Ready For Life After 'Janus' Ruling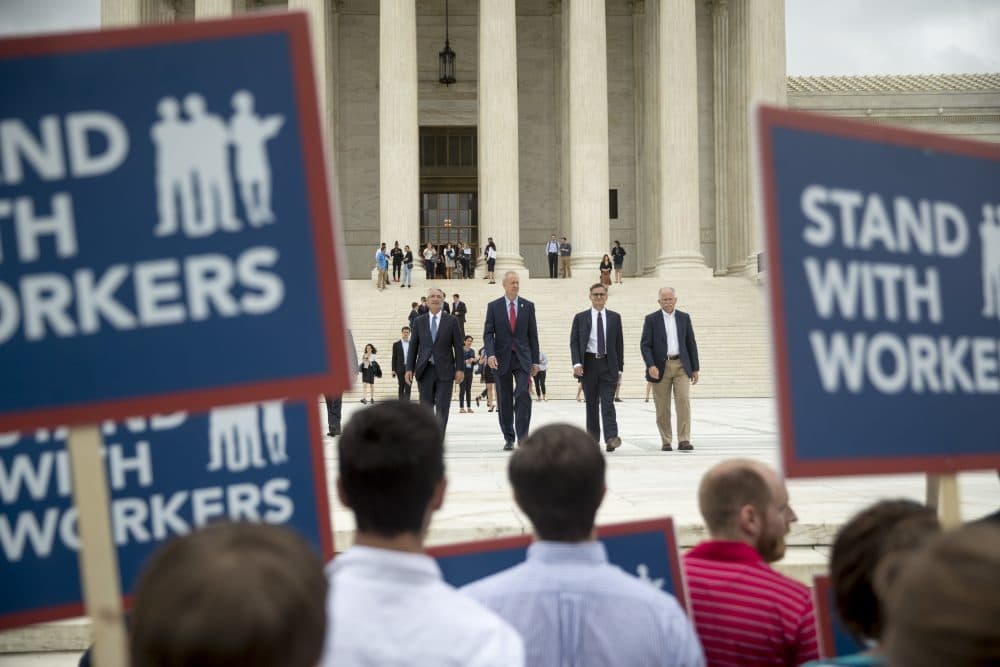 This article is more than 4 years old.
Wednesday's Supreme Court decision in Janus v. AFSCME could remake the way that American teachers' unions do business.
But in Massachusetts, union leaders insist the decision is far from a death knell.
"This doesn't mean count us out," said Jessica Tang, president of the Boston Teachers Union.
Tang took over at the BTU last May, and in that time she has participated in a listening tour and many school visits. At the same time, the BTU also undertook a "recommitment" campaign: asking all their members to resign union cards.
That was done, Tang said, in part with the forthcoming decision in mind.
"We've already had close to 100 percent of our members recommit" during the year's campaign, Tang said. When asked whether any educators voiced protests, she said: "There might be questions, but there have been very few."
That may not be surprising, given that before Janus, no BTU teachers paid "agency fees" — in other words, opting out of the union's broader political project. (Barbara Madeloni, the outgoing president of the statewide Massachusetts Teachers Association, made a similar point during a Radio Boston broadcast.)
Wednesday's landmark decision — reached by a 5-4 majority — holds that public sector unions can't compel fees from employees who personally disagree with their agendas.
The ruling could allow public employees to reap the benefits of collective bargaining without contributing to their union's efforts. It might therefore force unions to shift their energy: focusing more on recruiting and retaining members, which could leave fewer resources for activism in election campaigns.
But unions, including the BTU, say they had time to prepare for this legal blow.
Janus was the second such case to go before the conservative-leaning Supreme Court in its past two sessions. A similar case, Friedrichs v. California Teachers Association, ended in a split decision after Antonin Scalia died suddenly.
That plaintiff, Orange County teacher Rebecca Friedrichs, has spoken about the social pressure to hew to her union's political line; she says she was confronted and abused by fellow teachers after voicing support for school vouchers and other initiatives.
We don't yet know how that pressure works, or doesn't, on unionized teachers in Massachusetts. (WBUR's Edify team is asking state educators to tell us about their own experiences.)
In an unsigned statement, the conservative think tank the Pioneer Institute said that — contrary to Madeloni and Tang's statements — they expect Janus to have significant consequences on this state's political landscape.
According to Pioneer's analysis of political finance data, "18 of the 20 political action committees that contributed the most to candidates for state and county offices were labor organizations, and 85 percent of all PAC contributions went to Democratic candidates."
A WBUR analysis of campaign finance filings shows that the Massachusetts Teachers Association, the state's largest union, has donated about $17 million to candidates or political groups over the last eight years — either directly or through its political action committee, called Voice of Teachers for Education.
The largest donation — of nearly $9 million — was during the 2016 election, when the MTA and other unions successfully fought a ballot measure which would have allowed for more charter schools in the state. The MTA also contributed over $6 million to political groups in 2014.
Pioneer senior fellow Charlie Chieppo said that kind of union money in politics is a problem: "Public officials — who are supposed to be representing us — what they're effectively doing is bargaining with their biggest benefactors." He called it "a Tammany Hall-like nexus," alluding to the New York City political machine that reached its peak power about a century ago.
Chieppo insisted that he doesn't oppose unions as such. And he declined to predict how hard Janus might affect unions like the MTA or the BTU, saying there is "no scientific way to know."
Before Janus, Chieppo said teachers unions "did not take pains to be terribly reflective of what their members think. Because essentially … the money's gonna roll in either way." Now, he said, those unions might change their core messaging: "My guess is it's gonna have a lot more to do with pay and working conditions than it's gonna have to do with abortion or immigration or the environment."
Tang says she wouldn't count on it, adding that BTU's recommitment drive revealed broad and deep support for an outspoken, involved union: "It's not just about teachers. We're fighting for our students. We're fighting for our communities," Tang said. "It's really about, what kind of society do we want to live in?"
Tang argued that public support for labor unions is on the rise, pointing to successful efforts at the Whittier Street Health Center and at three City On A Hill charter schools. Of the "Tammany Hall" rhetoric coming out of places like the Pioneer Institute, Tang said she believes "the larger public sees through that."
Unions could get a test of support on Beacon Hill in the next month. House Speaker Robert DeLeo has signaled openness to a legislative response to the Janus ruling, and that he hopes to consider a bill — in consultation with state labor unions — before the July 31 end of session.