'Sharp Objects' Is Relentlessly Grim Summer Viewing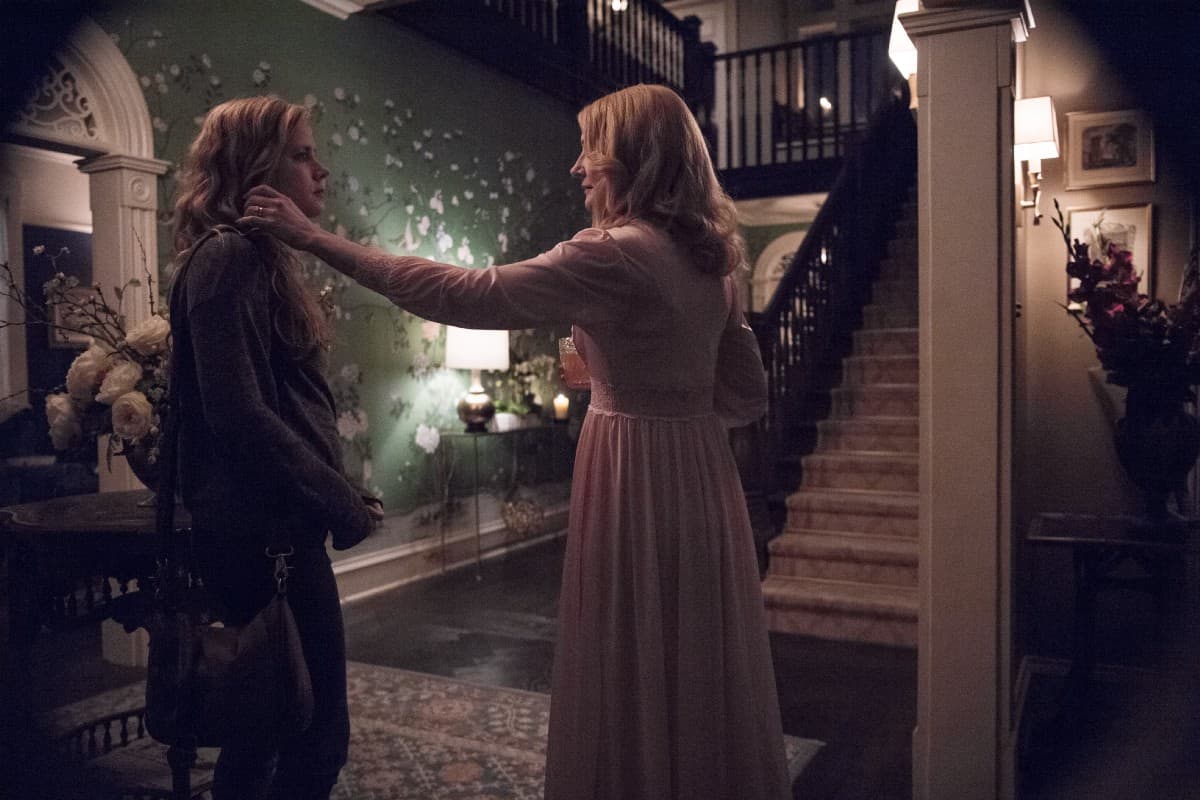 This article is more than 4 years old.
Go ahead: Compare HBO's newest limited series, "Sharp Objects," with its recent hit "Big Little Lies." You're not wrong to connect those dots.
Both shows are directed by French Canadian filmmaker Jean-Marc Vallée. Both shows feature stacked casts of Oscar-caliber actresses, too; "Big Little Lies" is led by Nicole Kidman and Reese Witherspoon, while "Sharp Objects" is led by Amy Adams and Patricia Clarkson. And both shows have their bases in genre literature, "Big Little Lies" being the product of Liane Moriarty, "Sharp Objects" the debut novel of "Gone Girl" author Gillian Flynn. If you stop the analogy there, the family resemblance is uncanny.
But the key word here is Flynn, whose all-purpose nihilism sets "Sharp Objects" apart from "Big Little Lies" immediately. Not that Moriarty's work, liberally seasoned with rape and domestic violence, reads like a sunny walk in the park, but Flynn likes to gaze into the abyss and double dog dare the abyss to gaze back into her. (The abyss, wise to her bibliography, avoids her eyes.) "Sharp Objects" isn't a Jean-Marc Vallée joint, though it's handsomely made per his studious craftsmanship, and it isn't an Amy Adams joint, though it's a vehicle for her soft-spoken gifts as a performer. No, "Sharp Objects" is a Gillian Flynn joint, hoisted off the page by screen talents hewing close to Flynn's sensibilities as a writer. It's relentlessly grim summer viewing, best watched in the dark.
The tradeoff is that the show happens to be very, very good at asking permission to wither our spirits. For one, it's refreshingly blunt about its plot elements. Camille Preaker (Adams), a St. Louis crime reporter with a history of self-harm and an unhealthy relationship with alcohol, returns to her podunk Missouri hometown, Wind Gap, on assignment, covering the murder of young Ann Nash and the follow-up murder of Natalie Keene (which occurs during the pilot).
Both girls are found strangled to death, their teeth yanked out, their eyes staring without seeing, their mouths agape. Any reasonable person would want justice for the victims (and for the killer), but Wind Gap is the kind of American whistle-stop where gossip is like gravity and no one talks when they should. Camille's questions get her nowhere. Her mother, Adora (Clarkson), stonewalls her, an obstacle of high manners and haughty attitude; the chief of police, Vickery (Matt Craven), ignores her inquiries and butts heads with detective Richard Willis (Chris Messina), another out of towner rebuffed by southern cultural reticence. (Grant that Missouri is Midwestern, too, but both regions share a preference for silence at truth's expense.)
Fundamentally "Sharp Objects" is a psychological thriller — grisly, taut and fueled by macabre uncertainties and procedural tension. The show presents an exercise in dread, both communal and domestic. Not everyone's a suspect, but their firm refusal to accept the morbid reality of their circumstances is suspicious. You'd think a pair of brutal child slayings would encourage Wind Gap's rumormongers to rethink their priorities. Old habits die hard, apparently, even as your neighbors die around you. Through Camille, "Sharp Objects" indicts parochial customs of propriety. She has only contempt for Wind Gap's way of dealing with trouble, just as Wind Gap has only contempt for Camille's high-minded (if richly deserved) judgmentalism. You can go home again, but home might not want you back.
This is best demonstrated in her relationship with Adora, as well as her younger half-sister, Amma (Eliza Scanlen), a wild child out of Adora's sight, a perfect child in her presence. Over time, "Sharp Objects" shows us the source of Camille's behavioral health struggles: Adora, a monster who deprived her childhood of oxygen. Adora has natural authority that draws air to her, and Camille's scars are consequences of that suffocated, tragic upbringing. (In flashback sequences, we learn that Camille, played as a youth by "It" star Sophia Lillis, had a sister who died young from an unknown illness and who Adora loved more.) Revisiting the primal pain of her youth, Wind Gap becomes a character unto itself. Camille doesn't simply investigate the killings. She ends up interrogating Wind Gap's history, too, by facing down her own.

Vallée, working with scripts written by Flynn herself as well as by Marti Noxon (of "Buffy the Vampire Slayer," "UnREAL," and "Girlfriends' Guide to Divorce"), deploys story details with flash and brio, show-off that he is, but his slick filmmaking never plays coy or teases us. He's remarkably upfront. "Sharp Objects" holds revelations in reserve, of course, but it's so good at finding suspense in mundanity that we don't necessarily care about answers to mysteries. The pleasure of the show is the atmospheric dread, omnipresent but not overwhelming. Wind Gap is sick in its heart, as so many of its residents are sick in their hearts, but as they self-medicate, whether with liquor or denial, the sickness only festers. The "who" in the "whodunit" matters, but it's hardly the point of the exercise.
---
"Sharp Objects" premieres on Sunday, July 8 on HBO.