'The King' Is A Metaphor In Search Of A Movie
"Your metaphor, it's a reach," sighs David Simon, the brilliant, mercurial writer of TV classics "Homicide: Life on the Street" and "The Wire" while stranded by the side of the road in his pal Eugene Jarecki's new documentary, "The King."
The two have been taking a spin in Elvis Presley's 1963 Rolls-Royce Phantom V, discussing the rock 'n' roll icon as a symbol of America's decline or something like that, but for starters they're obviously in the wrong car. To this day, Presley remains more associated with pink Cadillacs than even the rock star who wrote a song called "Pink Cadillac," and aren't Rolls-Royces English automobiles to begin with? They're snooty vehicles best known for fancy-pants Dijon mustard commercials, thousands of miles from the gaudy grandeur of Elvis Aron Presley or the beleaguered nation Jarecki's movie attempts to dissect.
"I thought Elvis only drove American cars?" asks a quizzical Emmylou Harris, before she and a couple dozen or so random musicians and celebrities take turns tooling around for a while with Jarecki in the Rolls, musing about what the King of Rock 'n' Roll means to them and the country at large in conversations cut up into often spectacularly unenlightening sound bites. "The King" is a metaphor in search of a movie, an incoherent chop suey of big ideas and overfamiliar biography, positioning Elvis as a representation of everything and nothing all at once.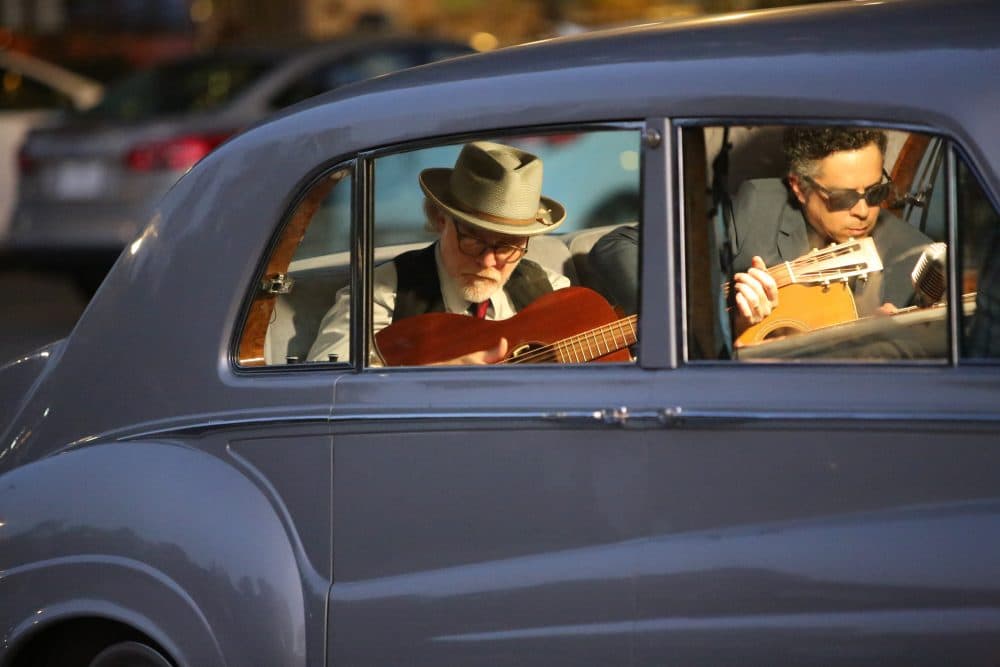 Elvis Presley and America are gigantic, symbiotic symbols that for my entire lifetime have been almost exhaustingly over-employed to prop up whatever lazy abstractions you may please. (There's even a terrible U2 song from 1984 that's actually called "Elvis Presley and America.") Jarecki happens upon this trampled terrain as if he had the Pinta and the Santa María in tow, proceeding to spin a half-baked theory that America the Beautiful has now entered her "Fat Elvis" years, addicted to pills and shooting out televisions in Las Vegas hotel rooms. When he's not busy lip-syncing to his own songs in the backseat of the Rolls, rapper Immortal Technique says we're all about to OD on the toilet.
Shot during the ugly run-up to the 2016 election, the movie is quivering with queasy energy from the dawning realization that Donald Trump might very well soon become the next president of the United States. Alec Baldwin confidently assures us that the real estate huckster from Queens has no chance of winning, before taking a moment to mock a couple of street corner Bernie Bros (he calls them "Beavis and Butt-Head"), all the while remaining cheerfully undisturbed by the optics of evangelizing for Hillary Clinton from the window of a Rolls-Royce.
Jarecki includes a bit of an "Elvis for Dummies" overview here, leapfrogging from the Sun Records breakthrough to RCA and Ed Sullivan, then into the Army and on to Hollywood. The '68 Comeback Special gives way to the wasted Vegas torpor, and none of the strained parallels or lamentations for America's loss of innocence ever quite line up chronologically save for everything getting awfully fat and tacky in the end. Superfan Ethan Hawke enthusiastically handles most of the exposition from the passenger seat, while there are brief, insightful comments from ace Elvis scholars Greil Marcus and Peter Guralnick, plus an awful lot of extraneous blather from the likes of Ashton Kutcher and Mike Myers, for some reason.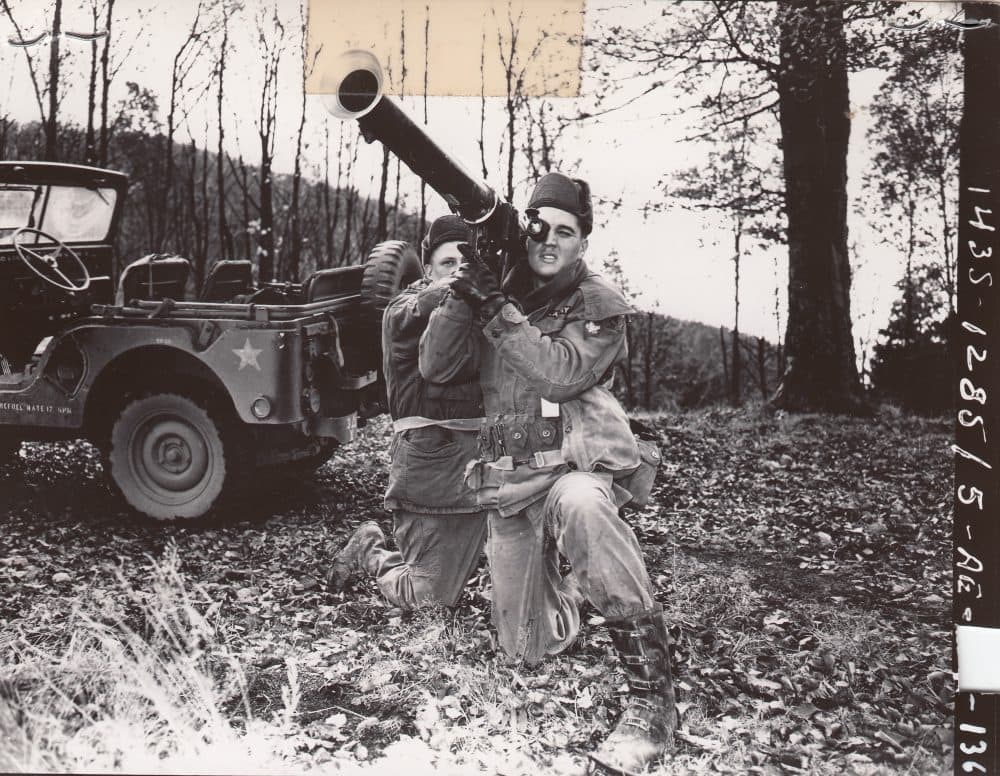 The young, janky-legged Presley is presumably supposed to stand in for America's early promise. "You could get a factory job back then, work hard and put your kids through college," says James Carville, and his blissful oblivion about the exclusivity of the "you" to which he refers is terribly telling. A lot of "The King" is riddled with this same dangerously phony nostalgia endorsed by the Make America Great Again crowd from which the movie actively recoils. I think we're all smart enough to be done with this inane idea of the 1950s as some sort of unspoiled Eden, but I would love to ask Jarecki and his cameramen why only the poor people in this film are photographed in such extremely unflattering chin-to-eyebrow close-ups?
But it's not an unpleasant picture, featuring charismatic, talented performers singing songs that weirdly usually have nothing to do with Elvis and some semi-intelligent celebrities offering bullet points of fortune cookie wisdom that sound profound if you don't want to think about them very hard. The closest it comes to real food for thought is an early, prickly discussion of cultural appropriation with Simon, a testy Van Jones and Public Enemy's Chuck D. (here expounding on his immortal "Elvis was a hero to most but he never meant s--- to me" riff from "Fight the Power") but this whole line of argument is abandoned as quickly as it flared up in the first place.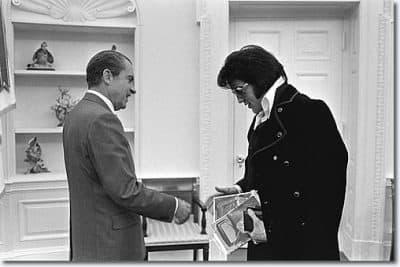 "The King" isn't particularly interested in Elvis Presley as an artist or a person, cutting his most famously iconic performances to such smithereens the uninitiated may wonder what the fuss was all about. Jarecki allows everyone to carry on for a bit about Presley's legendary, death's-door rendition of "Unchained Melody" before cutting away to Elvis' former maid making a fried peanut butter-and-banana sandwich right when he's about to sing. Jarecki buries the breathtaking song under larded-on sound effects accompanying random clips of O.J. Simpson with the bloody glove, Pacino snorting coke in "Scarface" and Barney the purple dinosaur because … um, something about America, I guess?
One of many times the Rolls-Royce breaks down, Jarecki candidly asks a crew member how he thinks things are going. "I don't know what the hell you're doing with this movie," the employee shrugs. Yeah, it's a reach.
---
"The King" opens at the Kendall Square Cinema on Friday, July 13.