Meet The Trans Chaplain Helping LGBTQ Elders Feel Welcome In Senior Care
Chris Alburger may very well be the first chaplain in America hired specifically for LGBTQ senior care. He is definitely the first-ever LGBTQ Chaplain Resident at Hebrew SeniorLife. The senior care facility's Clinical Pastoral Education program, according to its director, is the nation's first to focus on the spiritual care of LGBTQ seniors.
Chris holds a unique role at Hebrew SeniorLife, which is one of the largest senior service organizations in the Massachusetts. It provides daily care for 3,000 elders across nine campuses in the Greater Boston area.
In a Q&A with WBUR, Chris told us about his job, the impact he's had on residents, and his advice for LGBTQ seniors making the move to assisted living.
The following transcript has been lightly edited.
Can you tell us a little about yourself?
My name is Chris Alburger, and I'm the LGBTQ Chaplain Resident at Hebrew SeniorLife. I have my masters of divinity from Harvard Divinity School. In the past, I've worked in a few churches and on a couple political campaigns.
Do you identify as LGBTQ?
Yes, I do, as trans. I use he/him pronouns.
To be honest, I don't know much about chaplains. Aren't chaplains for religions? 
Chaplains are for people, not religions. Chaplains of all faiths including humanist chaplains, who provide spiritual support for people of all faiths or none. Chaplains bear witness to suffering and provide spiritual comfort and resources. Since LGBTQ people experience discrimination in society and spiritual abuse from religious communities, it is vital to have LGBTQ chaplains who are knowledgeable about their struggles and can provide spiritual resources to help them be their authentic selves.
So what are your roles as the LGBTQ chaplain?
Work is really exciting and special because it's everything I love about chaplaincy plus an LGBTQ focus. Primarily, I provide spiritual care for everyone — whether they have dementia or not, and whether they're LGBTQ or not. Besides that, I lead LGBTQ trainings around gender and pronouns for staff. I'm also in charge of creating media that we use around our multiple campuses to promote diversity and inclusion, like for Black History Month, Women's History Month and Pride Month.
We actually just had our very first Pride concert at Hebrew SeniorLife, which was a big hit. We had an Elton John impersonator and an LGBTQ film series.
Are you the only LGBTQ-focused chaplain at Hebrew SeniorLife?
I'm the only chaplain here hired specifically to do this work. There are other LGBTQ-identified chaplains who do some of this work in the course of their daily activities. My position was created to bring someone specifically on board to focus on LGBTQ life here.
Why are LGBTQ-focused chaplains important for senior living communities?
I think they are so important. For a lot of LGBTQ people, being out and having protection and support is still challenging, whatever your age. But it's especially important for this population because our folks, many in their 80s and 90s, came of age at a time of LGBTQ oppression.
A lot of LGBTQ elders have never come out of the closet, or if they finally did, they go back into the closet when they enter long-term care.
A lot of LGBTQ elders have never come out of the closet, or if they finally did, they go back into the closet when they enter long-term care. They fear the attitudes of staff, or how they will be treated. Surveys show there are a lot of staff members at some institutions providing long-term care who do have homophobic views, who say they would not be comfortable caring for an LGBTQ elder.
So having visible signs of welcome, dedicated resources and staff who can address issues for LGBTQ people, is an essential part of hospitality at Hebrew SeniorLife. We got started caring for marginalized people, and we still do.
Have you gotten any responses from residents about your position?
I had a patient tell me that he feels more comfortable being here because of my presence as the LGBTQ chaplain. Even before he met me, he saw a Black History Month poster that includes LGBTQ people on it, and he said he knew that meant he was going to be safe here.
Even though he had a really hard time getting the letters of LGBTQ out, it was really important to him to tell his partner about the LGBTQ chaplain. There are a lot of sweet moments around here. I'll see people looking at the posters, or I'll talk with residents about famous LGBTQ people.
We also had a film screening of "The Danish Girl," and one resident said afterwards in our discussion that he was once president of a Parents and Friends of Lesbians and Gays, or PFLAG, chapter. Another resident on the opposite end of the spectrum in terms of experience had never really thought about transgender issues, and after the movie said they now realize how awful dysphoria could be for someone. So we've gotten great responses. There's just a lot of excitement and curiosity about these issues.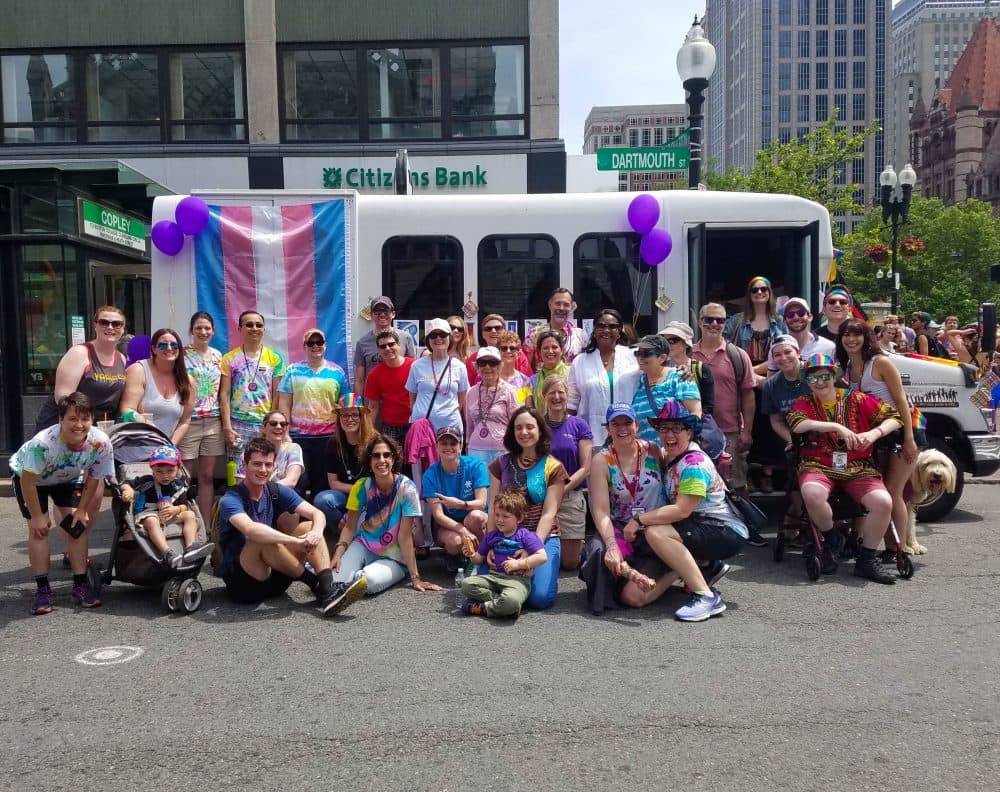 Do you have any advice for LGBTQ elders who are making the transition to senior living or their families?
Dare to be yourself. Part of what we're running into here is that our staff have had increasing training on LGBTQ issues, and yet some of our LGBTQ elders still aren't quite sure if it's going to be OK. We have actually heard from staff members that they wish that more elders would come out so that they can support them.
Also, when deciding on where to seek senior care, it's important to look for visible signs of welcome. A rainbow flag at the front desk means they've done a lot of work behind the scenes to get to that point. Look into the community's website to see if they have a dedicated section for LGBTQ issues. Look around the facility and talk to staff to assess how comfortable they are working with LGBTQ persons, because it will make a big difference in the experience of living and receiving services there.