Swim Schools Sharpen Focus On Water Survival Over Swimming Technique
03:55
Play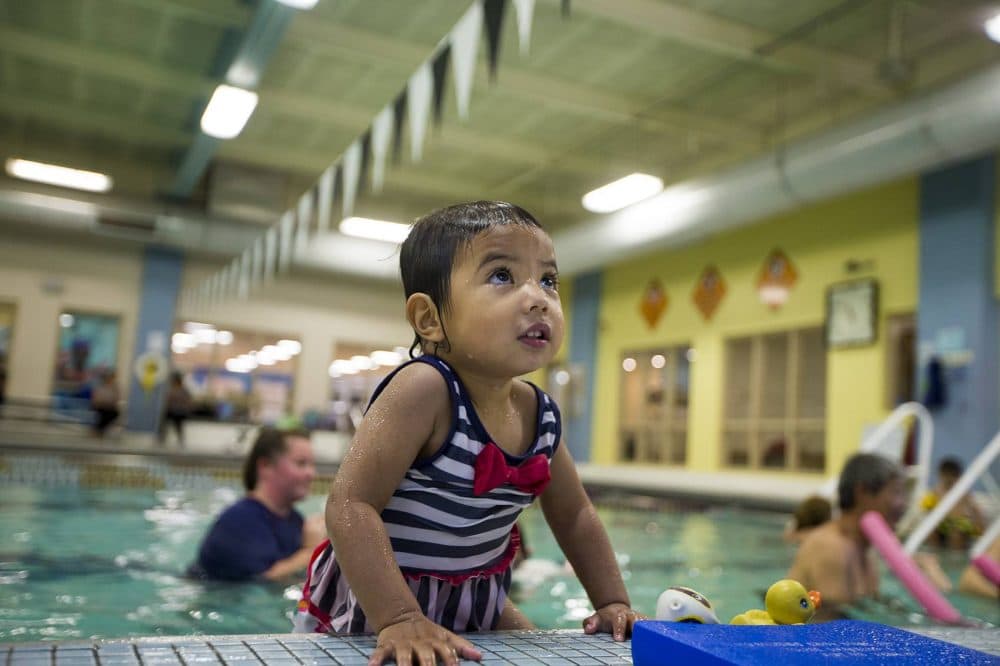 This article is more than 4 years old.
For 23-month-old Ferdinand Smith and his dad Nate, Friday mornings mean it's time for swimming lessons.
"Can you blow some bubbles for me?" Smith asked his son as they waited in the pool for their "Stage B" class to begin at the YMCA in Waltham.
This level accepts kids between the ages of 6 months to 3 years. Instructors like Carly Cormier use songs and nursery rhymes to engage young swimmers in a string of skill-building exercises.
"Humpty Dumpty sat on the wall. Humpty Dumpty had a great fall!" chanted Cormier before cuing the kids to jump into the pool where their parents were waiting.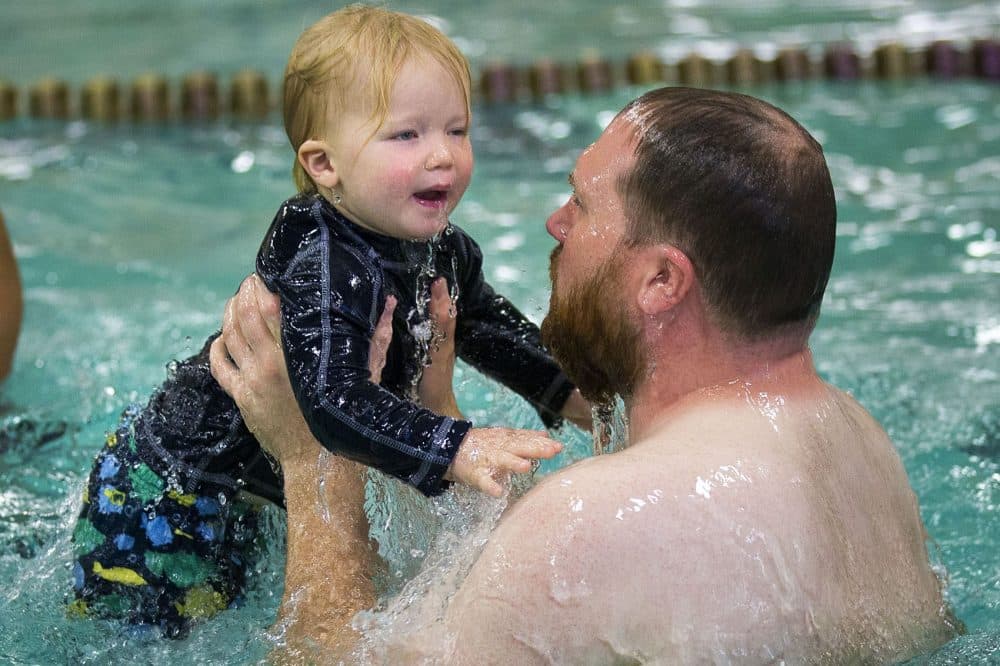 Once inside, it was back to the wall to repeat the process a few more times. Cormier said she wants heading back to the wall to become a reflex for these young swimmers so that where and how to find safety in the water isn't something they have to think about.
While this sounds like fun and games, officials with the YMCA say one of the primary goals of this program is to build good habits around the water, which essentially translate into survival skills.
According to the Massachusetts Department of Health, drowning is the leading cause of unintentional injury death among kids in the state — a statistic that has been in the news lately. On July 6, a 2-year-old drowned in his family's pool in Lynn. In June, Olympic skier Bode Miller's 19-month-old daughter also reportedly drowned in a family swimming pool.
Drowning is the leading cause of unintentional injury death among kids in the state.
Because of stories like this, and a variety of other reasons, swimming lessons are hugely popular among parents today. The nonprofit trade group United States Swim School Association estimates there are about 2,000 swim schools around the country.
But can classes like this actually reduce the risk of drowning? For public health officials, it's hard to say definitively because there hasn't been much scientific research looking into that question.
One of the last major case studies was published by scientists at the National Institute of Child Health and Human Development in 2009. The project compared records of kids who drowned with a control group that was demographically similar.
"In this case, we found that with children who had exposure to formal swimming instruction there seemed to be a reduction in risk with regard to drowning," said Gitanjali Taneja, one of the study's co-authors.
While the study was relatively small, examining about 300 cases, the authors concluded that having formal swimming lessons was associated with an estimated 88 percent reduction in drowning risk for kids under 4 years old.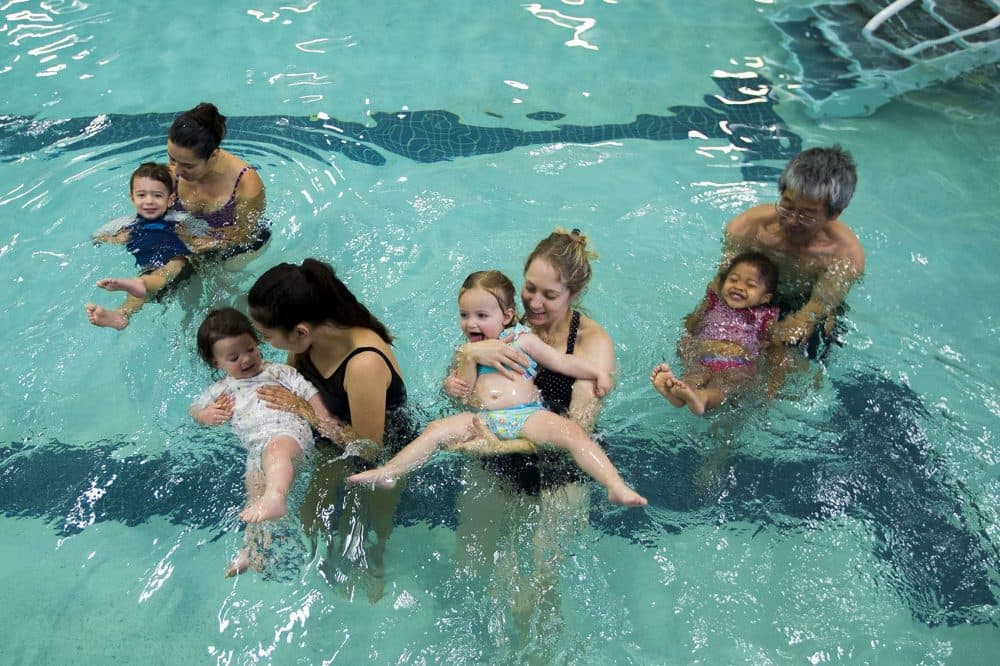 For public health officials, this was an important finding. It led the American Academy of Pediatrics to shift their stance on swimming lessons. Previously, the AAP did not recommend them for children under 4. In 2010, the organization issued updated guidance, saying lessons for children ages 1 to 4 years old might be protective against drowning in addition to adult supervision and other water safety measures.
But Taneja added, her team's study only looked at participation in swimming classes, not what was being taught. So exactly what's working and what isn't in terms of safety is still unclear.
Today those discussions are relatively recent in the swim school industry. The YMCA, for example, just rolled out a new swim curriculum last year. Jeremy Stiles, the senior director of aquatics for the YMCA of Greater Boston, says the organization backed its methods up with more swim science and analysis into what works and why.
"This new program that we're teaching now is based a lot more around the safety component first, then teaching those swim skills second," said Stiles. Meaning one of the first skills the kids learn now is simply to ask permission to go in the water.
The Y, like a lot of other swim schools in the region, welcomes kids as young as 6 months to take swimming lessons. Stiles explains the goal for children that young is to form good habits.
"We sometimes refer to it as muscle memory," explained Stiles.
But he admits, kids won't really make the connections to what they're doing and why until they are 1 or 2 years old.
"The average kid really begins to be able to put it all together around age 5. In other words, they're developmentally ready," said Dr. Linda Quan, a pediatric emergency medicine physician at Seattle Children's Hospital and fellow with the AAP.
"Aquatic safety is about multiple layers of redundancy, swim lessons just being one of those layers."

Jeremy Stiles, YMCA of Greater Boston
Quan added that just because a young child has been going to swimming lessons and knows how to swim doesn't mean she or he is immune from drowning. At best, lessons improve the chance of survival. It was a sentiment echoed by Stiles.
"Aquatic safety is about multiple layers of redundancy, swim lessons just being one of those layers," he said.
The other layers are mostly good supervision from a parent or guardian and a lifeguard, along with continued work on swimming skills.
This segment aired on July 16, 2018.