New Podcast Explores Why The Gardner Museum Heist Hasn't Been Solved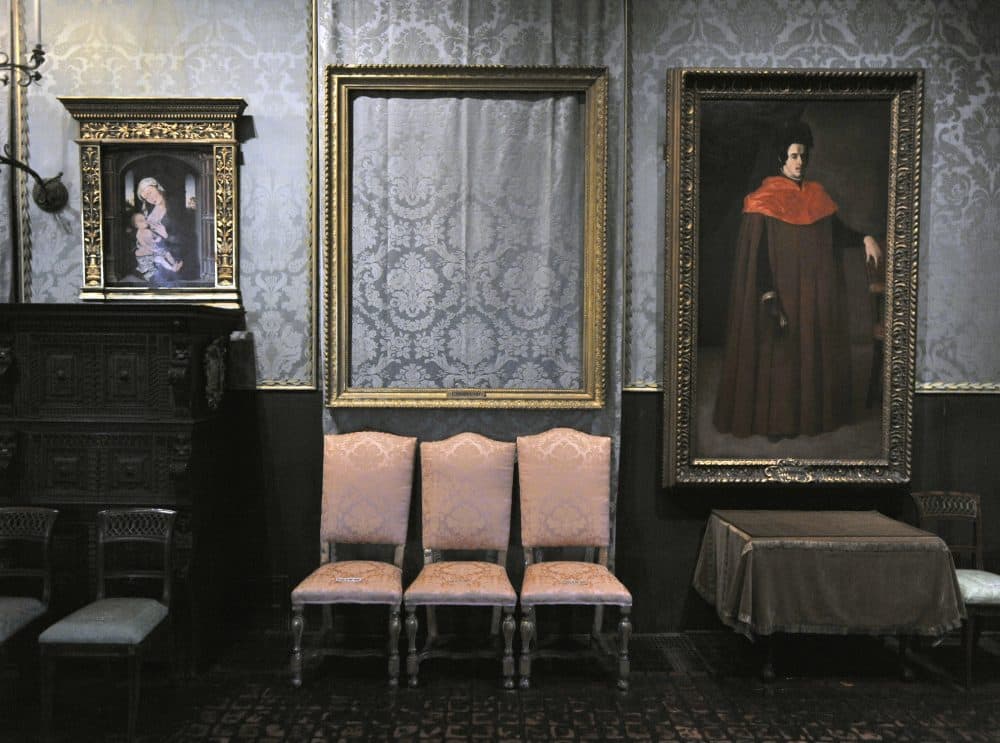 This article is more than 4 years old.
On March 18, 1990, thieves dressed as policemen stole 13 works of art from the Isabella Stewart Gardner Museum in Boston. They got away with Rembrandts, a Vermeer, a Manet and sketches by Degas. All these years later, the art has not been recovered and no one has been charged with the crime.
Now, a new podcast, Last Seen, created by WBUR and The Boston Globe is exploring how this heist has become one of the most confounding in history. The 10-episode podcast, which will debut on Sept. 17, is hosted by WBUR producers and reporters Kelly Horan and Jack Rodolico, with contributions from the Boston Globe's Stephen Kurkjian, who has long covered the investigation of the heist.
"Twenty-eight years later, this unsolved crime still exerts an irresistible curiosity, and we're excited to offer WBUR and The Boston Globe's first true-crime podcast on this significant case originating in the city where it happened," said Iris Adler, the executive director for programming, podcasts and special projects at WBUR. "The producers of Last Seen have obtained unprecedented access to case files, first-ever interviews and this podcast is the result of a year of investigative reporting to unravel the crime's many mysteries."
The podcast follows threads of the decades-long investigation from mobsters to rock 'n' rollers, from Boston to Florida to Ireland. It includes interviews with key players like the Gardner Museum's chief investigator Anthony Amore, the watchman the night of the heist Richard Abath, former U.S. Attorney Brian Kelly, who oversaw the investigation, and former FBI agent David Nadolski.
"Our reporters have spoken to key people who have never before publicly talked. They have seen places and documents that no other reporters have seen before. Their work even led federal authorities to conduct a high-stakes excavation in a residential neighborhood in Florida," said Jane Bowman, vice president for marketing and strategic partnerships at The Boston Globe.
The podcast aims to not only look at the crime, but also how the investigation has not resulted in an answer almost three decades later despite what is now a $10 million reward.