Protesters Stage 'Die-In' At Harvard Museum To Criticize Namesake's Link To Opioid Crisis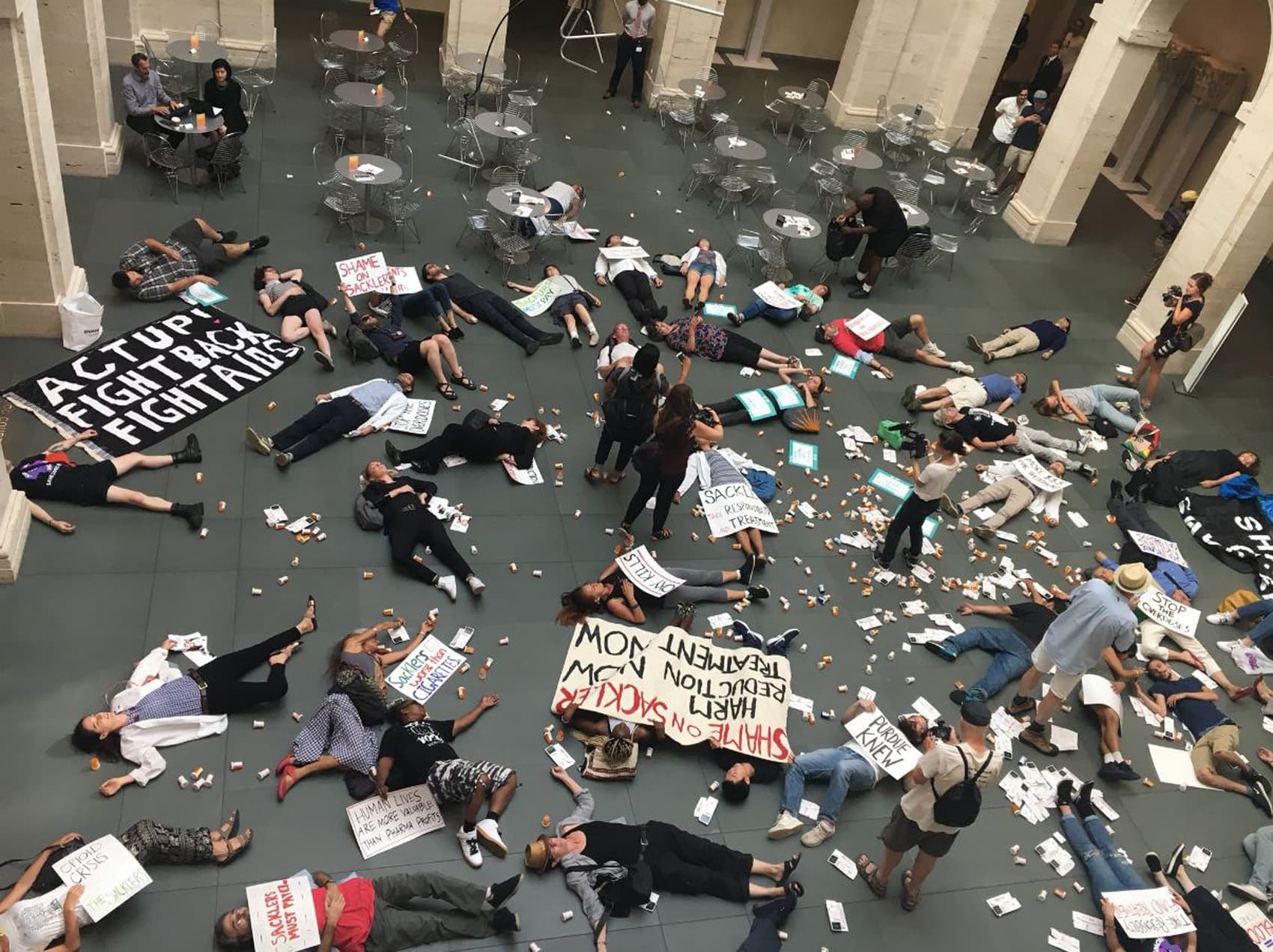 This article is more than 4 years old.
Dozens of protesters gathered in Cambridge Friday afternoon to stage a "die-in" inside a Harvard University museum in protest of its ties to a family the demonstrators say profited off the opioid crisis.
Demonstrators silently marched from Harvard Square to the Arthur M. Sackler Museum — one of the three museums that comprise Harvard's art museums. Part of psychiatrist and art collector Arthur Sackler's estate was sold to his family members, Mortimer and Raymond Sackler, who owned Purdue Pharma — the pharmaceutical company that began selling Oxycontin in the '90s.
Once inside the museum, the activists chanted "Shame on Sackler," as they marched in a circle and threw mock Oxycontin pill bottles and empty Narcan — the brand name of an opioid-reversal drug — boxes on the ground.
The protest was led by Harvard Medical School students and New York-based photographer Nan Goldin, and activists from New York, Vermont and New Hampshire also participated. Goldin has recently led a series of protests aimed at raising awareness about the opioid crisis.
The group called upon the Sackler family to use its Purdue Pharma fortunes to fund several initiatives aimed at curbing the opioid epidemic. These include controversial harm reduction tools such as safe injection facilities, expanded access to Narcan and medically-assisted treatment for those struggling with addiction.
A spokesman for the Harvard Art Museums said the university has no comment on the protest.
Several organizations, including the Center for Popular Democracy, SIFMA NOW, ACT UP Boston, participated in the protest.
With additional reporting from WBUR's Lisa Creamer
Editor's note: A spokesperson for Jillian Sackler, the widow of the late Arthur M. Sackler, says that Arthur Sackler, his widow and his heirs never financially benefitted from OxyContin, and no charitable donations were funded by the sale of OxyContin.