To Stop Canton School From Using 'Aversives' — Like Skin Shocks — Mass. AG Appeals Ruling
02:18
Play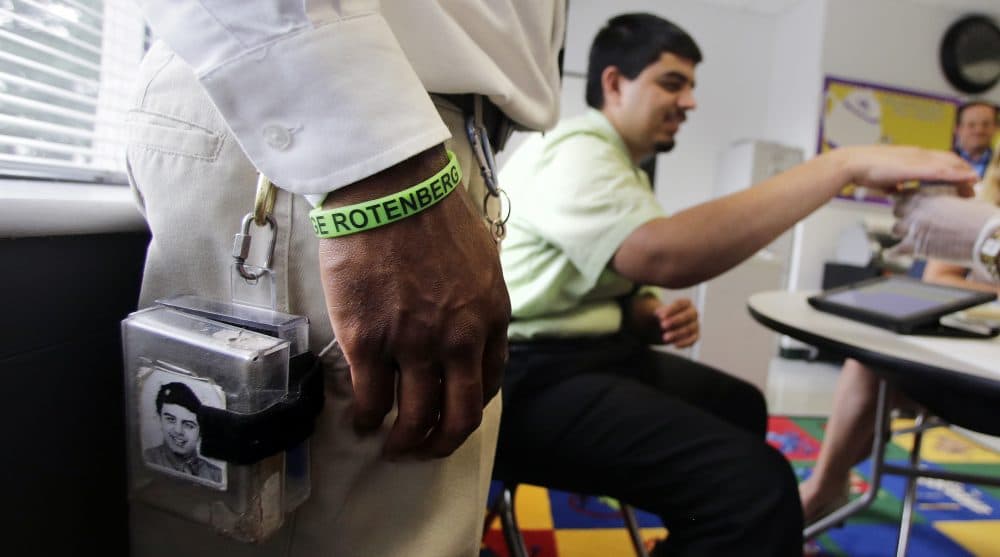 This article is more than 3 years old.
It's the latest development in a 30-year legal battle over Massachusetts' most controversial school.
Late last week, state Attorney General Maura Healey began the process of appealing a judge's finding — made late last month — that the Judge Rotenberg Center (JRC) in Canton can keep using so-called "aversive" therapies to deter students' violent outbursts or other unwanted behavior.
Those "aversives" include triggering painful electric skin shocks — said to feel like a bee sting — on dozens of intellectually or developmentally disabled students.
In 2015 and 2016, the state asked the court to vacate the 1987 "consent decree" allowing the JRC to continue these practices. But after years of study, Judge Katherine Field of the Bristol County Probate and Family Court ruled in the center's favor, arguing the state has acted in bad faith in its attempts to block "aversives."
Field also found no "professional consensus" as to whether the shocks are medically unacceptable treatments for people with severe intellectual or developmental disabilities.
The JRC has argued for years that the shocks work as part of a rewards system, getting the most demanding students to stop harming themselves or others — or breaking school rules, which can be seen as a prelude to more violent behavior.
JRC founder Dr. Matthew Israel has used "aversives" as a form of behavioral conditioning since 1971 — though the electric shocks have come to replace pinches, "muscle squeezes" and the use of aromatic ammonia under students' noses.
Many in Massachusetts and beyond argue the shocks are a form of torture, and that alternative therapies can be just as effective in these special cases, with less at risk.
Lydia X.Z. Brown, an autistic disability rights activist based in Massachusetts, maintains an online archive about the center. (Brown uses the pronouns "they" and "them.")
"Our science and our community members," they said, "have shown over the past several decades that we do know how to support people of all ages — with even the most intense support needs — without using aversives or punishment to do so."
Brown has written that those other supports could include pharmaceuticals as well as "positive behavior supports," an approach that relies on listening and affirmation rather than punishment. According to Brown, the JRC is the "tip of the iceberg" in a long-needed effort to undo institutional violence against disabled people.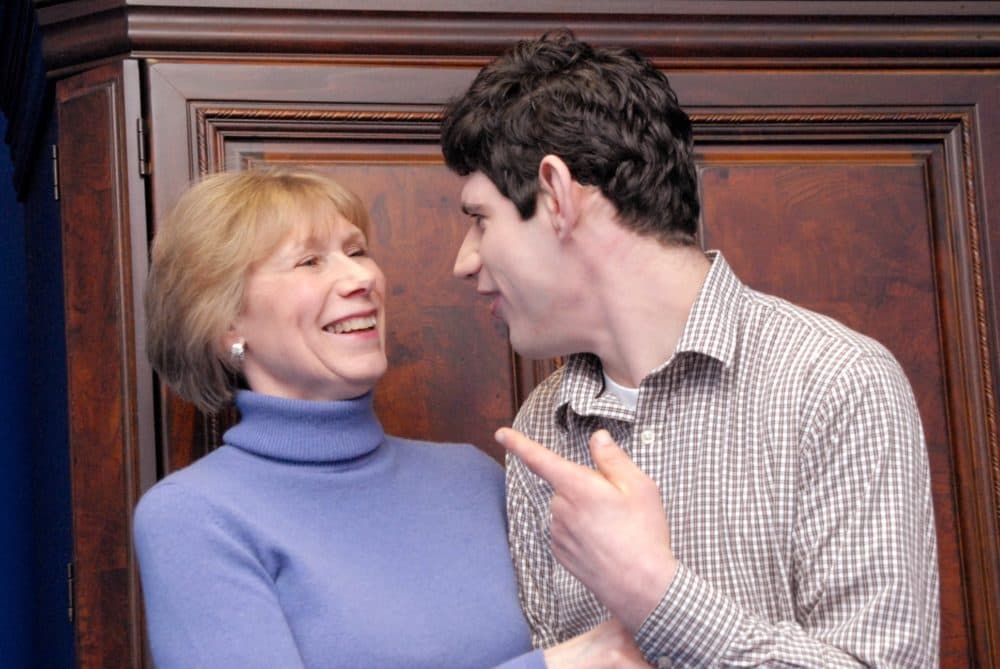 But some parents of Rotenberg students defend the shocks, saying they have succeeded where drugs and other approaches failed to curb violent or self-destructive behavior.
Louisa Goldberg enrolled her son Andrew at the JRC in 2000. Andrew, who has been there ever since, is now 37 years old.
Goldberg describes Andrew's life before JRC as a kind of torture: "He was being restrained for long periods of time — drugged within an inch of his life."
Off medication, she said, Andrew posed a physical threat to family and classmates.
Andrew wore the shock device — called the GED, or "graduated electronic decelerator" — for most of his 18 years at the JRC, but it was removed last year on the theory that it was no longer necessary. "He's been off it and he's doing well," Goldberg said. "When I go to visit him, he's happy."
Goldberg has played a prominent role as a parent-advocate for the JRC, and sits on the center's supervisory "human rights committee," which reviews the use of the GED on a case-by-case basis.
And she's disappointed Healey is challenging the use of the technology that, she said, has given her family hope.
"I don't believe that the drugs that [activists] recommend — and positive behavior supports only — work with everybody," Goldberg said. "They do not work with everybody."
She added that Massachusetts' many efforts to combat JRC's use of "aversives" strike her as politically motivated. "It doesn't sound good to say, 'I'm a politician and I support a school that gives a skin shock to disabled people,' " Goldberg said. "It's human nature not to hurt people. [But] drugs hurt people also."
The JRC does have its defenders on Beacon Hill, including Rep. Jeffrey Sánchez, chairman of the House Ways and Means Committee. Sánchez's nephew Brandon attends the center. The Goldbergs expect Andrew will remain at the JRC for the foreseeable future.
Given this case's long history, the attorney general's appeal may take shape only after a year or more. Healey's office declined to comment on what arguments they will advance in their brief — citing that long delay.
In a statement, the Rotenberg Center's leadership said they "are confident that the Court made the correct decision based on the expert and family testimony and other evidence presented to it and we are certain the Court's decision will be affirmed."
Meanwhile, the use of the shocks is also under review by the Food and Drug Administration. This spring, disability activists asked FDA director Scott Gottlieb to release regulations that could "block the shock."
This article was originally published on July 24, 2018.
This segment aired on July 24, 2018.