Lawmakers' Failure To Pass Health Bill Leaves Telemedicine On Hold
It was the middle of an icy Massachusetts winter, and Carson Domey was having a flareup.
As a 12-year-old with Crohn's disease, it was far from his first experience with the chronic inflammatory condition. This time, concerning new symptoms had developed rapidly, and Carson's mother, Michelle, wanted to consult with her son's gastroenterologist. But there was one problem: The Domeys live in Dudley, about two hours away from Carson's trusted doctor at Boston Children's Hospital.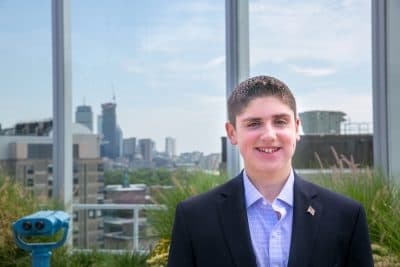 Carson misses around 30 days of school a year; he couldn't afford yet another absence for a doctor's appointment. And with medication suppressing his immune system, venturing into a hospital in the heart of flu season was not an appealing option.
Fortunately, he had an alternative. Michelle met him at school and, using her phone, set up a video chat with his Children's doctor, who devised a treatment plan for Carson remotely.
Michelle says she's very thankful their private insurance covers "telemedicine" — an umbrella term for remote care that includes appointments like that one — but knows their generous policy is "extremely not the norm" for Massachusetts.
And since the Legislature failed this week to pass its wide-ranging health care bill — which included proposals to boost telemedicine — coverage will remain spotty for the time being.
While Massachusetts leads the country in health care access, it remains "one of the worst in the nation" for coverage of telemedicine services, says Kate Audette, director of state government relations at Boston Children's Hospital.
In a national analysis published last month, Massachusetts was the only state to receive a "restrictive" score in every telemedicine category assessed.
Audette says it "should be shocking" that Massachusetts, which is known for health care innovation, is "so far behind" on telemedicine.
House Majority Leader Ron Mariano, a Democrat from Quincy, says that what ultimately sunk this year's wide-ranging health bill was a philosophical disagreement over the funding of community hospitals, an issue on which the House and Senate were "almost diametrically opposed."
He says that the less contentious aspects of the bill, such as its telemedicine elements, could return in standalone bills come January.
"We were in agreement on about 98 percent of all the telemedicine issues," he says.
Massachusetts remains one of just 14 states lacking a telehealth parity law for private insurance coverage, a policy that would guarantee remote medical services would be covered as extensively as in-person care.
Last year, the American Telemedicine Association, the leading telehealth organization in the country, gave private and state employee health plans a grade of "F" in parity. The now-dead bill actually would have rectified these poor marks, as it included language requiring telemedicine parity by these institutions.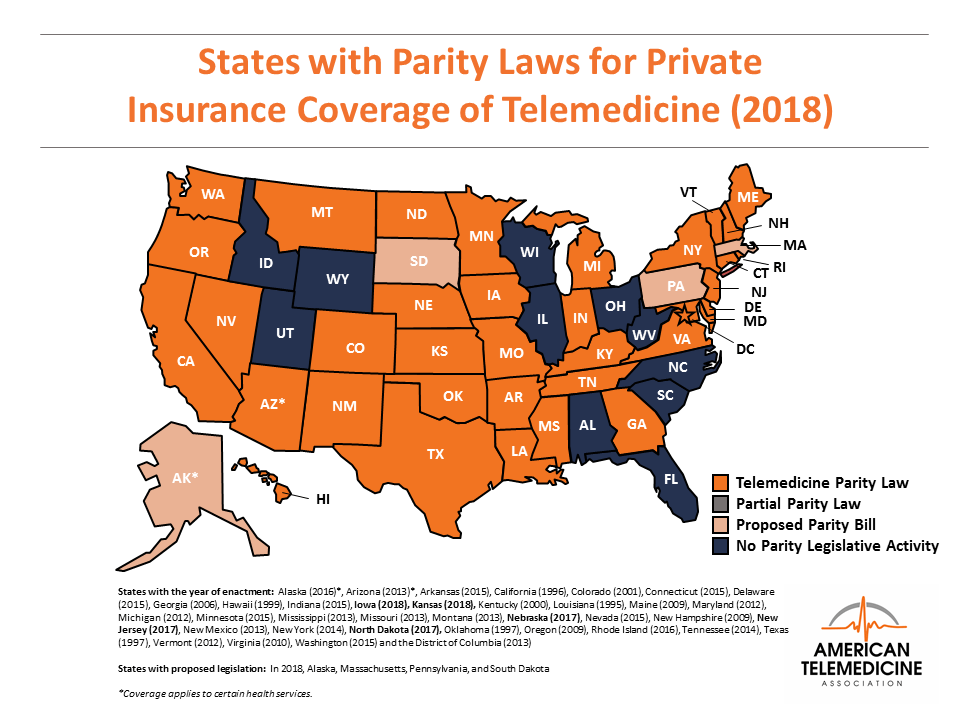 So Massachusetts is near the bottom of the class.
But across the country, telemedicine has been slow to take hold, despite high demand from patients.
In a 2018 national poll, nearly 90 percent of Americans 40 or older reported feeling comfortable using telemedicine tools, such as Skyping a doctor for a drug consultation. Similarly, a 2017 survey, conducted by a Boston-based telehealth company, found that two-thirds of respondents were willing to see a doctor via video.
So what's the holdup? Well, many reasons. There's some resistance from medical providers, who fear being buried by digital communication. Some insurers have also been resistant, as have some state regulatory agencies, amid concerns about privacy, liability and quality.
Here in Massachusetts, Children's Audette attributes much of the lag to a lack of unity among stakeholders working on the issue. "We weren't well organized, but now we are," she says; a statewide telemedicine coalition, launched in 2017, now has around 30 member organizations.
Latoya Thomas, policy lead for the American Telemedicine Association, says Massachusetts has "some of the most hardworking [telemedicine] advocates" she has ever encountered.
And while she's disappointed that the Legislature did not succeed in codifying telemedicine into law, she points out that MassHealth, the state Medicaid program, does not need lawmakers to guarantee telemedicine services for its enrollees. "The agency certainly has the authority to do more on its own, either through regulation or through a notice update," she says. "It's just choosing not to."
As for Carson Domey, who is now 14 and about to enter high school, he's one of the advocates Thomas applauds. Leveraging his experiences with virtual care, her has testified on Beacon Hill about the benefits of telemedicine.
It's unfortunate the bill didn't pass, he says. "Next year seems very promising, though, with the work that we've achieved this year."
Carson aspires to be a politician, maybe even the president. And he already sounds the part: "It's politics," he says. "It's pretty much a game, and this year, the game didn't go in our favor."