An Artist's Notebook: How Creativity And Science Converge
This is the first in a short series of notebook entries from Boston-based interdisciplinary artist Allison Maria Rodriguez, who focuses her work on environmental issues. She traveled to Churchill Northern Studies Centre in Manitoba earlier this summer on an Earthwatch Fellowship to engage in the scientific process and gather inspiration. Here are her initial thoughts: 
---
MANITOBA, Canada — "We didn't find any… such a waste." Sarah looked tired. Her and Marie had been driving around in the rough arctic wind, wading into cold waters, hands stiff and useless via the combination of ice and air, collecting Daphnia (water flea) specimens. "No, we didn't find any, but that says something," Marie replied, "it wasn't a waste, that's information."
The researchers' exchange reminded me of so many I've had with fellow artists -- myself having been on both sides of the conversation. "I spent so much time, money, effort on this piece, and it's going nowhere, what a waste" — to which the response is always, "It's all part of the process, it will inform work yet to come, it's all information." The phrase which I've heard uttered so many times — "Well, that's art" — is now "Well, that's science."
I wrote this from quite literally on top of the world at the Churchill Northern Studies Centre (CNSC), a remote scientific research station in Manitoba. I am a Boston-based interdisciplinary artist who works predominately in video installation with a focus on environmental issues, particularly climate change and species extinction. I was invited by the CNSC and awarded an Earthwatch Communications Fellowship to join a research team as a citizen scientist earlier this summer. My residency involved "making science" by collecting data as a researcher alongside a team of teachers.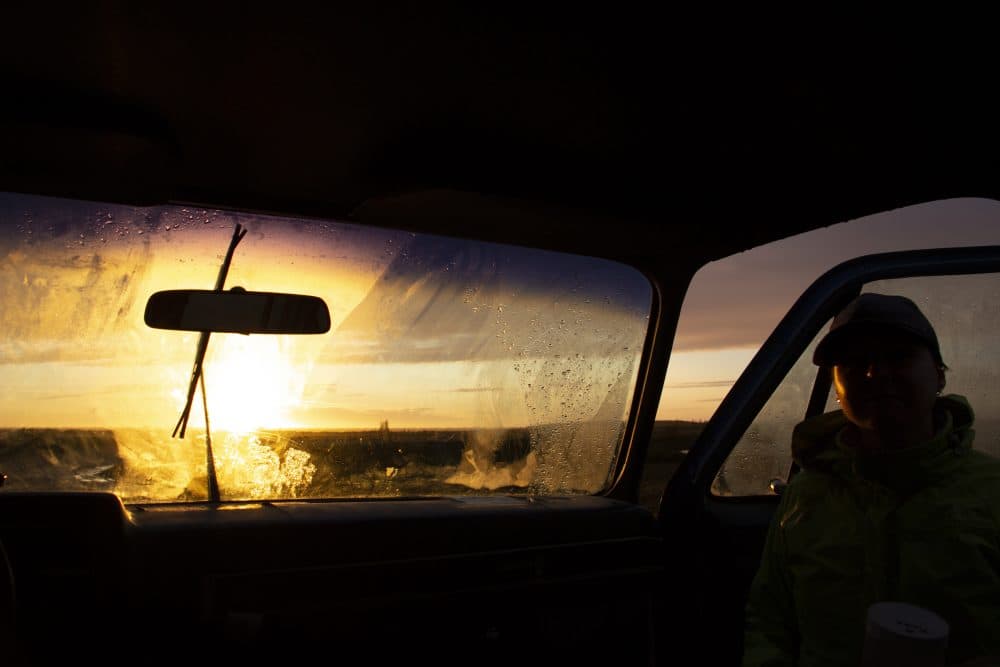 I've always understood that scientists are creative people — they need to think outside the box, they need to problem solve, they need to attempt to guess the future — but I hadn't really compared the emotional process of making art to the emotional process inherent in science. What struck me most was the familiarity I experienced in the cadence of their voices: "We didn't find any nests today — there are so many less birds than last year." I heard the tired tone, the longing, the searching, the passion. Failure figures into both pursuits. Curiosity, exploration, strategy, uncertainty, play and failure are integral to the results and the making of both science and art.
Most of the research at the CNSC, including the Earthwatch Program, primarily focuses on measuring the environmental effects of climate change and functions to uncover ways to avoid and adapt to those changes. Prior to my team's arrival, I worked to familiarize myself with the incredibly beautiful and undeniably harsh landscape. In all my awe, there was also a sadness in seeing how climate change is impacting the north at a rate more evident than anywhere in the world. All this beauty is perhaps fleeting, and so few of us have ever even seen it. It's happening faster than we think — immense change will not only occur within our lifetime, but within the next two decades. At the CNSC I learned that, at the current rate of warming, in the next 20 years there will be no ice on the Hudson Bay in summertime. In the researchers' words, "There are way less birds than last year." This juxtaposition — amazement at the beauty and possibilities of our world alongside a deep sense of mourning and loss for what is already gone, for what will soon be gone, and for that which disappeared before we even knew it was there — is integral to my art.
As I rode around the tundra, I told Sarah and Marie how grateful I was to be part of the trip, worried I was a bother. Sarah responded, "We really like having you here." "You give me a new perspective," Marie said, "a perspective that makes me really excited." She explained that, because of the rigorous nature of data collection and the constant focus and analysis of the very specific job they have to do, she forgets to appreciate the beauty in the moments she and Sarah spend in nature together — to open herself up and to feel that which makes her surroundings truly remarkable. I was so touched by this statement, and also completely aware that I could wholeheartedly return the sentiment.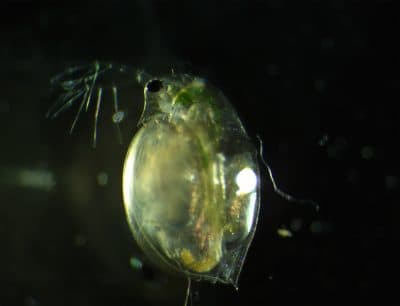 As an artist, science research has taught me to look in a different way as well, a way that doesn't just take it all in, but that also considers the building blocks of our environment — accounting for the little things that are by no means little. If it is hard to sell the concept that humans are connected to cows or polar bears, it's even harder to sell the idea that we should feel connected to tiny organisms like Daphnia. But this experience drove home the understanding of our connection to these beings that we often do not see.
I conceptually understood this before arriving in the arctic, but now I understand it emotionally as well — and emotional understanding is absolutely critical for my work as an artist. I need to experientially feel the connection that drives the work. Later that night, as Sarah and I watched the rain clear and the magnificent sun set together, she leaned toward me and said, "Tomorrow, I'm bringing my camera", to which I replied, "Tomorrow, I'm ordering a microscope."
---
Allison Maria Rodriguez is a Boston-based interdisciplinary artist working predominately in video installation. Her work is currently on display at the Boston Children's Museum and the Boston Convention and Exhibition Center.