'Moulin Rouge!' Heads From Montmartre To Broadway
Remember the 2001 Baz Luhrmann film in which a cadre of theatrical bohemians led by none other than Henri de Toulouse-Lautrec sets out to create what it calls a "spectacular spectacular"? Well, in that department, "Moulin Rouge! The Musical" makes them look like the starving, soulful amateurs they were.
In its world premiere at the beautifully refurbished Emerson Colonial Theatre (through Aug. 19), nodding like a bobble-head toward Puccini and Bob Fosse and cinched up to the cleavage in fishnets and bustiers, "Moulin Rouge!" is almost certainly the glitziest, sexiest, most spectacular jukebox musical ever conceived — or reconceived. But like the louche cave of lacy, intersecting valentine hearts that frame Derek McLane's moveable feast of a set, the non-stop, over-the-top theater piece is at once sentimental and mechanical. It is also, for the cranked-up clockwork that it is, extremely well executed.
Tony-winning dramatist John Logan ("Red") has written a new libretto based on the screenplay by Luhrmann and Craig Pearce, ramping up the emotion with, in addition to music written or borrowed for the film, a rock, soul and funk songbook that ranges from the Rolling Stones and the Beatles to Madonna, Katy Perry, Lady Gaga, Rihanna and Adele. There are nods to Elvis Presley, Tina Turner and Queen — in addition to, for you fans of the film, Elton John's "Your Song" and that lugubrious number about loving 'til your dying day, "Come What May."
But Luhrmann's movie was both a more fragile and a more unusual thing — a turn-of-the-20th-century fable buoyed by both whimsical and grotesque touches. The impressive if relentless stage work helmed by Alex Timbers is very much a creature of Broadway: brassy, showy, more Fosse and "Mamma Mia!" than fairy tale.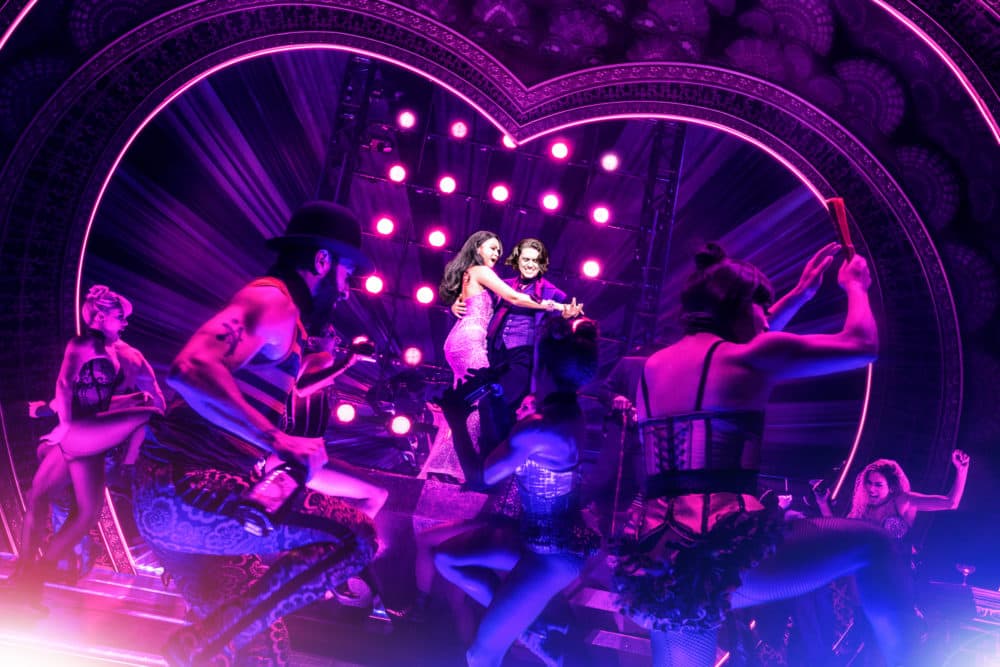 Also intruding on the delicacy is Tony winner Karen Olivo's terrific if hardly consumptive performance as Satine. Leggy and glittering, she is lowered with delicious slowness to the stage on a swing — from which she dismounts to powerhouse her way through "Diamonds Are a Girl's Best Friend," later attacking Katy Perry's "Firework" like some sonorous explosive. Given what a hard-edged dynamo the performer is (and how little foreshadowing occurs), the character's last-minute descent into "La bohème"-ian tragedy seems sudden at best.
The plot is more or less the same as the film's, though less chaotic toward the end and lacking the movie's gossamer gloss. The Moulin Rouge (not just a Montmartre nightclub, we are told, but "a state of mind") is on its financial last legs. Proprietor Harold Zidler hopes to remedy this by offering intoxicating headliner Satine on a platter to the wealthy if cruel Duke of Monroth in exchange for His Grace's heavy investment in the titular altar to egalitarian decadence.
But just as this transaction is about to take place, former streetwalker Satine locks eyes with innocent young songwriter Christian, recently arrived in Paris and taken under the wing of true artiste Toulouse-Lautrec and a seething Argentinian named Santiago. Fraught rehearsals, clandestine romance and dangerous jealousies ensue, all fueled by the piecemeal, high-voltage score.
But you have to hand it to whomever pasted the pop songs, many of them recent hits, into the script. In the first act, as in the film, there is a wink to the anachronistic intrusion of "The Sound of Music" or Mick Jagger into the 1899 setting. But elsewhere the songs fit without irony into the angst-ridden situations where they have been inserted. As an example, in Act 2, the rejected Christian, at first slumped in a narrow spotlight beam set against a dark backdrop, segues from Gnarls Barkley's "Crazy" into Adele's "Rolling In The Deep." (It helps that performer Aaron Tveit possesses, in addition to shaggy-blond good looks, pipes capable of rocking Adele.)
There are eerier, softer-edged moments too, as when Sahr Ngaujah, mischievous yet stately as Toulouse-Lautrec, conjures up David Bowie's nature boy, "a little shy and sad of eye," to deliver the message that "the greatest thing you'll ever learn/ is just to love and be loved in return." The sequin-free number is hauntingly delivered with little oomph beyond a guitar and a cello.
Moreover, in a show that's designed within an inch of its life (the tight, glimmering costumes are by Catherine Zuber), there are some beautiful effects. When Christian, Toulouse-Lautrec and Santiago start tripping with the Green Fairy (to Sia's 2014 hit, "Chandelier"), what look like multiple lime-winged Satines start to dart about the trio's humble dwelling, their fleeting images reflected in a garret skylight.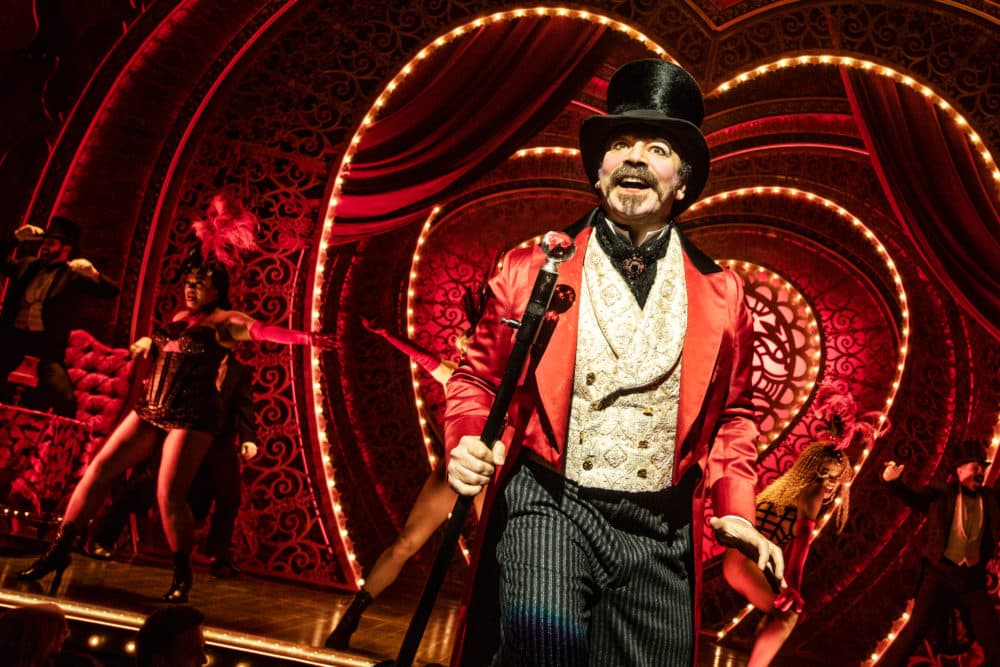 As Zidler, Broadway vet Danny Burstein is less grotesque than Jim Broadbent's film impresario, but he's the epitome of desperate, cynical showmanship: a smash-up of vaudeville clown and Joel Grey. Ricky Rojas is a dashing if also hapless Santiago, Robyn Hurder his tough-tangoing muse, the pair leading the company into a show-stopping production number built on Lady Gaga's "Bad Romance." And Tam Mutu brings a snaky charm to the duke who won't take no for an answer.
Really, you cannot fault the flashy, fluid production, with its muscular, can-can-studded choreography by Sonya Tayeh that dazzles with leaps and squats and upside-down full splits. (At one point, Burstein's Zidler judiciously closes the upturned, widespread legs of a female dancer — as if the position might embarrass the spectators.)
Speaking of the audience, I would be remiss if I did not report that on the Saturday night I attended "Moulin Rouge!," the full house responded with an enthusiasm that seemed to me as overproduced as the show. Prolonged applause froze several production numbers for so long that the dancers' muscles started to quiver. But for my part, I would have preferred to leave the theater with tears in my eyes rather than with a shower of confetti hearts in my hair.