Walsh Touts New Luxury High-Rise As A Job Creator And Funder Of Affordable Housing
One Dalton Street will soon be Boston's tallest residential address — and one of its most exclusive, with swanky condominiums sandwiched between a $40 million penthouse and a Four Seasons hotel.
Yet Mayor Marty Walsh contends the triangular tower in the Back Bay has a populist side.
"Often times people talk about luxury buildings, saying that we're not building for the poor," Walsh said Tuesday at a "topping off" ceremony to mark the end of vertical construction on 742-foot One Dalton. "But what this building actually does is create opportunities and revenue for middle-class and low-income housing."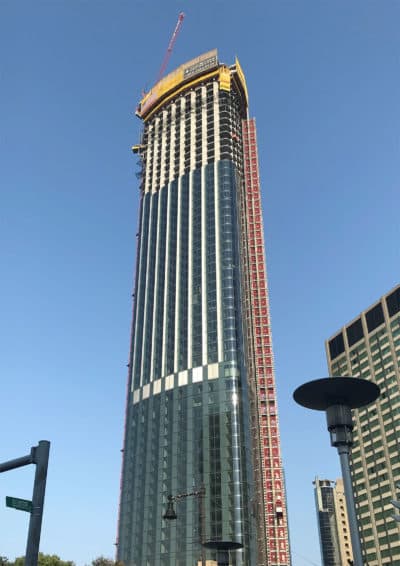 The Boston Planning & Development Agency said One Dalton developers are building a total of 28 affordable housing units at two locations in Roxbury to satisfy the city's Inclusionary Development Policy, which requires some real estate developments to add to the Boston's affordable housing stock.
Addressing construction workers, Walsh also hailed One Dalton as a job creator.
"It's actually putting food on the table for everybody in front of me today," said Walsh, a former head of Boston's Building & Construction Trades Council.
One Dalton will open early next year as the tallest residential building in New England and the third-tallest overall, behind 200 Clarendon — long known as the Hancock — and the Prudential Center.