'BlacKkKlansman' Is A Buddy-Cop Comedy That Addresses America's Racism — Past And Present
This summer's most brashly entertaining movie is also the most terrifying film of the year. Spike Lee's "BlacKkKlansman" will leave your sides aching from laughter and your stomach twisted in knots. It seems strange to learn now that the picture was originally intended to be directed by producer Jordan Peele, because I can't imagine a more perfect marriage of filmmaker and material than this story and Spike. Lee's trademark tonal shifts are deliberately deployed here to destabilize the audience at every turn, sight gags and one-liners flying fast and furious while his broad, editorial-cartoon theatricality jabs like a finger in your chest, all under the guise of a crowd-pleasing cop thriller.
Most period pieces — especially those involving racism — are designed to congratulate viewers on how far we've come. I remember about 10 years ago the Academy Awards ceremony unveiled one of those smug, time-sucking montages celebrating Hollywood's history of social issue melodramas, and when it was finally over host Jon Stewart smirked, "And none of those things were a problem ever again." The rambunctious, scabrously funny "BlacKkKlansman" may take place four decades in the past, but it never lets you forget how the sickness it documents is still surging in the present.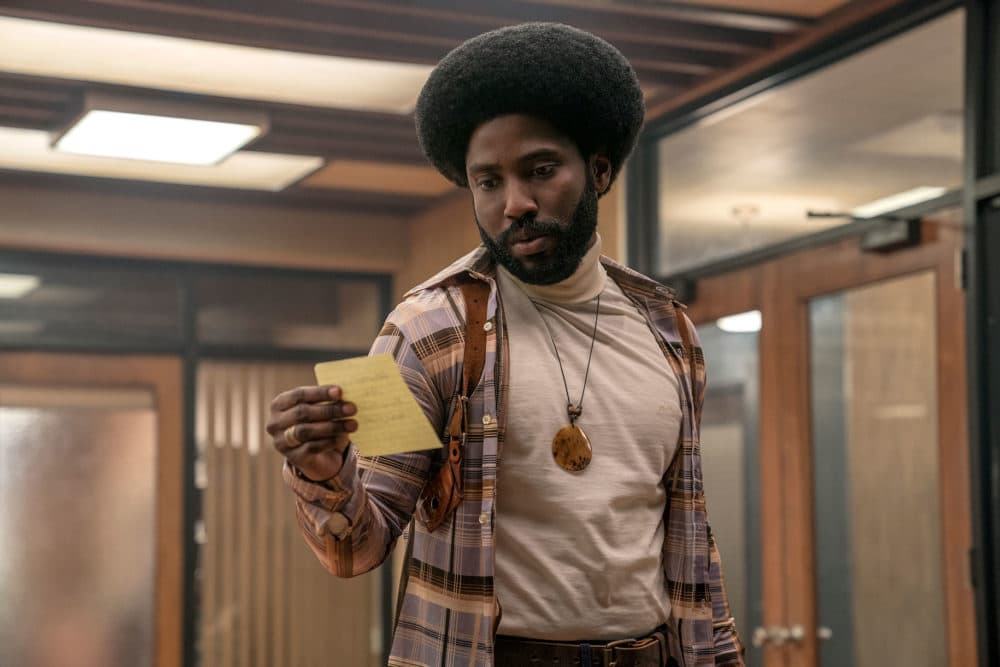 Lee begins with a montage of his own, starting with a clip from beloved Oscar-winner "Gone With the Wind," as both the camera and music rise to salute a battered-but-still-flying Confederate flag. Smash-cut to outtakes from a fictional 1950's white supremacist propaganda newsreel during which the knucklehead host (Alec Baldwin, no doubt cast with a tip of the hat to his recurring role on "SNL") keeps stumbling over his racist slurs.
This punchy, in-your-face opening eventually settles into the stranger-than-fiction story of Detective Ron Stallworth, the first black police officer in the history of Colorado Springs, who in the late 1970s successfully infiltrated the Ku Klux Klan. Played with smooth, laid-back charm by John David Washington (Denzel's son) "the Jackie Robinson of the local P.D." eventually becomes a full-fledged KKK member and a telephone confidant of Grand Wizard David Duke (Topher Grace, his affable air of entitlement put to slyly sinister use).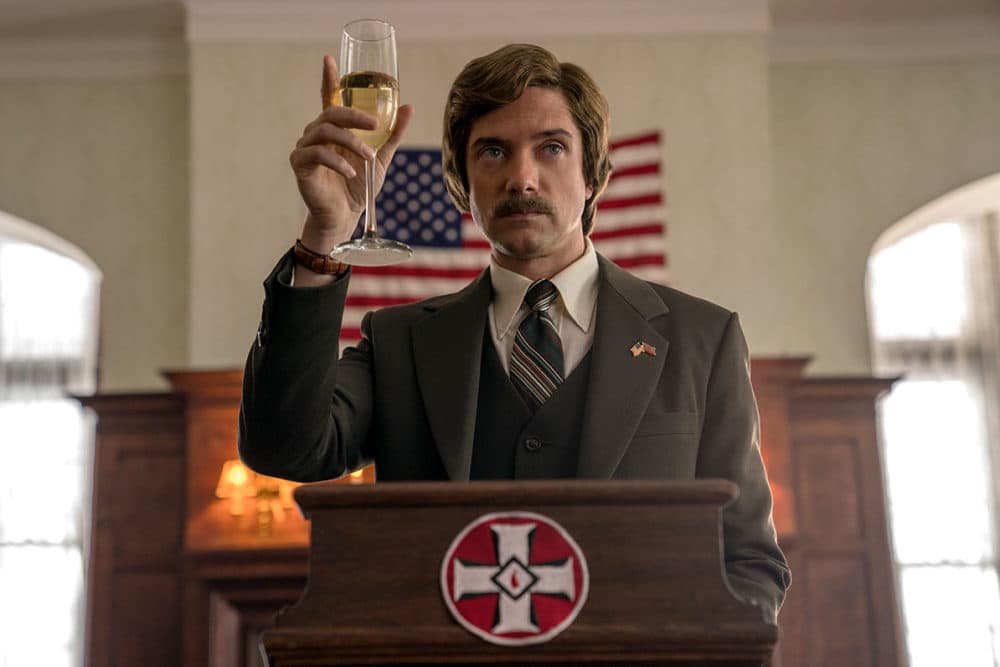 For obvious reasons Stallworth can't meet with Klan members himself, sending in his stead partner Flip Zimmerman (Adam Driver) who was born Jewish but raised without a religion. Lee's films are so entwined with his politics that I think sometimes we overlook what a spectacular showman he can be, and there's a level upon which "BlacKkKlansman" is simply a superlative Hollywood entertainment, the best buddy-cop comedy I've seen in ages. (Like Lee's terrific 2006 heist picture "Inside Man," it hints at a whole other career he could've had as a genre filmmaker.) You might even catch a whiff of "Blazing Saddles" as Washington's wiseacre black sheriff sets straight this town full of hayseed yokels, with Driver doing Gene Wilder duty by his side.
But of course there's a lot more to "BlacKkKlansman" than just that. "Heritage, rituals," Zimmerman muses, "I never thought much about this stuff before but it's all I'm thinking about now." One of our most restless, inquisitive film artists, Lee is constantly placing provocative, incendiary images alongside one another — not to draw easy equivalencies but to explore with how they work in concert, teasing out the ways in which such contrasts distort our sense of shared history.
The local Black Student Union's raised fists bump up against secret KKK handshakes, with special guest star Harry Belafonte's harrowing account of witnessing a lynching intercut with a boisterous Klan rally screening of D.W. Griffith's "The Birth of a Nation." As when Stallworth's budding romance with a young BSU radical (Laura Harrier) gets cut short once she discovers he's "one of the pigs," or when the cops close ranks around the rotten apples in their midst, even among the good guys here it's all tribalism, all the time.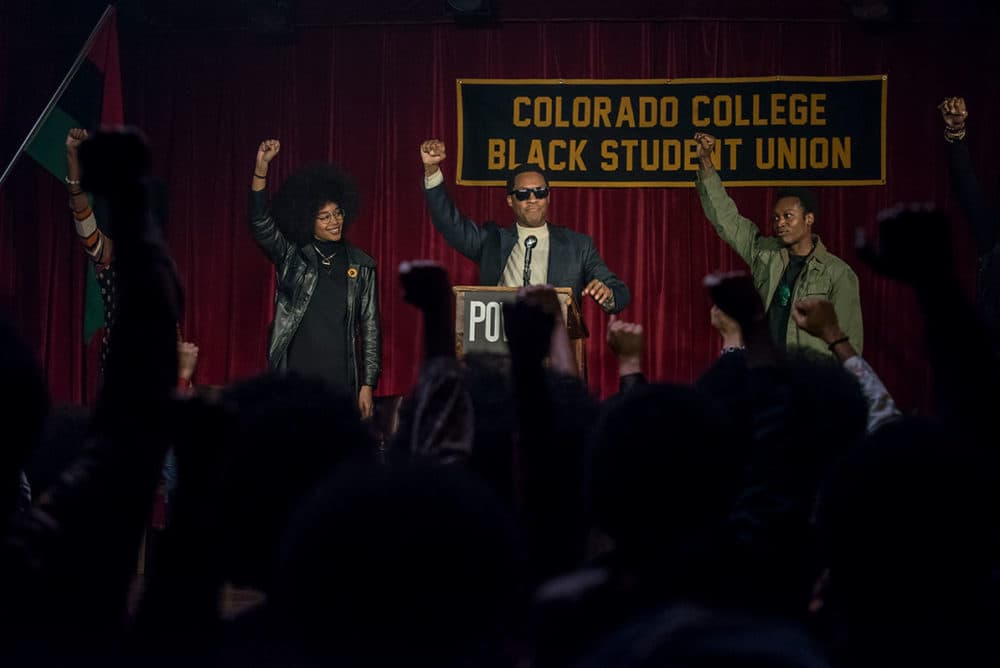 Like Robert Altman before him, Spike Lee is the kind of filmmaker who works at a clockwork, prolific pace, drifting in and out of fashion and critical favor over the decades even though he's remarkably consistent about being stubbornly himself. "BlacKkKlansman" will probably be called a comeback by anyone who didn't see 2015's stunning "Chi-Raq," a bawdy, occasionally harrowing musical comedy in which Spike and co-screenwriter Kevin Willmott transplanted Aristophanes' "Lysistrata" to contemporary, gang-ravaged Chicago. Willmott shares a screenplay credit here as well, and both films boast big-canvas audacity as well as a prankish irreverence, albeit one that makes the laughs catch in your throat.
The villains of "BlacKkKlansman" are indeed breathtakingly, often hilariously dumb. But if recent history has taught us anything it's that stupid people can be the most dangerous of all. (There are things in this movie that two or three years ago I would have considered over-the-top, but in light of current events seem underplayed.) The film's tonal whiplash accomplishes the tricky task of ridiculing these genuinely ridiculous folks without ever undercutting what a horrible threat they represent. Every once in awhile Lee slows down the pace just long enough for the endless barrages of epithets to hang in the air like a foul odor, and a seething menace takes hold.
In the end, "BlacKkKlansman" becomes every bit the opposite of those back-patting Hollywood message movies Jon Stewart gently skewered at the Oscars that time. One of Lee's patented rolling dolly shots brings the past into the present, suddenly bludgeoning the audience with actual footage from last summer in Charlottesville and chilling words from a leader we once considered just as clownish as this film's buffoons. Spike Lee has made a lot of great films but never one that has felt so urgent and crucial to the current moment. Normally I flinch when people call movies "necessary," but this one may very well be.