Boston Street Artist Fusing Sanskrit And Graffiti Traces Influence To Her Native Nepal
This article is more than 4 years old.
Artist Sneha Shrestha's earliest memory of art involves both pictures and letters. When she was a young child, Shrestha's mother Kalpana (Nepali for imagination) would bring her work as a teacher and translator home to their house in Kathmandu, Nepal. At night, Shrestha would sometimes sit alongside her mother as she transcribed English books into Nepali, even redrawing any illustrations on the page.
"She'd be using bits and stubs of colored pencils to copy the illustrations over," Shrestha said in a recent interview.
That memory echoes in the creative work Shrestha now produces. Known by her graffiti name Imagine, Shrestha has emerged as a creative force in Boston, with a street art style that reflects her Nepalese culture, while fusing traditional graffiti styles and middle eastern typography. Her work has been commissioned by Harvard, Reebok, TripAdvisor and Red Bull. Her murals have appeared in places like Istanbul, Bali, Copenhagen, Oakland and San Francisco.
Shrestha's artistic footprint in the region is expansive. She's currently painting a mural on a five-story wall as part of the Beyond Walls mural festival in Lynn. She's also working on a mural in Mattapan and two satellite murals in Dorchester as part of her art residency with the city of Boston and serves as the arts manager designing the Visiting Artist Program at Harvard's Lakshmi Mittal and Family South Asia Institute.
Then there's the Children's Art Museum in Nepal, which she founded in 2013 and continues to help run. The project began as a modest endeavor: Using crowdfunding to raise $20,000, Shrestha created the museum as a social innovation project with Vermont nonprofit World Learning. In addition to serving as a gallery for international, local and student work, the museum functions as an impromptu workshop.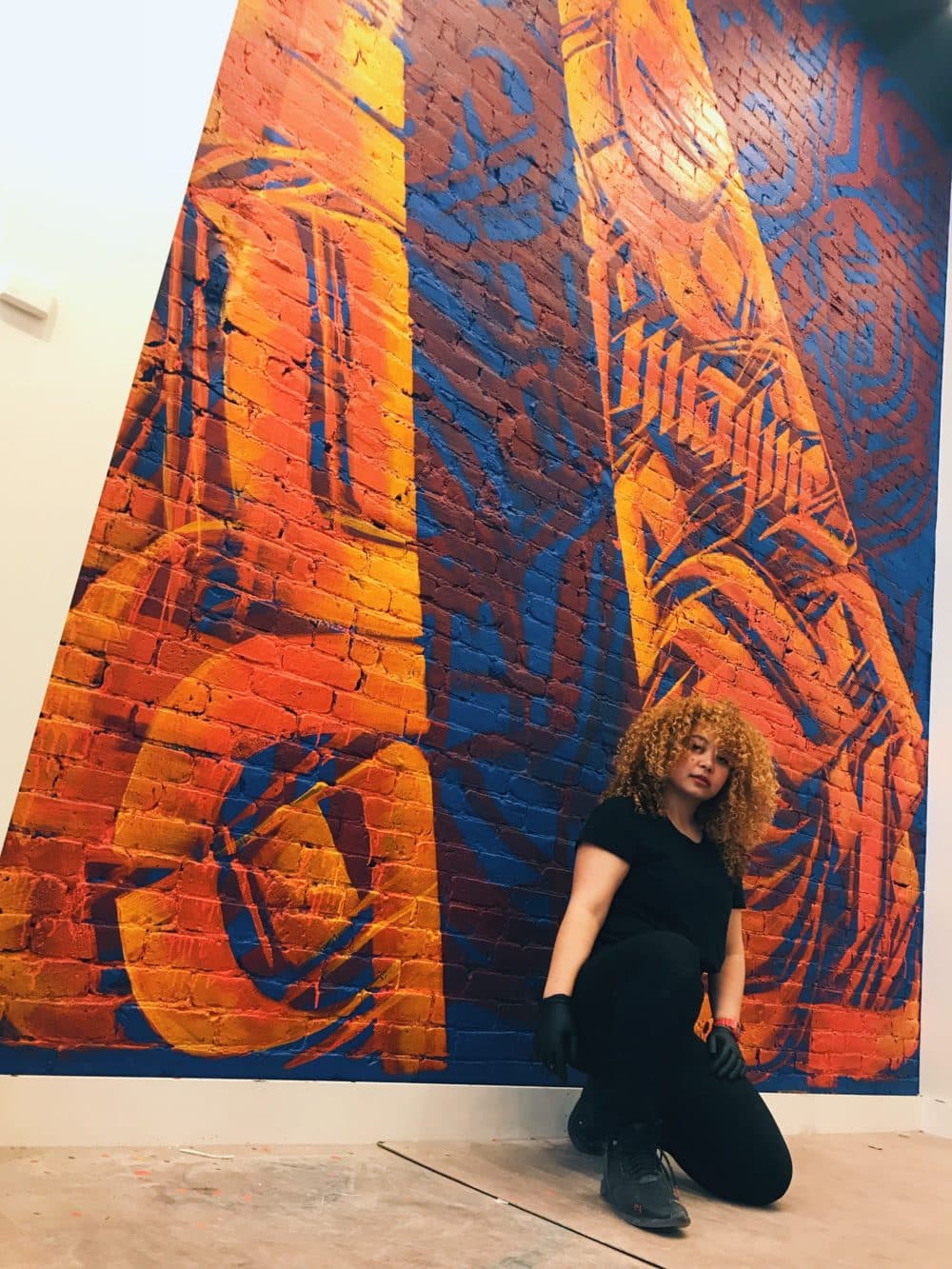 "In Nepal, art is kind of a luxury, so it was important to create a place where kids could explore and experiment with art," she said.
Growing up in Nepal, she attended the same school from third grade through the end of high school. Classes focused on practical lessons and there weren't a lot of extracurricular activities. Art was reserved for younger students, with classes disappearing as they grew older.
"It just wasn't in my mindset that it could ever be a career," she said. "In Nepal, most of the people are concerned about things like feeding their family and finding clean water. It was never frowned upon, it just wasn't practical."
Still, as a child, she couldn't resist the urge to draw and paint her bedroom walls. Art provided a respite from the pragmatic.
She excelled in school, earning a full ride to Gettysburg College in Pennsylvania. She'd never visited the United States before moving to the small, rural Pennsylvania town.
"It was tough," she said. "I grew up bilingual thanks to my mom but there was still a major case of culture shock when I got there. My accent was still very present and rural Pennsylvania wasn't exactly diverse. I didn't have any context to where I was."
In between global studies classes, she began sneaking in studio time, learning how to paint, draw and sculpt. "I took the three or four required courses and then I took one or two classes on the side in painting or drawing," she said. By the time she graduated in 2010, Shrestha had earned a double major in globalization studies and studio art.
"I never told my parents and the first time they found out was when they called my name twice at graduation."
She soon moved to Boston to work with community arts nonprofit Artists For Humanity, where she was surrounded by people who imagined, planned and produced art full time.
"Seeing how they went about everything from studio work to their individual process was amazing," Shrestha said. "That's when I met Rob and it changed everything again."
Studying graffiti with Artists for Humanity co-founder and Boston street art pioneer Rob "Problak" Gibbs transformed Shrestha's view of street art. She'd seen a bit in Nepal but had never thought of it much. "Rob explained the art, and he gave me the story and history behind graffiti but he also opened my mind up to art based solely on letters. That blew my mind."
Over the next few years, Shrestha shadowed Gibbs as he painted in Boston. She'd spend full days watching Gibbs' work, taking photographs, learning spray techniques and studying letters.
"She did it all, line work, letter styles and experimenting with traditional American graffiti," Gibbs said. "I told her all about graffiti, and explained how it was kind of like the alphabet of hip-hop."
An alphabet, letters, the physicality of writing — those things felt familiar to Shestha, who'd grown up watching her mom transcribe. Before she learned how to write in English, she had written in Nepali.
"I actually used to hate writing Nepali when I was younger but it all came full circle," she said. "I thought if graffiti is playing with letters and showing off your personality then I could combine the two elements."
Along with her native language, Shrestha has also adopted aspects of Turkish calligraphy, producing a sleek, fluid style of lettering. "I had experience studying Arabic in college and the writing just came naturally," Shrestha said. "I don't think there's the same level of appreciation for the aesthetics of Sanskrit as other languages but the letters are beautiful and in some way it brought me home and gave new meaning to my work."
"I was amazed when I saw her scribbling one day," he said. "She told me she writes faster in Nepali and would translate it to English later. I asked her 'What are you even doing trying to tag like us when you got that," said Gibbs.
Around the same time a friend told Shrestha her graffiti work looked like Gibbs'. "I reflected on who I am and asked 'What is my voice?'" Shrestha said.
Before that, the idea of tagging a wall with her name for everyone to see was still incredibly daunting, she said. One Saturday in March 2012, she woke up at 5 in the morning and drove to Graffiti Alley in Cambridge. As one of the only legal places to paint in Greater Boston, the Central Square free wall has served as a classroom for generations of local, national and international painters since it was created more than 10 years ago.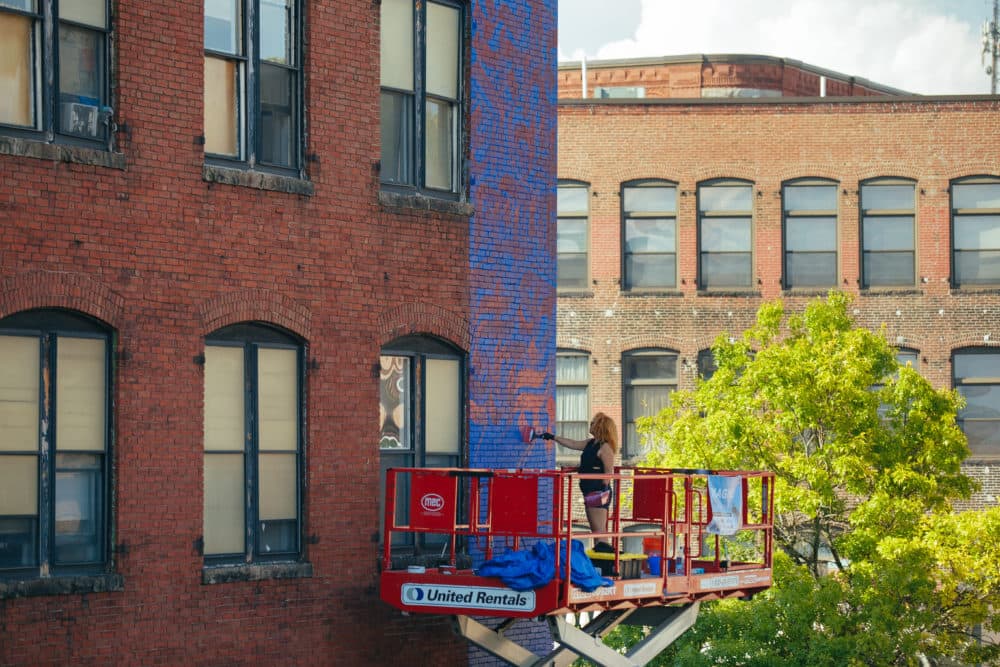 "It was very scary," she said. "I was still a little self conscious so I got there early so no one would be around. I remember it was just one letter in Nepali, the sound of K, which is also the first letter in the Nepali alphabet. I write it a lot, because that's how you spell Imagination." The alphabet — letters — her mother's name. Shrestha had found her singular creative expression.
"I remember telling her I hope she sticks with it. For her to do a piece with an authentic style and honor your mom at the same time, I felt like she took it there and she was serious," said Gibbs.
From that point, Imagine worked to spread her art across the city and globe from Allston to Nepal, Dorchester to Cambridge. She finally graduated to painting at The Lab, a popular spot to tag adjacent to the John D. O'Bryant School of Mathematics and Science in Roxbury.
For her residency with the city of Boston, Shrestha is planning on creating a massive mural along the exterior of the Mattahunt Community Center in Mattapan. The plan also calls for two satellite walls at the Boston Center for Youth and Families in Dorchester.
"It's a nice building even though it may look a bit worn from the outside and people don't use it enough" she said. "I want to activate the space and I purposely chose Mattapan to do the biggest mural because it deserves the attention."
"Sneha's style stands out in Boston's growing street art scene," said Karin Goodfellow, the director of the Boston Art Commission.
"It's hard to explain, but sometimes when you see another artist's work, it has a glow to it. Her work gives me that glow feeling, almost as if I can hear the mantras coming from her head as she paints it," said Stephanie Rond, an artist and curator who started the website Women Street Artists, a platform meant to boost fellow female street artists.
Shrestha said while her work and technique have evolved through the years, her message and her influence stay the same. When she paints, she often thinks of those evenings spent watching her mother transcribe words into Nepali.
"It's always evolving, but my work is meant to shed a light on my culture and what my story has been and will be."