Other Cities' Stadium Woes Serve Warning To Worcester And The PawSox
Resume
Worcester's proposed new stadium for the Red Sox's top farm team would be the most expensive minor league ballpark ever built, and most of the bill would be charged to taxpayers' collective credit card. The city plans to take on as much as $100.8 million in bond debt.
City Manager Edward Augustus Jr., who led negotiations with the baseball club, contends that public revenue generated by the stadium and surrounding development will cover the debt — and even turn a profit for Worcester. He said at a City Council meeting this week that he's confident a new stadium will pay dividends, partly because similar projects have worked out elsewhere.
"I've had a chance to visit the ballparks in Nashville and Durham and Charlotte," Augustus said, "and I see ballparks that were in similarly situated areas that are now surrounded by housing, hotels, office parks, active use for retail and for entertainment."
Despite appearances, the return on investment has been mixed for cities that funded minor league ballparks.
Nashville borrowed $65 million to build a stadium for the Oakland Athletics' Triple-A affiliate. While there has been some surrounding development since First Tennessee Park opened in 2015, planned projects have moved more slowly than expected.
Toby Compton led the government agency that managed the ballpark project. He says he still believes new development will come through and that the stadium will pay off, but he acknowledges that new tax revenue isn't keeping up with projections — and therefore isn't covering the city's annual debt payment.
"There's a budget shortfall in the short term here that they're going to have to make up somehow," Compton said. "That's true."
The "somehow" has been extra taxpayer subsidies — $3.4 million over the past three years, according to the Tennessean.
Nashville City Councilor John Cooper argues that even if future construction closes the gap, a minor league baseball stadium isn't really an economic engine.
"Our overall success as a tourist destination is clearly not part of this baseball project," Cooper said. "Nobody here thinks of the minor league baseball park as driving much of that."
In Durham, North Carolina, taxpayers built a stadium for the team that is now the Tampa Bay Rays' Triple-A affiliate, in 1995. Twenty-three years and one major renovation later, the city is still drawing from its general fund to pay for the park.
El Paso, a city Augustus didn't mention, expects a similar financial slog, as it pays off the $64 million it borrowed to construct a ballpark for the San Diego Padres' top farm team. The stadium opened four years ago, and El Paso Chief Financial Officer Robert Cortinas says it will be at least another four years before the project is self sustaining.
"We actually did some refinancing of some of the debt two years ago," he said. "So now we're looking at hopefully within the next four years we'll have enough revenue from the hotel occupancy tax that's dedicated, and the other team revenue, to help make that full debt payment."
The story is better in Charlotte, where a stadium for the Chicago White Sox's Triple-A team opened in 2014. But that may be because the city said no to picking up the tab.
"We floated that," said Charlotte City Councilor James Mitchell. "'OK, can we pay all $54 million?' We quickly got pushback: 'No. You're crazy.' "
The city ultimately agreed to pay $8 million over 20 years. The county matched the sum, leaving the team to pay for most of the ballpark construction.
Because Charlotte spent relatively little, the city is now making back its investment — and then some — on property and sales taxes generated by the stadium, according to Mitchell.
"It was a great deal for us," Mitchell said.
In fact, the deal is working out as predicted by sports economist John Connaughton at UNC Charlotte. He was paid by the White Sox's affiliate to conduct a feasibility study and maintains that cities could pay more than Charlotte did and still come out ahead.
But he said the nine-figure debt load proposed in Worcester is "a stretch for minor league bonding. In terms of economic impact — i.e., will you get your money back, as a community? — I think 15, 20, 30 million is probably a reasonable amount of money for a city to put into that."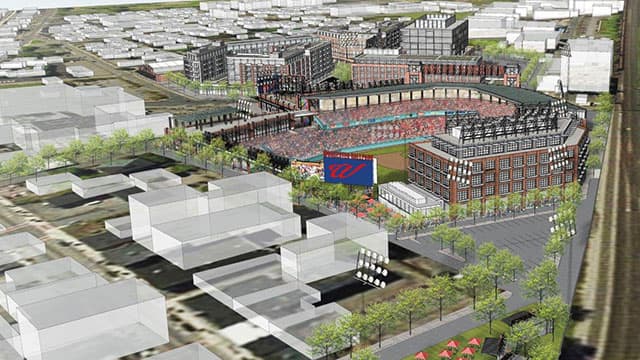 The city of Pawtucket and the state of Rhode Island offered $38 million for a new ballpark, in an effort to keep the Red Sox's Triple-A team. Rhode Island Gov. Gina Raimondo said Wednesday that Worcester's offer could not be matched, in good conscience.
"From the beginning, the mayor and I and all of us have said that the PawSox belong in Pawtucket, but we have to protect the taxpayers," she said. "And the deal that Worcester has in front of them — over $100 million — would not have been responsible for us to try to compete with."
Holy Cross sports economist Victor Matheson says the Canal District neighborhood around Worcester's proposed stadium site is already on the upswing. So city officials' sunny forecast of development around the ballpark may come true, but "unfortunately most economists would not necessarily look at that as a win because we've given a huge amount of money to subsidize a really, pretty small economic entity," Matheson said.
The deal in Worcester is not done yet. The City Council won't vote until Sept. 12, at the earliest, after two public hearings. But based on the enthusiastic reception councilors gave the stadium plan at a meeting this week, approval looks likely.
This segment aired on August 23, 2018.