Mass. Emissions Ticked Up In 2015. They're Now 19 Percent Below 1990 Levels
Greenhouse gas emissions in Massachusetts rose nearly 3 percent in 2015 from the year prior, and that 2015 total is 19.2 percent below emissions levels in 1990, according to newly updated inventory data.
The data, released by the state on Thursday, also includes preliminary figures for 2016, predicting reductions of 20.8 percent below 1990 levels.
Over the last few years, emissions have fluctuated. They were 21.5 percent below 1990 levels in 2014, and 19.7 below those levels in 2013.
Here's what that looks like in chart form: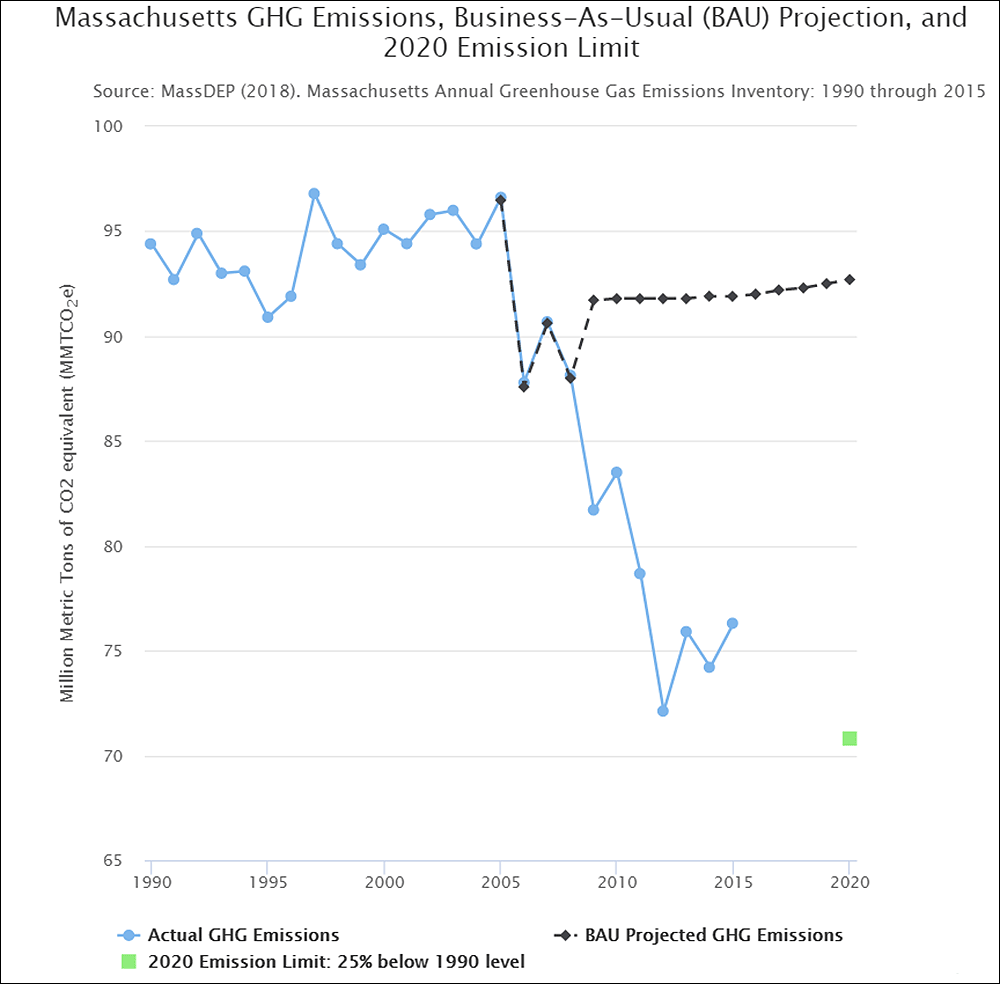 That green square on the chart is the state's emissions reduction target under the 2008 Global Warming Solutions Act, which requires Massachusetts, by 2020, to cut emissions 25 percent from 1990 levels — and, by 2050, see at least an 80 percent reduction.
The state says the act "created a framework for reducing heat-trapping emissions to levels that scientists believe give us a reasonable chance of avoiding the worst effects of global warming."
In an email to stakeholders Thursday, the state Department of Environmental Protection said the data "reflects progress to implement greenhouse gas reduction strategies" but also "underscores the importance of the continued implementation of aggressive policies to reduce greenhouse gas emissions."
The department added: "Fluctuations in emissions can be attributed to weather, including the historically cold and snowy winter the Commonwealth endured in 2015 which increased usage of carbon-intensive energy generation. Additional variations can be attributed to market forces and increases in transportation sector emissions."
The transportation sector is the state's biggest source of emissions, accounting for 39 percent of the overall total in 2015: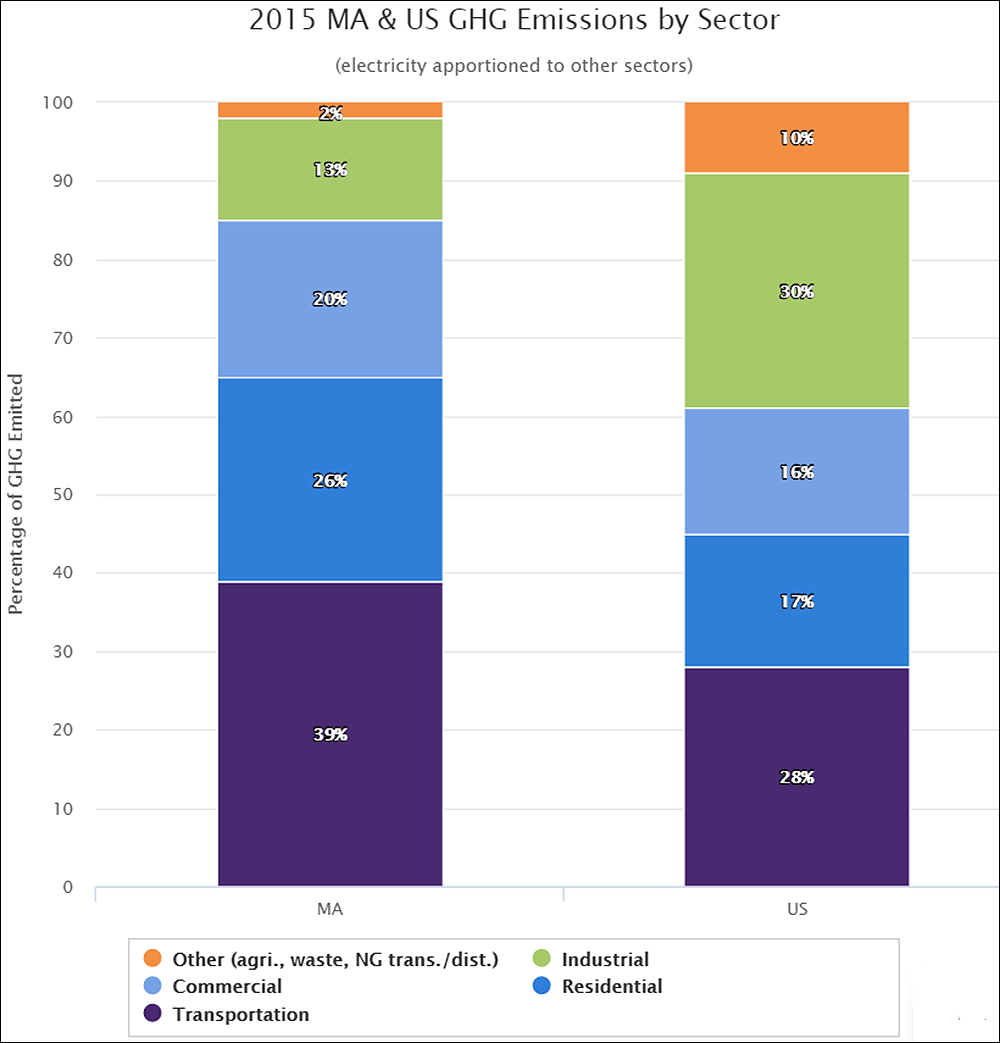 The state says vehicle miles driven in 2015 were up 28 percent, over 1990 levels.
Massachusetts is chipping away at emissions through measures included in its Global Warming Solutions Act and clean energy laws approved in 2016 and 2018, as well as through emissions reductions being achieved through the multi-state Regional Greenhouse Gas Initiative. Efforts are also underway to promote the use of zero-emission vehicles and more broadly tackle the problem of emissions generated in the transportation sector and by building and facility systems.
The state says it's on target to hit the 2020 goal.
But the pace of emissions reductions continues to generate contentious debate on and off Beacon Hill, where lawmakers are weighing environmental benefits with concerns over energy reliability and affordability.
An additional factor: The Pilgrim nuclear plant in Plymouth, a source of carbon-free electricity for the state, is set to close next year.
State officials are developing a long-range comprehensive study outlining strategies to achieve 80 percent reductions by 2050, a study that the executive branch says will feature a "rigorous sector by sector analysis of plausible pathways for Massachusetts to meet the 2050 emissions limit while continuing to grow the economy and meet the overall needs of society."
With reporting by Michael Norton of State House News Service and WBUR's Benjamin Swasey
This article was originally published on August 24, 2018.