State House Security Leaves Replica Liberty Bell Off Limits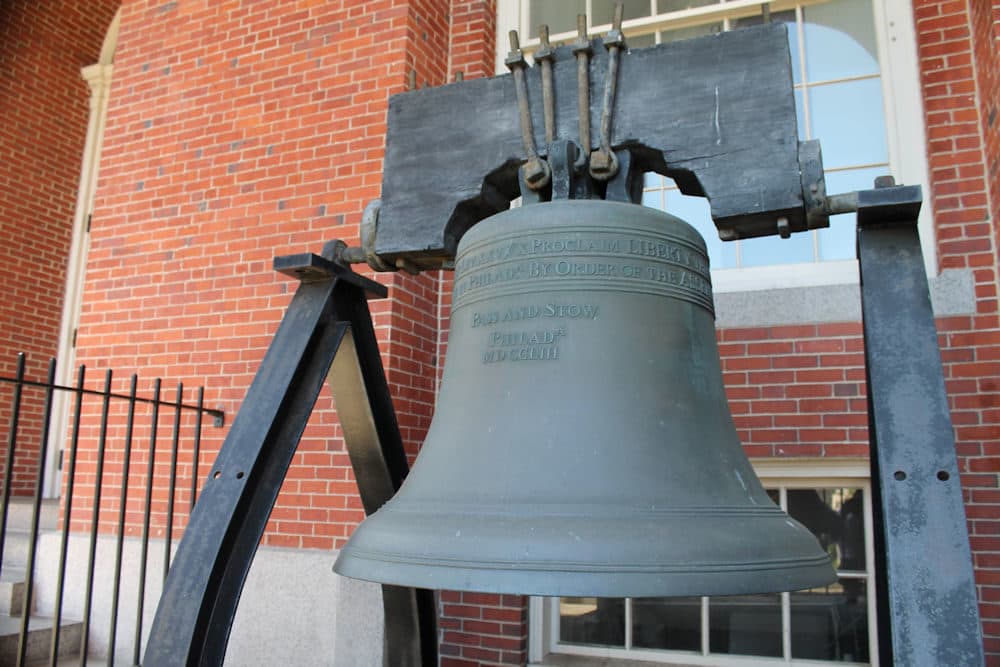 This article is more than 4 years old.
Visitors to Philadelphia line up around the block for a chance to view the real Liberty Bell. A 2,080-pound bronze replica outside the Massachusetts State House, meanwhile, is tucked in a spot inaccessible to visitors, leaving it at risk of becoming "lost to time and history," according to a Northbridge man.
George Warren, who lives in the Northbridge village of Whitinsville, plans to visit the State House on Tuesday, to urge lawmakers to advance a bill he filed with Grafton Republican Rep. David Muradian and Millbury Democrat Sen. Michael Moore.
The bill (H 1776) calls for state officials to study the feasibility of moving the bell to a "more accessible location to the general public" inside the State House, and to report their findings by the end of the year. It also creates a Massachusetts Liberty Bell Replica Fund that would be used to pay for the relocation.
"I think it would be good for Massachusetts," Warren said. "The spirit of America really started here in Massachusetts."
Fifty-three full-sized replicas of the Liberty Bell were distributed to states and territories in 1950 as part of a national savings bond campaign. After a tour of Massachusetts, bell number eight was accepted at the State House by Gov. Paul Dever on July 6, 1950.
The replica bell was displayed in Doric Hall until 1957, when it was moved to its present outdoor location at the top of the front steps. In that spot, the bell was among the first exhibits for tourists entering the building, until the front doors were closed after the Sept. 11, 2001 terrorist attacks, creating a restricted area.
Warren said the security change has left the bell as an obscure piece of history, and he wants to see it moved somewhere it would be more accessible to tourists and residents alike.
He said he believes lawmakers mean well, but his bill's progress has nonetheless been stalled.
Warren is listed as one of the bill's cosponsors, along with Republicans Sen. Ryan Fattman, Rep. Kevin Kuros and Rep. Joseph McKenna and Democrat Rep. James Murphy.
After an October 2017 hearing, the Tourism, Arts and Cultural Development Committee endorsed the bill in January and referred it to the House Ways and Means Committee, where it remains.
"It's just stuck there and we're just trying to get it out of there," Warren said. "There's no hate, no finger-pointing, nothing like that."
In a statement issued after the hearing last fall, Moore described the State House as a "living museum" and said the bill would help "ensure that the thousands of people who visit the State House each year have the opportunity to access an important piece of history." Muradian said he would "continue to push until this dream becomes a reality, whether it's legislatively or otherwise."