Waltham Security Firm Seeks To Prevent Mass Shootings Like The One In Jacksonville
03:53
Play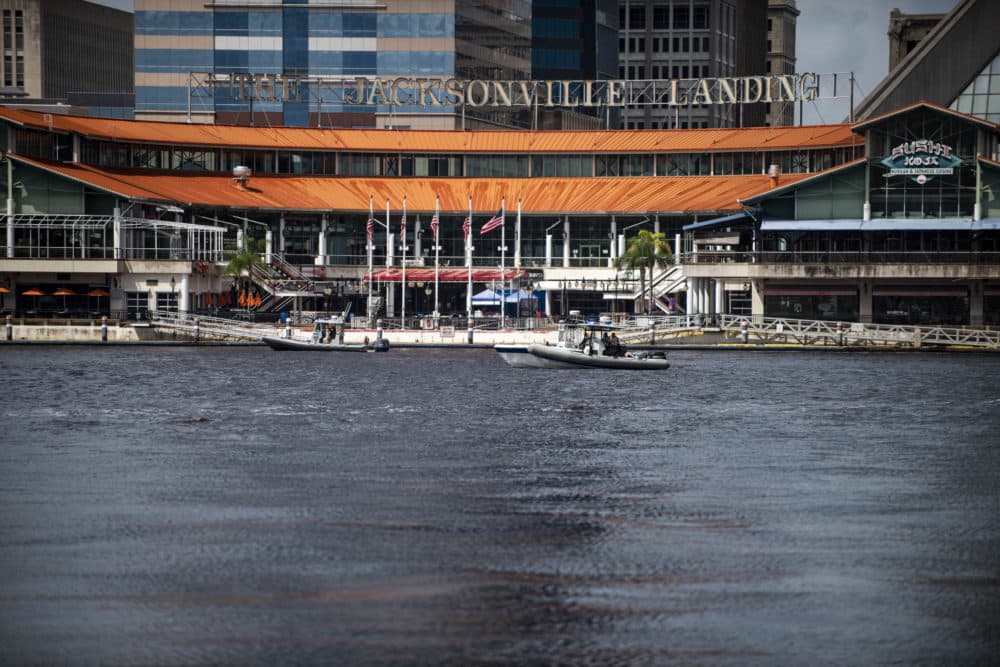 This article is more than 3 years old.
Michael Ellenbogen watched news of Sunday's deadly mass shooting at a video-game tournament in Jacksonville and saw the sort of nightmare his Waltham security firm is trying to prevent.
The rampage at a Faneuil Hall-style marketplace is "exactly the kind of scenario that we've been discussing," said Ellenbogen, chief executive of Evolv Technology.
Evolv is developing a system of sensors and facial-recognition software that aims to detect threats in a crowd. The company has raised almost $30 million of venture capital, boasts an advisory board stocked with former FBI, CIA and Secret Service officials, and is already piloting its first product in 30 locations, including Gillette Stadium and Oakland International Airport.
But privacy advocates worry about making Big Brother even bigger, in pursuit of safety that cannot be fully guaranteed.
Evolv's device looks a lot like a regular old metal detector. But it senses nonmetallic weapons, too, and as Ellenbogen showed it to Bostonomix, weeks before the Jacksonville shooting, he highlighted the distinguishing feature.
"Just walk through," he said. "You don't have to dump your pockets out. You don't have to take your cellphone out. You don't have to take your belt off. This'll do up to about 900 people an hour. And just for perspective, that's three or four times the throughput of a normal checkpoint."
The key to this convenience and speed is machine learning, which means doing mock screenings over and over again, with all kinds of weapons. To demonstrate, Ellenbogen's colleague, Mike Martin, walked through the $60,000 detector, wearing an overcoat.
The device quickly sensed the pistol and replica of an explosive vest that Martin had concealed.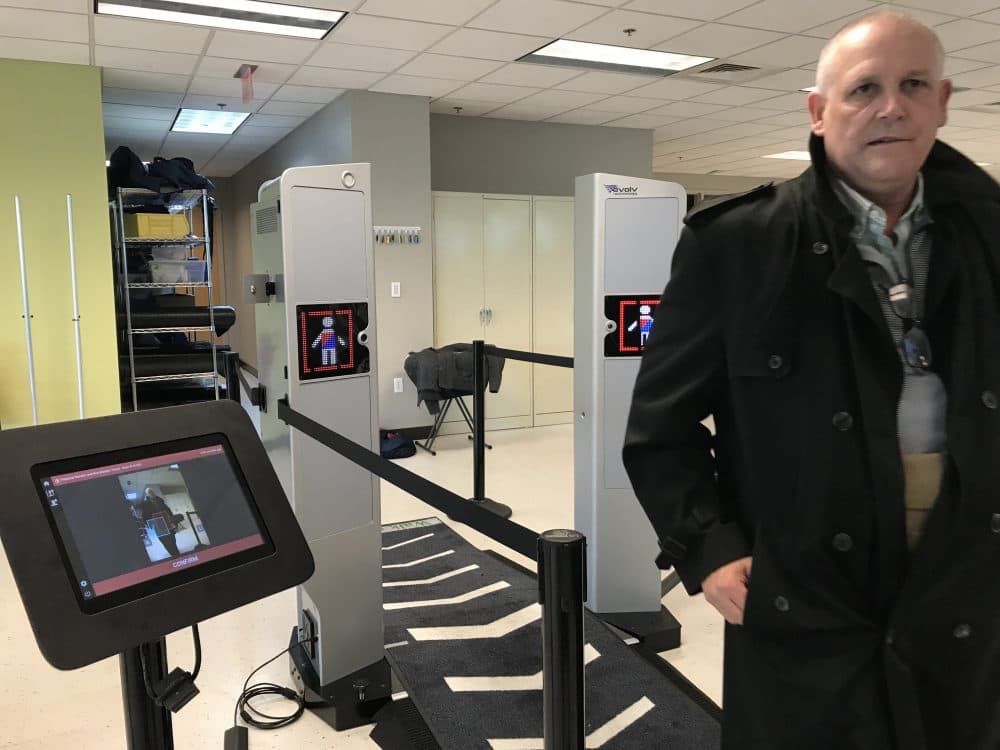 Evolv validates the machine when it detects something dangerous and corrects it when there is a false alarm or a weapon slips through. Over time, the company's computer program learns what's a threat and what isn't.
The machine also photographs people's faces and has the ability to run those photos through facial-recognition software. This is where concerns about civil liberties come in. It's up to Evolv's clients to decide whether and how to use facial recognition.
One possible use is to recognize employees or, in the Patriots' case, season ticket holders who may be pre-approved for entry. Another is to spot people on some sort of watch list.
The latter usage "is really concerning to us for a number of reasons," said Kade Crockford, director of the Technology for Liberty Project at the ACLU of Massachusetts. "Who are going to be the suspects here? Is there going to be a list of people who have outstanding warrants in the state of Massachusetts who are then prevented from going to Patriots games?"
Crockford noted that a simple list of outstanding warrants could include nonviolent offenses, like drug possession or failure to pay child support, and could be tainted by racial discrepancies in arrest rates.
Crockford also pointed to research by the MIT Media Lab that showed error rates for some facial recognition software is higher for women and dark-skinned people than for men and light-skinned people. The MIT researchers did not evaluate Evolv's software.
Ellenbogen said his company has not noticed a "significant difference" during testing.
"I've certainly heard the concern raised," he said. "It comes down to the training set that's used to actually teach the software in the first place. ... If that training set is populated with just white, Caucasian males, then it's going to do a really good job differentiating white, Caucasian males. You've got to make sure the training set includes a good cross-section of the types of people that you're going to be encountering in the field."
The Patriots won't say how — or even if — they are using Evolv's facial recognition technology at Gillette, but Evolv's machines are installed only at premium suites. For now.
Evolv is working on miniature devices that could be mounted on light poles — eyes in the sky that would scan a crowd for weapons, like the two handguns used in Jacksonville, while also running faces through a database of potential bad guys.
"We got tired of hearing about, you know, the attacker was known to the authorities," Ellenbogen said. "So that doesn't help the person trying to protect a stadium. How do we bring that intelligence out to the front line, so they can prevent something from happening in the first place, rather than reacting to it after the fact?"
The 24-year-old shooter in Jacksonville was known to authorities — in his home state of Maryland, where police often responded to calls from his parents' house. Court records also indicate a history of mental illness.
None of that stopped him from legally buying guns, and Ellenbogen isn't prepared to say with certainty that Evolv's technology would have prevented Sunday's shooting.
"I just don't think that's a useful discussion to have," he said. "What I would say is this is the kind of scenario that the systems are designed to prevent."
This segment aired on August 29, 2018.