Lieutenant Governor's Office: A Lure For The Politically Ambitious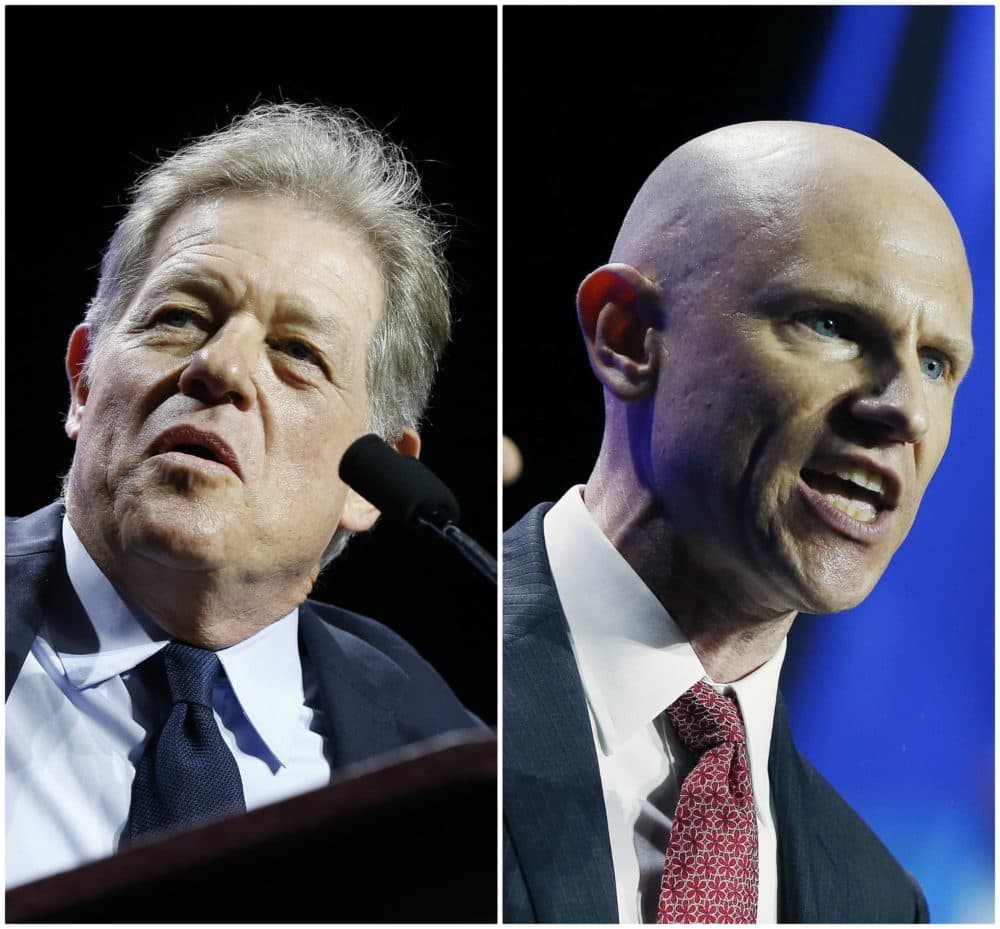 This article is more than 4 years old.
It may be one of the least glamorous jobs on Beacon Hill — and one with the fewest official duties — but that hasn't stopped the politically ambitious from angling to become second in command in the governor's office.
Adding a bit of celebrity to the race for lieutenant governor this year is the presence of comic Jimmy Tingle as a candidate on the Democratic side. He's facing off against Quentin Palfrey, a former White House policy adviser under President Obama.
[Related: Voter Guide: Massachusetts Primaries]
The two are a study in contrasts.
Palfrey touts his experience in government and the private sector. He worked in the administration from 2009 to 2013, including as a senior adviser in the White House Office of Science and Technology Policy.
Palfrey most recently served as executive director of J-PAL North America, an MIT lab dedicated to using research to fight poverty and inequality in North America. He grew up in Southborough and lives in Weston with his wife and three children.
Tingle touts his blue-collar roots in the working-class Cambridge of his youth, where his father drove taxis for a living.
He has spent three decades as a comedian, writer, actor, social activist and entrepreneur. He returned to school and earned a master's degree from the Kennedy School of Government at Harvard University.
Tingle has also talked openly about his struggle with alcohol in the 1980s, crediting a government-funded hospital with helping put him on the road to recovery.
Just this week, Tingle got an assist from fellow Cambridge native, actor Matt Damon, who recorded a robocall for Tingle calling him "a role model, and a friend to me over the years, and a true community leader."
At the Massachusetts Democratic Party's convention in June, delegates formally endorsed Palfrey, giving him about 59 percent of the vote, compared with 41 percent for Tingle.
At the convention, Palfrey said his experience in the White House would be a big asset, helping the winner of the Democratic primary for governor — Jay Gonzalez or Bob Massie — "fight back against every terrible policy this administration sends our way."
Tingle said at the convention that he would use his talents as a performer to help reach out to those disenchanted with the Democratic Party.
"I believe in God, and I believe in the power of government to change people's lives," he said.
On the Republican side, there's little drama. Karyn Polito, who currently serves as lieutenant governor under Republican Gov. Charlie Baker, is running unopposed.
The primary is Tuesday.
In some states, governors and lieutenant governors run independently of each other in the general election, opening the possibility of a governor and lieutenant governor of opposite parties. Some states have phased out of the office.
In Massachusetts, candidates for governor and lieutenant governor from the same party run as a ticket in the general election.
There are few official duties for the lieutenant governor in Massachusetts, other than chairing meetings of the eight-member Governor's Council. Recent lieutenant governors — including Polito and her predecessor, Democrat Tim Murray — also served as the administration's top liaison to city and town officials.
Recent political history shows governors in Massachusetts can carry on without a lieutenant governor at their side.
Midway through his second term as lieutenant governor under former Democratic Gov. Deval Patrick, Murray left to become president of the Worcester Regional Chamber of Commerce, leaving Patrick without a lieutenant governor.
The office can also be a political stepping stone.
When former Republican Gov. William Weld left office midway through his second term, his then-Lt. Gov. Paul Cellucci became acting governor and won the top office outright in the next election.
When Cellucci in turn left office to become U.S. ambassador to Canada, his lieutenant, Jane Swift, became acting governor. Swift had hoped to follow in Cellucci's footsteps and run for governor, but Mitt Romney jumped into the race and won.
And when Romney opted not to seek re-election after one term, his lieutenant, Kerry Healey, ran for the top office, losing to Patrick.