After Ashbrook Firing, Report Calls For 'Substantive Action' To Improve WBUR Management And Morale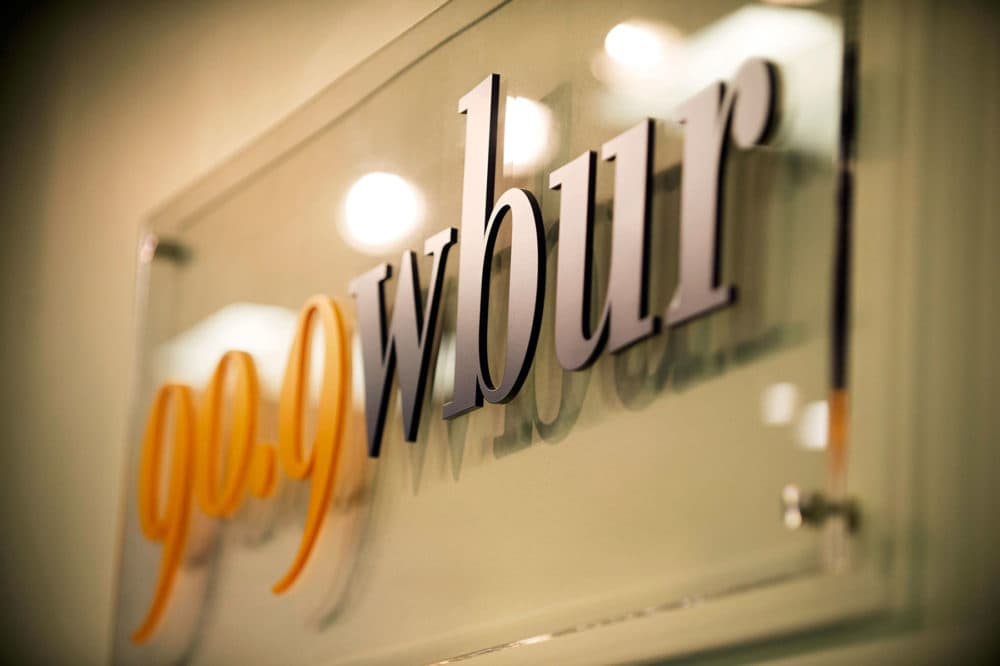 This article is more than 3 years old.
A report initiated by the firing of On Point host Tom Ashbrook finds problems with management, communication and accountability at WBUR, where the show is produced.
Among station staff who responded to an optional survey, just 20 percent say their impression of overall morale at WBUR is good or very good, although 52 percent rate their own morale as such.
The report includes an "action plan" that requires "substantive action to improve the station's climate." In interviews for the report, employees describe the hiring process as "broken" and say human resources practices are "generally weak." Written comments indicate the staff "feel leadership does not listen to them or value their perspective." Employees report limited opportunities for professional development and advancement.
"The climate and culture is not what they [WBUR staff] or we want," said Gary Nicksa, senior vice president for operations at Boston University (BU), which owns WBUR's broadcast license. "What is needed is changing the way we do the work that we do. It involves transparency and much better communication at all levels and a different way of engaging throughout the organization. We're committed to doing that."
BU hired Longpoint Consulting to assess concerns about the station's workplace culture revealed during the Ashbrook investigations. Those investigations found that senior managers were aware Ashbrook had created an abusive work environment but were not able to change his behavior. He was dismissed in February.
Longpoint distributed a survey that was completed by 83 percent of employees, 35 percent of freelancers and 57 percent of interns, and conducted 85 interviews with WBUR staff. It delivered a report to BU in early June. On Thursday, WBUR employees received a summary of that report and the action plan, which was written by senior BU leaders. The full report was not released to WBUR staff. The report summary says BU will hire a full-time human resources person for the station.
Nearly 40 percent of WBUR staffers who completed the survey say they have worked at WBUR for at least 11 years. The report says a key highlight is that 86 percent of WBUR staff say the station offers a "welcoming and friendly environment." But 65 percent say WBUR is not a place where employees feel they are treated fairly, and 43 percent say they do not feel good about the direction WBUR is headed.
"Given the significant morale problems inside WBUR and that many people feel as if they are not treated fairly, I'm glad BU is placing an HR person inside WBUR," WBUR Morning Edition host Bob Oakes said in an email. "It's a good first step. But I suggest that person had better be a fair arbiter and not a BU or WBUR apologist as many staff members need to feel as if someone is on their side."
The action plan addresses five areas: with WBUR General Manager Charlie Kravetz, with the WBUR leadership team, among WBUR staff, with the station's human resources practices and regarding BU's responsibility for the station. For Kravetz, BU calls for improved communication and "a greater awareness of the impact of the leadership style on station culture." For WBUR senior managers, BU recommends clarifying their roles and responsibilities, crafting a stronger performance management process, and establishing "behavioral standards" for the station.
BU, pulling from survey comments, says WBUR should "consider holding off on new initiatives until the majority of the recommendations in this action plan are substantially completed." Kravetz said that does not include projects currently underway, such as WBUR's new street-level cultural venue, CitySpace.
Nicksa, Kravetz and two other BU VPs held two briefings for the WBUR staff that were described by attendees as frustrating and tense, although several staffers thanked Kravetz and BU leaders for delivering the report. Kravetz read from a statement that included an apology. In an interview Friday, after the second meeting, Kravetz said he takes responsibility for WBUR's workplace problems and needs to be held accountable for corrections.
"If there isn't real meaningful change and if we can't create a work environment inside WBUR that is as positive and effective as the great product we put out every day to the public then at that point I would expect that someone else would be asked to do the work of leading this organization," Kravetz said.
Kravetz said he'll be measured by regular surveys, meetings and through a new action plan steering committee that came to light during the second all-staff meeting. It will include representatives from across the station.
The action plan also said BU has engaged Tom Livingston, a public radio consultant, to guide or oversee implementation of its recommendations. But after staff raised concerns about how his firm, Livingston Associates, was selected, Nicksa said "there is flexibility," and that employee concerns will be addressed before finalizing a contract. But the idea that after months of meetings, memos and interviews, BU is bringing in another consultant to craft more recommendations discouraged some staffers.
"My heart sank when I heard that their big idea coming out of Longpoint was to hire another consultant," said Kelly Horan, a senior producer of podcasts with WBUR's iLab. "Because all these people [who spoke to Longpoint or responded to the survey] put their faith in a process that feels one step removed from change."
In an interview, Nicksa said the new consultant will be retained to implement recommendations, not come up with new ones.
He also said he has confidence in WBUR's management team.
"They've acknowledged things that can be done and should be done better," Nicksa said. "The university is engaged now to ensure we hold them accountable for those changes."
Some employees who attended the station meetings were stunned to hear Nicksa express confidence in current WBUR management.
"I had high hopes," said one attendee in a text, who requested anonymity for fear of retribution, "but I came away disappointed and skeptical about this entire process. The message to us from BU was that WBUR has 'incredibly good management,' but that's not true. WBUR management brought us the Tom Ashbrook debacle. … Their mismanagement damaged On Point, put the staff through hell and caused upheaval across the station."
The report was distributed in an internal email to staff, labeled "confidential." A small team at WBUR, comprised of this reporter and the two story editors, advised BU in advance of distribution that they did not agree to keep the documents "off the record." The report summary and the survey were obtained from a source. The team also did not attend the two staff meetings, which were off the record.
BU says the staff is WBUR's most important resource. The top recommendations from staff for WBUR's future, culled from the survey, include slowing down and developing a more strategic approach, getting back to the basics of good journalism, more transparency about ratings, finances and membership, and simplifying the organizational chart.
"It's very clear to me now that the dramatic growth that has happened here at WBUR over the last seven and half years that I've been here has outpaced the infrastructure that we have in place to appropriately run WBUR in a way that is a great experience for the staff and all the people who make WBUR what it is," Kravetz said. "Part of the action plan is to look at the organizational structure and see whether we have the right resources in the right place, and I would expect there would be some change."
Kravetz says it's too early to say what those changes might be.
Editor's note: WBUR's Martha Bebinger, who reported this story, and WBUR's Benjamin Swasey and Dan Mauzy, the story editors, did not attend Thursday or Friday's off the record meetings. Under standard practices for reporting on WBUR, no other BU or WBUR staff were allowed to review the story before publication.
This article was originally published on September 06, 2018.