11 Off-The-Beaten-Path Classical Performances To Attend Around Boston This Fall
This article is more than 3 years old.
There's plenty of classical music to hear in Boston's revered institutions, but we thought we'd get (mostly) away from Symphony Hall for our fall preview this year. Here is our guide to some spectacular music coming up:
Mistral's 'Rondos, Rags & Riffs' | Sept. 14 - 16 | Brookline and Andover
Chamber music thrives because of ensembles like Mistral. A long-time confederation of friends (both onstage, and in the audience), artistic director Julie Scolnik has kept it personal. Including inviting listeners into her home — like the season opening Salon performance in Brookline that has only a few dozen seats (so be lively about getting tickets). Subsequent performances in larger venues give listeners another chance to hear this ensemble. The opening program couldn't be more audience friendly either with Paul Schoenfield's "Café Music," a rag from William Bolcom and a pair of works from Leonard Bernstein.
---
Dashon Burton in Recital | Sept. 16 | Ashmont Hill Chamber Music
The powerful bass-baritone, best known as a member of the Grammy Award-winning Roomful of Teeth, usually takes the stage with the ensemble or in front of orchestras singing symphonic roles from Brahms to Handel to Beethoven. Here, he takes the stage with pianist Christopher Walter in a poetic recital that ranges from John Dowland to Schumann to Poulenc. And this is just the beginning of a far-ranging Ashmont season that includes Jupiter Quartet, Sandeep Das, Tessa Lark and HUB New Music.
Here's a taste of Burton's talents in a 2012 performance of "The Messiah": 
---
A Far Cry's 'Edge Of The World' | Sept. 21 - 22 | Jordan Hall and Jamaica Plain
Jordan Hall hardly qualifies as an out-of-the-way venue, but the "Edge of the World" performance is certainly unique. A Far Cry takes you there with this performance, titled to reflect travelogue works like John Corigliano's "Voyage," Rameau's "Les Indes Galantes," and the highlight of the program, the premiere of Mehmet Ali Sanlıkol's "A Gentleman of Istanbul." Sanlıkol's work — for strings and percussion, tenor and traditional oud and ney — is also the focus of a free concert the following day at the Criers home base in Jamaica Plain.
---
Pianist Jenny Lin | Oct. 6 | Salem Classical
Presenter Richard Guérin has quietly built a robust series of events in downtown Salem. Lin comes to perform études of Philip Glass — her specialty. Cellist Matt Haimovitz returns to Salem later in the season, and the Boston Artists Ensemble's series at Hamilton Hall is also part of Salem Classical's presentations. It's worth keeping an eye on the North Shore for these concerts.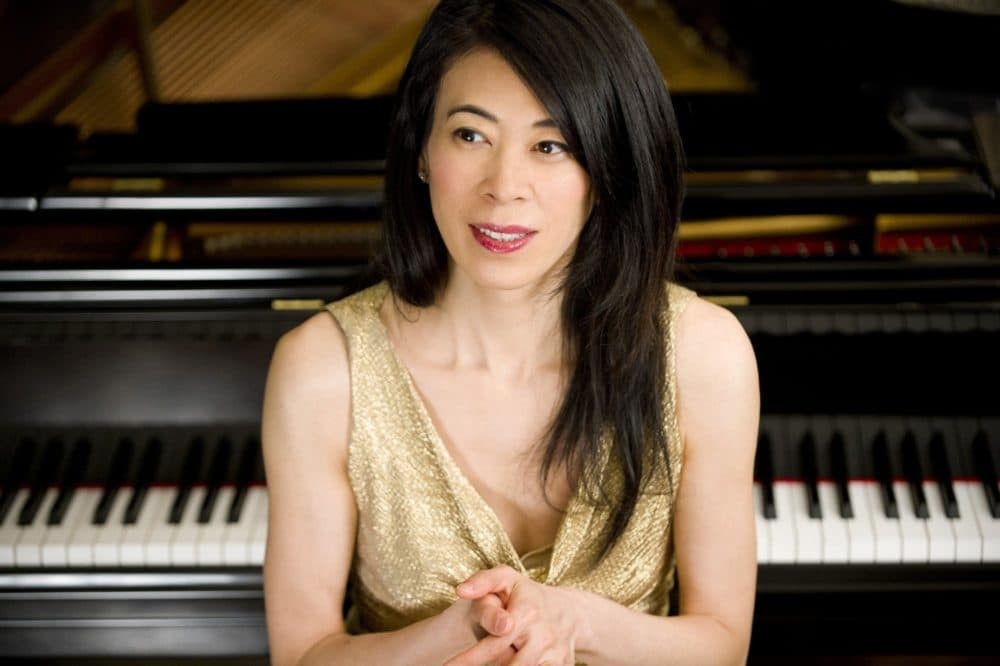 ---
Terezin Music Foundation's Gala | Oct. 8 | Boston Symphony Hall
Pianist Simone Dinnerstein performs "Sanctuary," a world premiere by Ellis Ludwig-Leone. The three-movement work strikes a personal tone: one movement is based on a painting by Dinnerstein's father; the other two based on paintings by the composer's parents. As always, this annual performance benefits the organization, founded more than two decades ago to preserve the music created in the Theresienstadt concentration camp.
---
New Bedford Symphony Orchestra's 'Let There Be Light!' | Oct. 12 | Zeiterion Performing Arts Center
Music director Yaniv Dinur has made a point to program a major work by a woman on each of this season's concerts. On opening night, a concerto by Vivian Fung brings the excellent harpist Bridget Kibbey to the South Coast. The work was written for Kibbey in 2012, and extends the harp in many unlikely directions — she performs at one point with paper folded in between the strings. Mahler's Fifth Symphony also on the program.
---
Boston New Music Initiative's 'Beauty Of The Night' | Oct. 12 | Center for the Arts at the Armory, Somerville
The Semiosis Quartet joins the members of BNMI for a breathtaking program that features music of Osvaldo Golijov, Caroline Shaw, Nickitas Demos and Angela Slater. Tian Hui Ng conducts the ensemble, which also performs a new work by Cheng Jin Koh, winner of the group's young composer's competition.
---
Castle Of Our Skins' 'Black Kaleidoscope' | Oct. 13 | Back Bay Fens
Castle Of Our Skins joins dancer Destiny Polk at the Fog x FLO installation for "Black Kaleidoscope: A Femme Journey of Becoming." Japanese artist Fujiko Nakaya's fog sculptures create the set; musicians from Castle Of Our Skins, and Polk — best known for her presentations as Radical Black Girl — explore their ideas in its mist.
---
New Gallery Concert Series' 'Creature Comforts' | Oct. 20 | Cambridge Art Association/New School of Music
New Gallery Concert Series lives up to its name, with a visual/aural program featuring the art of Gin Stone, Christine Kyle, Gail Samuelson and Daniel Zeese, coupled with a broad range of new works by Yu-Hui Chang, Raven Chacon and Daniel Felsenfeld. Soprano Aliana de la Guardia, tabla player Utsav Lai, violinist Sharan Leventhal and cellist Rhonda Rider join artistic director Sarah Bob.
---
Danish String Quartet | Nov. 18 | Rockport Music
Any trip to the gorgeous Shalin Liu Performance Center is worth it. Sitting there, with its panoramic view of the harbor, experiencing the estimable Danish String Quartet is double the fun. And what a program: Haydn, Hans Abrahamsen's first quartet, Beethoven's first "Razumovsky."
---
HUB New Music performs 'Soul House' | Dec. 1 | Peabody Essex Museum
Two of Boston's most innovative ensembles team up at an innovative institution, which continues to create intersections for all kinds of artists. Here, the ensembles team up for a choreographed version of Robert Honstein's "Soul House." Movements like "Bay Window," "Hallway," "Back Yard" and "Driveway" form a musical depiction of the composer's childhood home. Urbanity Dance makes those sonic memories a visual experience.
Keith Powers Classical Music Writer
Keith Powers is a classical music critic for The ARTery.