'Mandy' Is A Horror Film Of Terrible Beauty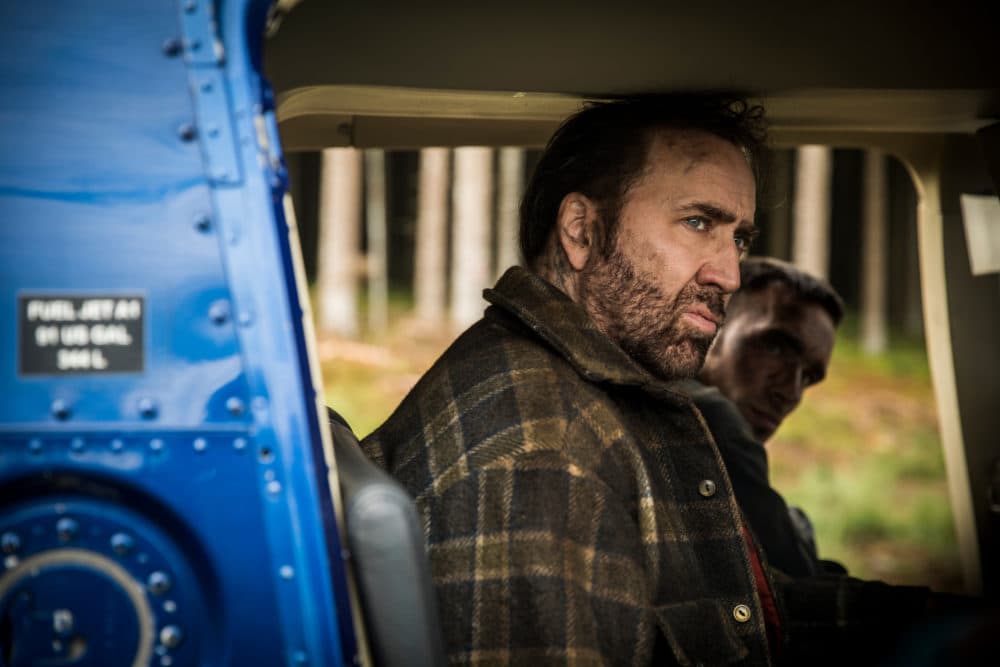 This article is more than 4 years old.
Opening Friday at the Coolidge, where it will presumably be playing midnight shows for the rest of our lives, is Panos Cosmatos' "Mandy" — a stark, lysergic horror film of wild visions and terrible beauty. The damndest thing you'll see all year, it's got a moody, doom-laden grandeur and images that sear themselves into your subconscious. It is at once deeply ridiculous and intensely felt, packing a profound emotional wallop if you're willing to go along for the ride. Weeks after seeing "Mandy" certain scenes were still creeping into my dreams.
Nicolas Cage stars as a gentle lumberjack living with his artist wife (Andrea Riseborough) in a serenely secluded cabin somewhere in the woods of the Pacific Northwest. But their idyll is interrupted when she catches the eye of a sinister sex cult guru (Linus Roache) and his Manson-lite family of acid-casualty hangers-on. Then some really bad things happen. I mean awful, horrible things.
To summarize the plot of "Mandy" would probably take about two sentences and be entirely beside the point. This is an atmosphere picture steeped in foreboding and almost unbearable dread, punctuated by heavy metal blasts of cathartic, did-I-just-see-that carnage. The movie isn't just set in 1983, it feels like a memory of something you might have watched that year on late night cable after your parents fell asleep.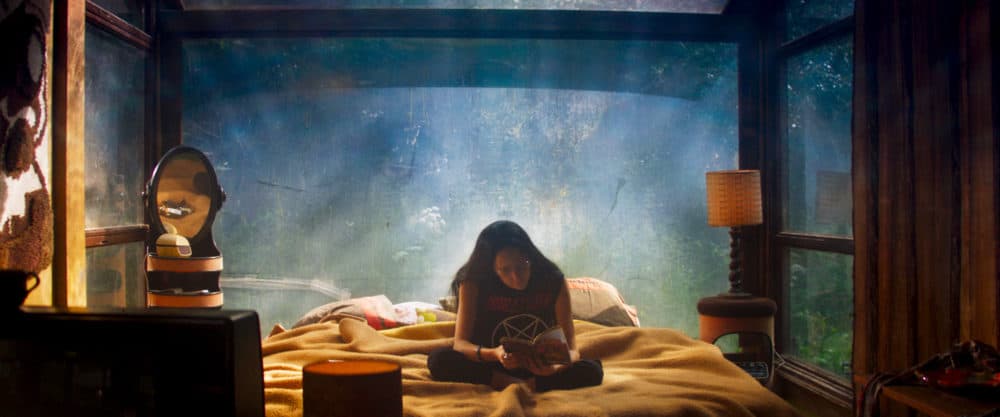 Cosmatos' aesthetic is an unholy amalgamation of Dungeons & Dragons, prog rock solos, Frank Frazetta paintings and vintage fantasy paperback illustrations. Every shot in "Mandy" looks like the cover of an album by a band your friend's creepy, weed-dealing older brother was really into. (The whole movie could be airbrushed on the side of a van.) But Cosmatos doesn't play any of this as kitsch, the way so many midnight movie wannabes lean into knowingness or camp. No sir, "Mandy" demands to be taken seriously on its own terms, and as the formidable filmmaking goes to work on you it becomes impossible not to fall under its psychotropic spell.
A lot of his has to do with Nicolas Cage, probably the only living actor outsized enough to hold his own amid Cosmatos' visual onslaught. (The performers in his 2010 debut "Beyond the Black Rainbow" were all but swallowed up by the production design.) Too magnificently weird and unpredictable to last for very long as a Hollywood leading man, Cage has been ridiculed in recent years for questionable career choices and a habit of sleepwalking through a lot of low-rent, direct-to-video thrillers. But when paired with a powerful director, as with Werner Herzog for 2009's gloriously gonzo "Bad Lieutenant: Port of Call New Orleans" or Paul Schrader in 2016's scabrous, underappreciated "Dog Eat Dog," he can still remind you that there's nobody out there as inventive or unexpected.
Cage commits a thousand percent to "Mandy," which is crucial given that even the slightest wink would burst Cosmatos' carefully cultivated ambiance. He spends just about the entire second hour of the movie howling in pain and/or rage, so half measures wouldn't cut it here either. There is a fundamental strangeness to the actor that fits quite snugly into this film's phantasmagoric frescoes. It's difficult to imagine watching any other Oscar-winner blacksmith his own mega-axe, but this struck me as a skill Nic Cage probably didn't even have to learn for the movie. (I wouldn't be surprised to hear he brought his own battle hatchet from home.) He feels like he belongs here, fighting armored motocross sentinels in a forest primeval.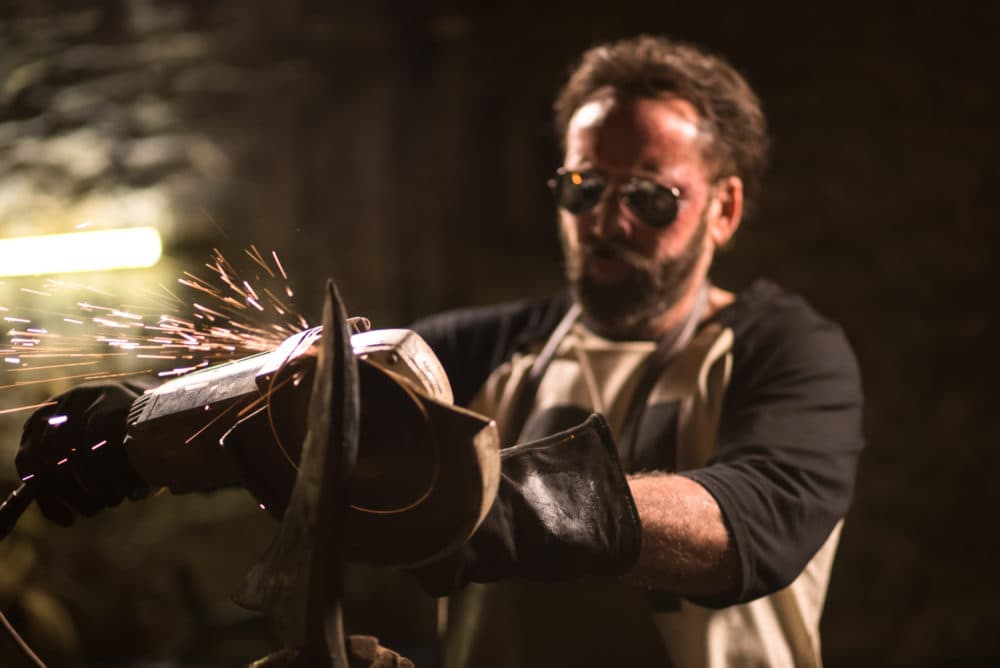 Like a lot of offbeat independent films, "Mandy" is being released simultaneously to your cable box via video on demand, but I can personally testify that a small screen does the movie a dire disservice. Cosmatos and cinematographer Benjamin Loeb are shooting for a massive canvas here, with epic long takes and a densely layered sound design creating a trippy, enveloping experience that can't be replicated on your couch. Besides, you're gonna want to watch the climactic chainsaw fight with a crowd.