Our Favorite Street Art From Pow! Wow! Worcester
It's been almost three years since artists Che Anderson, Jessica Walsh and Hank VonHellion traveled to Hawaii in hopes of bringing Jasper Wong's Pow! Wow! street art festival to Massachusetts. Since then the festival has grown into one of the state's largest, bringing world-renowned graffiti, mural and installation artists to Worcester.
This year, Pow! Wow! Worcester director Lisa Drexhage said committee members wanted to branch out even more. "We wanted to bring in more local talent and spread out to include artists working with glass, screen prints and even balloons to accompany the muralists."
This year's collection of more than 24 pieces features a diverse collection of artists from around the world including New York, Hawaii, the U.K., Japan and Greece. Here are our favorites from this year's festival:
Scott Walker | Clark Street Elementary School, 280 Clark St.
U.K. artist Scott Walker has worked as an art director for big names like Rockstar Games and HBO, but he's also a prolific street artist and muralist. His projects include a mural inside the 69th floor of New York City's World Trade Center and walls in Brooklyn, Barbados and Louisiana with an eye for a pop culture aesthetic. Returning for a third year to Pow! Wow! Worcester, Walker was one of the first to finish last week with his mural "Wing Tips."
"It's aimed at inspiring the kids to think independently and travel whenever they have the opportunity," he said.
Walker said he chose to paint Black-capped Chickadees (the Massachusetts state bird) as he'd noticed several of them flying above him throughout the weekend.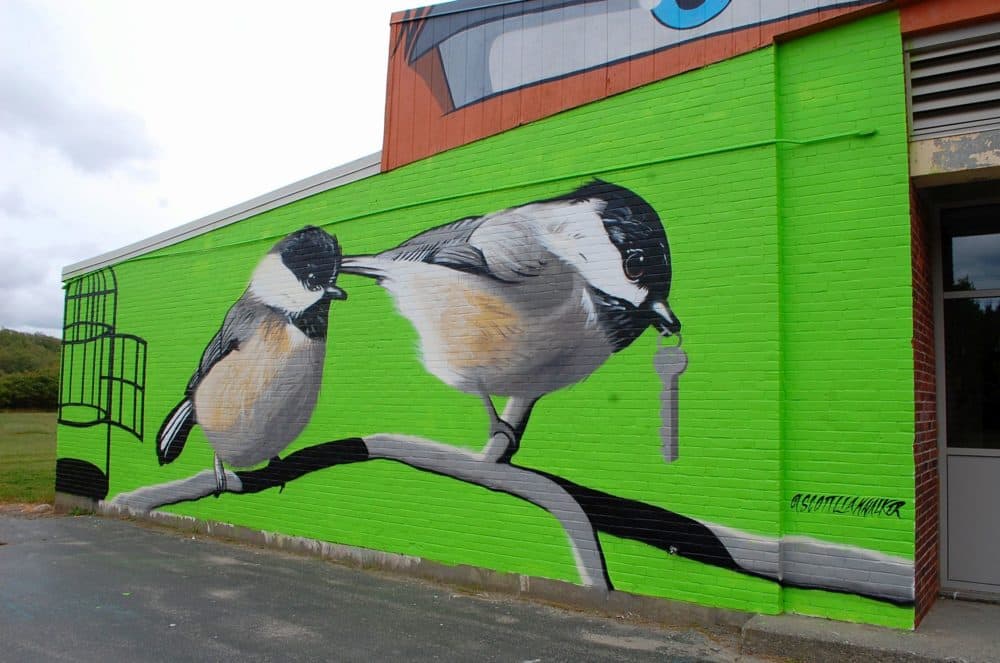 ---
O.G. Slick | Palladium, 261 Main St.
Slick is a pioneer in the graffiti world. He first got his start in graffiti in the '80s, painting on his native island of Hawaii. He has created art for rappers (Ice Cube, The Pharcyde), brands (Stussy, X-Large, Adidas, Obey), films and even started his own clothing line, Dissizit.
Slick's "LA Hands" have become a Los Angeles trademark and a major part of his modern work. They can be seen in full force on his painting at the Palladium, which plays on the classic 1960s "Smiley Face." Slick's work ties back to Worcester through the "Smiley Face" creator, commercial artist Harvey Ball, who was born and raised there.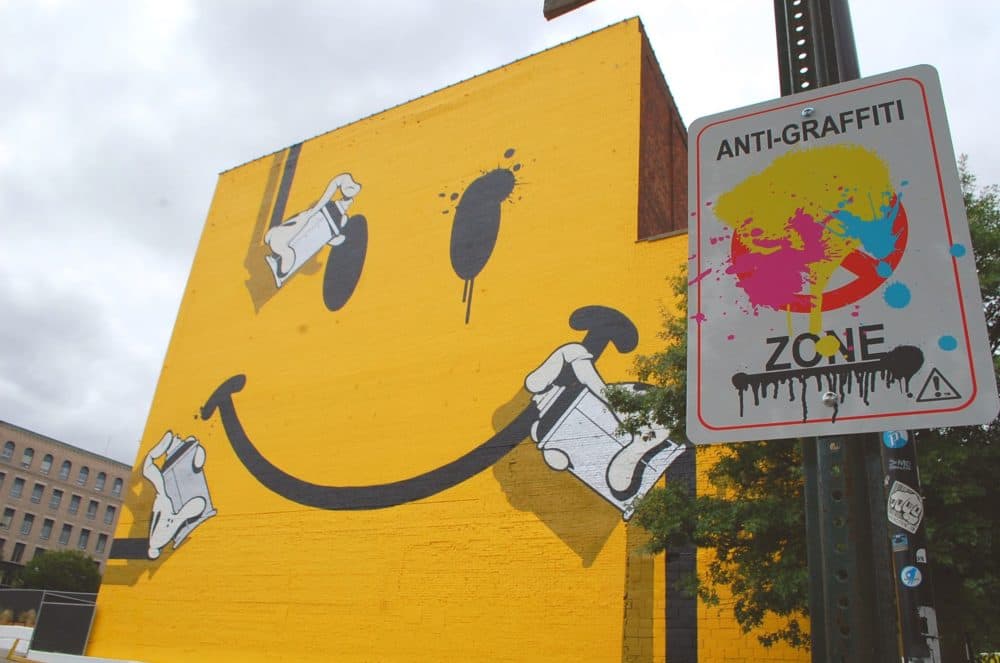 ---
Michael Murphy | Forest Grove Middle School, 495 Grove St.
Brooklyn-based sculptor Michael Murphy utilizes optical illusions in many of his works, offering up different messages depending on the viewer's position. His recent partners include Time, Nike, Lexus, TED and the New Yorker.
Murphy's piece in Worcester is meant as a war protest. "It's inspired by the industrial military complex and the constant warfare that the U.S. government is engaged in," Murphy said.
"It is comprised of an abstract painted mural with thousands of different colored lines flurrying in a chaotic static-like array," he added. Bolted to the front of the mural are dozens of bright red PVC plates. From one angle the plates align to create the illusion of the word "STOP." When the viewer moves the word "WAR" appears.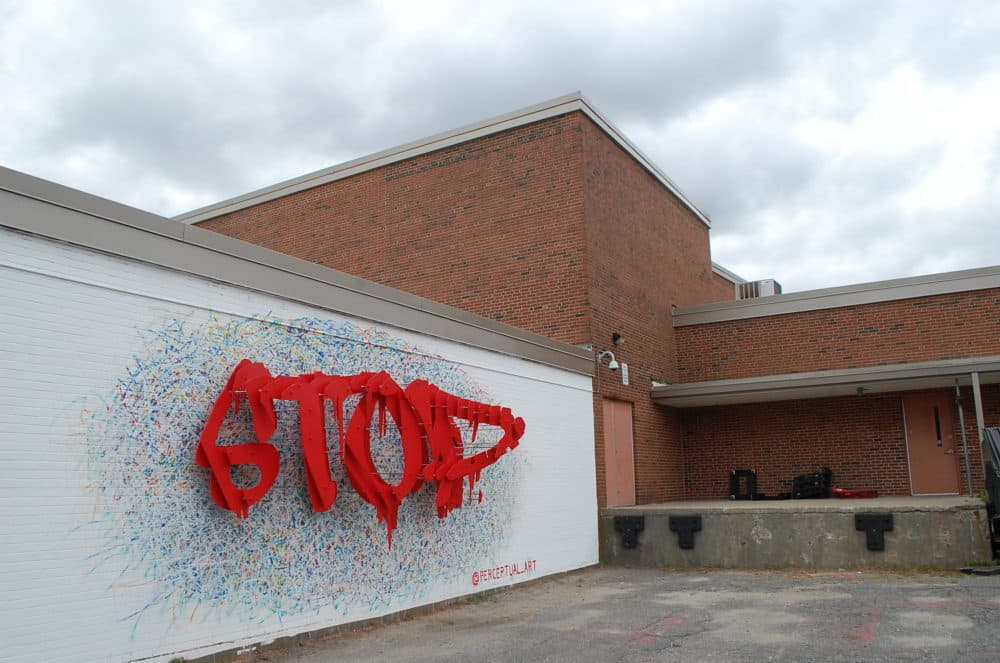 ---
Adam Fujita | Fidelity Bank Worcester Ice Center, 112 Harding St.
Adam Fujita grew up in San Francisco and started tagging buses after school in the early 1990s. His style of faux-neon letters are graffiti-inspired and began in response to the 2016 election, with the neon acting as a spotlight on the current administration.
The wall in Worcester, 90 feet by 40 feet, is the largest Fujita has ever tackled and contains just one word: choice.
"It's a direct commentary on the nomination of Justice Kavanaugh," Fujita said. "I have two daughters and I fear for their right to choose when they grow up. I want to shed a light on what's happening with my work."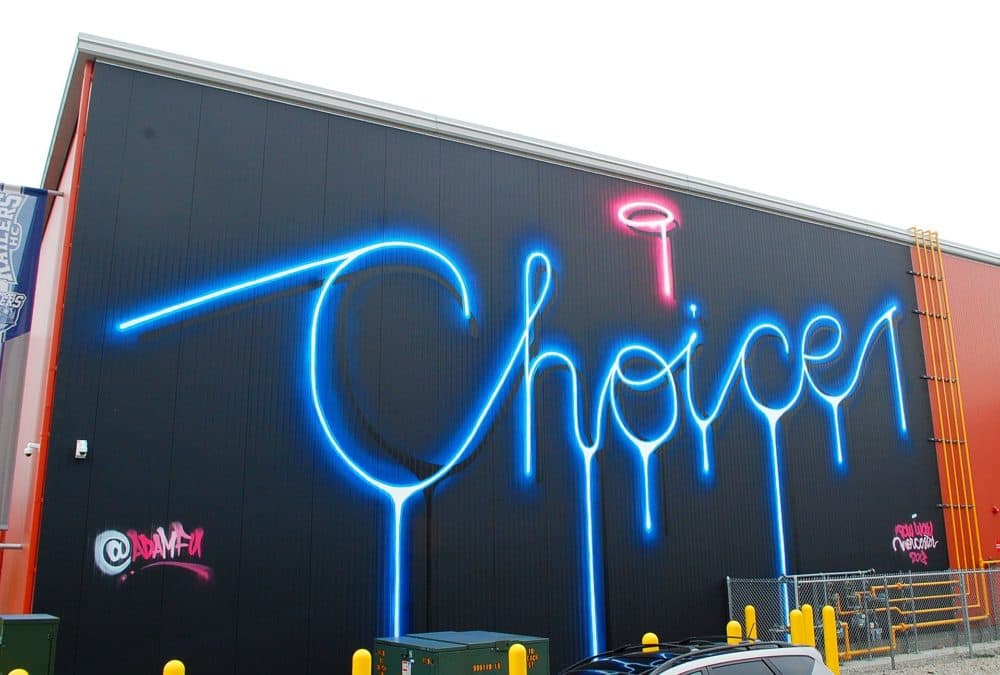 ---
Dragon76 and Woes Martin | Chandler Magnet Elementary School, 525 Chandler St.
Japanese artist Dragon76 blends elements of manga, Edo-influenced Ukiyo-e art, hip-hop and graffiti into his work. A classically trained oil painter, his work has been featured on albums, clothing and advertisements. Dragon's art exudes competing messages of peace and revolution.
Hawaiian native Aaron Martin aka "Angry Woebots" or "Woes" draws inspiration from hip-hop, Saturday morning cartoons and, of course, pandas. Recently, Woes painted at Art Basel Miami and Pow! Wow! Hawaii.
Teaming up for a massive wall in Worcester, Dragon and Woes have blended their complementary, yet separate styles into a breathtaking piece that is rooted in traditional graffiti, Asian pop culture and community.
---
Joohee Park | Chandler Magnet Elementary School, 525 Chandler St.
Originally from South Korea, New York-based artist Stickymonger (Joohee Park) uses large vinyl sheets that function as stickers when applied to walls or windows. Park's style is heavily influenced by anime, manga and stylized illustrations.
Her use of black vinyl stems from her childhood playing among spilled fuel and tanks in her backyard.
For her work in Worcester, Park created an out-of-this-world beach scene complete with a pink seaside, glitter-covered UFO and anime-inspired girls painting the sky.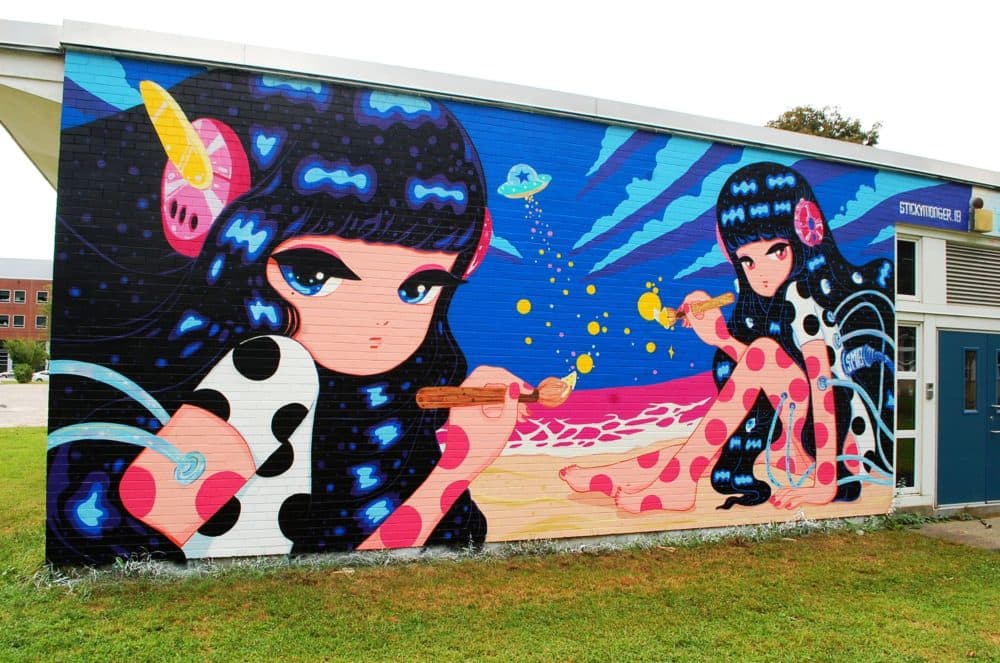 ---
Artists Ramiro Davaro-Comas, Grace Lang and Below Key, who are all based out of New York, teamed up on a large, fantastical mural that feels like a missing scene out of "Where the Wild Things Are." Depicting two lions, the piece is a perfect blend of Lang's macabre style, Key's classic graffiti and Davaro-Comas' fantastical characters.
The artists decided on the lion theme for two reasons — to represent the school via its mascot and to remember Worcester firefighter Lt. Jay Lyons who died battling a fire in 1999.
Davaro-Comas grew up in Worcester after his family moved there from Buenos Aires. "I went to school here, took classes at the art museum, and I am so thrilled to bring some colorful murals to the community," he said.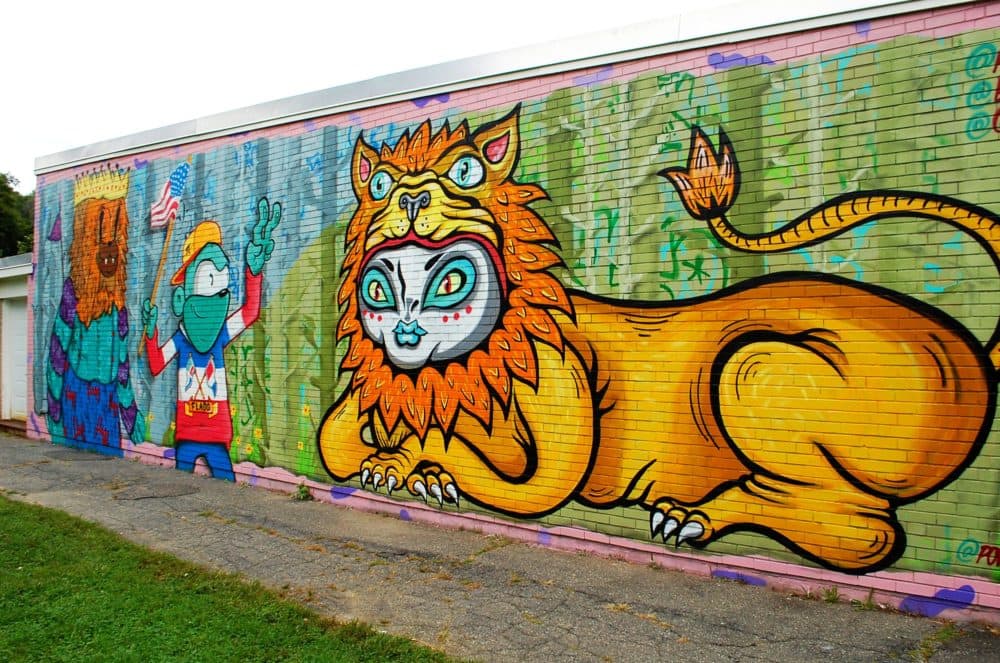 ---
Stathis Tsavalias | The Hanover Theatre, 2 Southbridge St.
Greek artist Stathis Tsavalias, known as Insane51, blends photo realistic art with digital after effects, all sprayed by hand.
His 3-D and illusion-laden portraits have caught the attention of street art festivals in Europe like Thessaloniki Street Art Festival and Living Color Festival. He was also part of a team of more than two dozen artists who landed a Guinness world record for the "biggest glow in the dark graffiti scroll" done in Ras al-Khaimah in the United Arab Emirates.
Tsavalias' latest wall, found at the Hanover Theatre in downtown Worcester, continues his push to expand what's possible with a can of paint.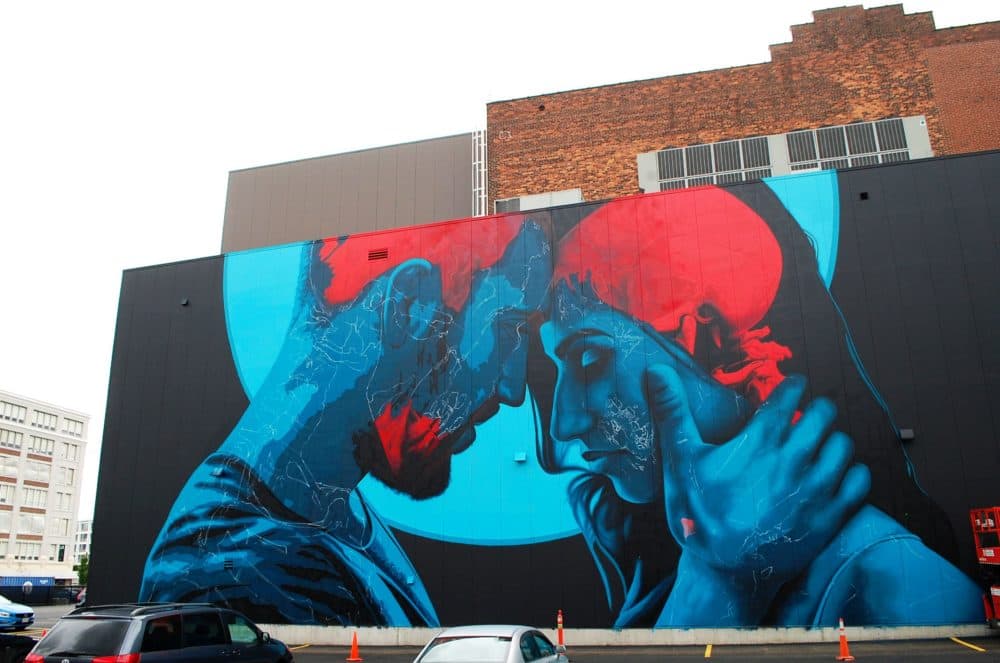 ---
Jesse Smith, Lalo Yunda | Chandler Magnet Elementary School, 525 Chandler St.
Veteran tattoo artists Jesse Smith and Lalo Yunda first got to know each other on the reality program "Ink Master" and have since become great friends. Smith, from Virginia, is known for his penchant for fantasy and precise artistic style while Yunda, a Colombian living in New York, prefers the surrealistic and abstract.
"We enjoy collaborating with each other because I think we push each other creatively and outside our comfort zones," Smith said.
In Worcester, their wall has remained in a state of flux as it's filled out. Smith said the piece is inspired by Carkayous, a made-up planet for his fictional characters to live. He creates hybrid, fantastical creatures that interact with each other's ecosystems. For instance, a person who got a tattoo from Smith in Spain has a creature that lives and interacts with a tattoo he did in Colorado.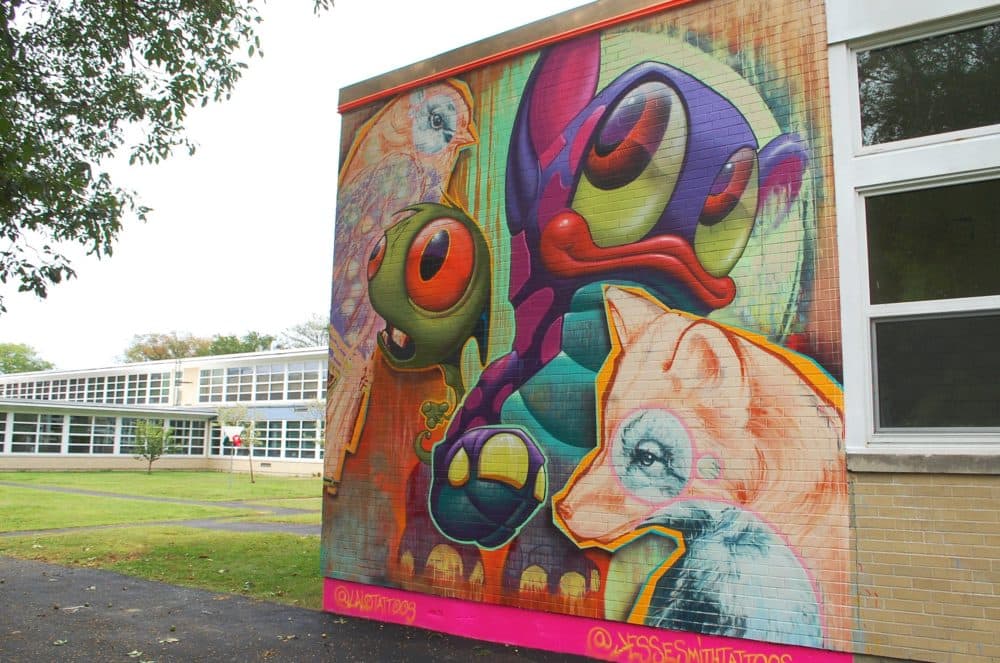 ---
Max Sansing | Chandler Elementary School, 114 Chandler St.
Educated in fine art as well as graffiti, Chicago artist Max Sansing has developed a fresh style blending the two. Drawing influence from Norman Rockwell, Maxfield Parrish and Thomas Blackshear, Sansing taught himself how to oil paint as well as use a spray paint can. Sansing's murals highlight his talent for portraits, his vibrant color palette and elements of surrealism.
Sansing's latest mural centers around cyclist Marshall Walter "Major" Taylor, who once lived in Worcester and whose achievements at the turn of the 20th century flew in the face of Jim Crow.
"Major Taylor is a hero in Chicago and here in Worcester," Sansing said. "I thought it would be nice to add a bit of local history in the way of an inspirational figure for the children and also have a bit of hometown superhero flair."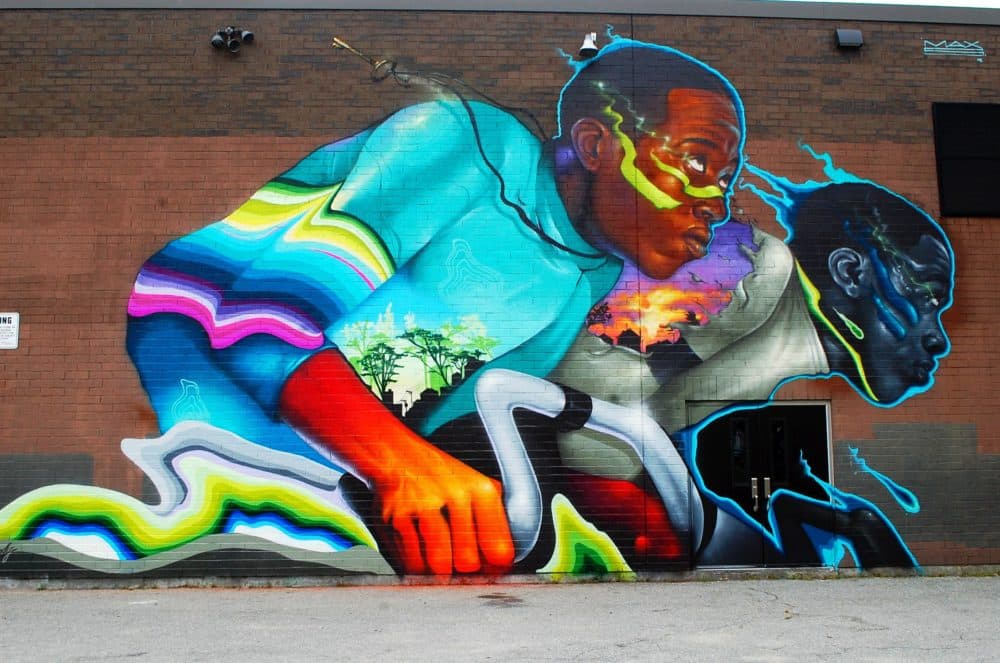 ---
Graphic designer Ben Johnston burst on the street art scene a few years ago with his mind-bending typography-based murals. Born in Canada and raised in South Africa, Johnston's work is immediately accessible no matter what language he paints. His singular designs have been picked up by Nike, Ford, Aston Martin and Adobe.
In Worcester, Johnston's "Por Siempre" or "Forever" mural is an example of why he racked up more than a half-dozen art and design awards just last year.