This Boston Artist Hosts A Very Intimate Dinner Party For Total Strangers
Resume
On a recent Saturday evening, I arrive at a large artist studio at the Carpenter Center for the Visual Arts at Harvard. There are canvases, paints and all kinds of art supplies, but in the middle of the room is a long table with fresh flowers and little tea lights that give the room a warm, soft amber glow.
"I wanted to create a space that's not part of our everyday [life] to create a shared space of exchange," says artist Evelyn Rydz. She's been organizing these meet-ups for women around Boston for a couple of years now. It's a nomadic project meant to put total strangers together for an evening of intentional intimacy.
"There is something special that happens in careful listening," she says. "And I think that the way we interact on our day-to-day basis doesn't require that kind of listening."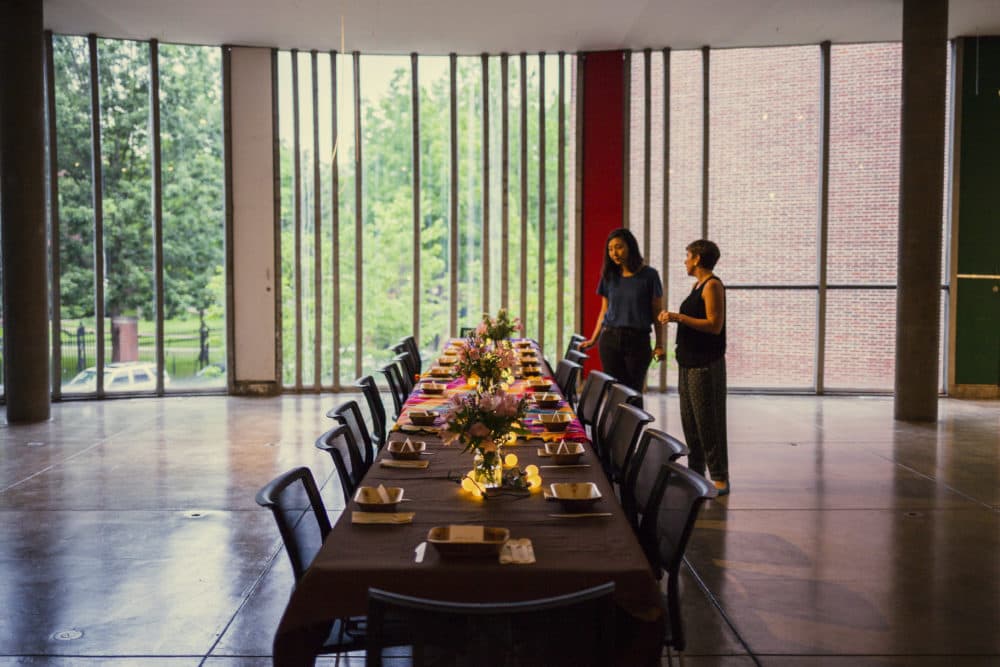 The project is called "Comida Casera," which is Spanish for homemade food. Each woman brings a dish inspired by another woman — from mother, mentor, to friend — who reminds them of home or gives them the feeling of home.
"I think there's a lot of both trust and generosity in the act of sharing food and eating a strangers food — trusting that you know you're eating somebody's food that you've never met," says Rydz. "And also sharing intimate meaningful stories requires trust and generosity."
Her co-host is Daisy Nam, the assistant director of the Carpenter Center. Nam brings rice cakes made from mugwort, a plant used in Korean cuisine. The dish is inspired by her grandmother, who moved in with Nam's family when Daisy was a small child.
"In the late '80s she came to live with us from Korea, and she was just a strange person and kind of mean and cranky, and we just didn't know what to think of her," Nam says, laughing.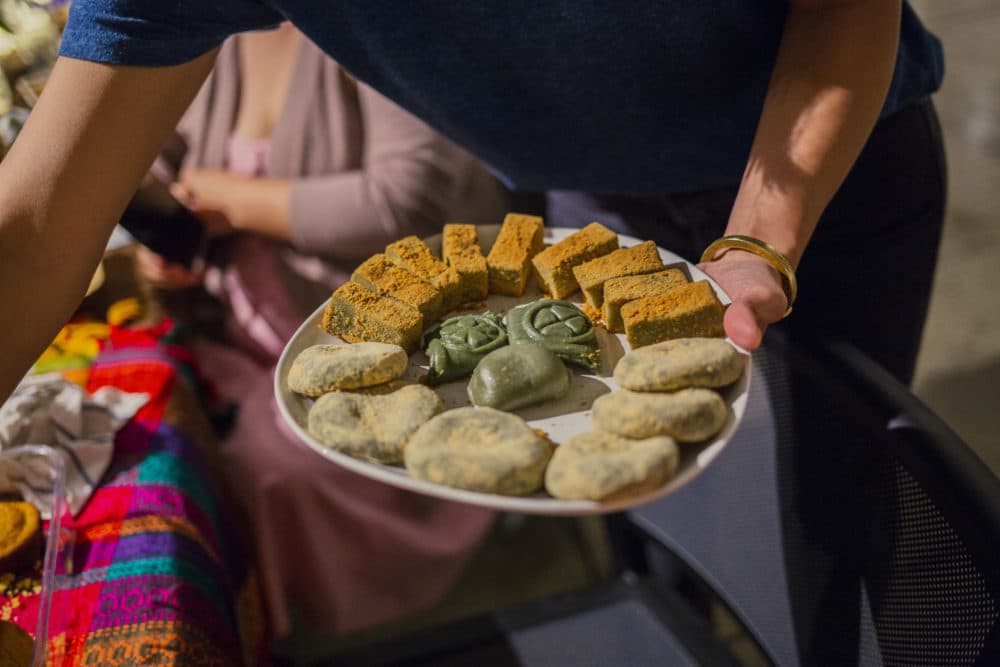 Nam remembers her grandmother yanking the flowers out of her home's garden, replacing them with mugwort and later making rice cakes using the plant.
"She just thought it was funny in America that people would grow things that they would never eat," Nam recalls. "She's like, 'That's ridiculous. Why would you do that?' So she just like took out all our flowers. She's like, 'You can't eat it, so why would you grow it?' "
The rice cakes serve as a reminder for Nam about how confusing her grandmother seemed to her as a small child and how much she's since learned about her journey.
"She raised my father and his four sister siblings all by herself," she says. "She survived the Korean War, she survived the Japanese occupation. I mean we thought she was crazy but she [was] just a survivor, so I think I wanted to channel that."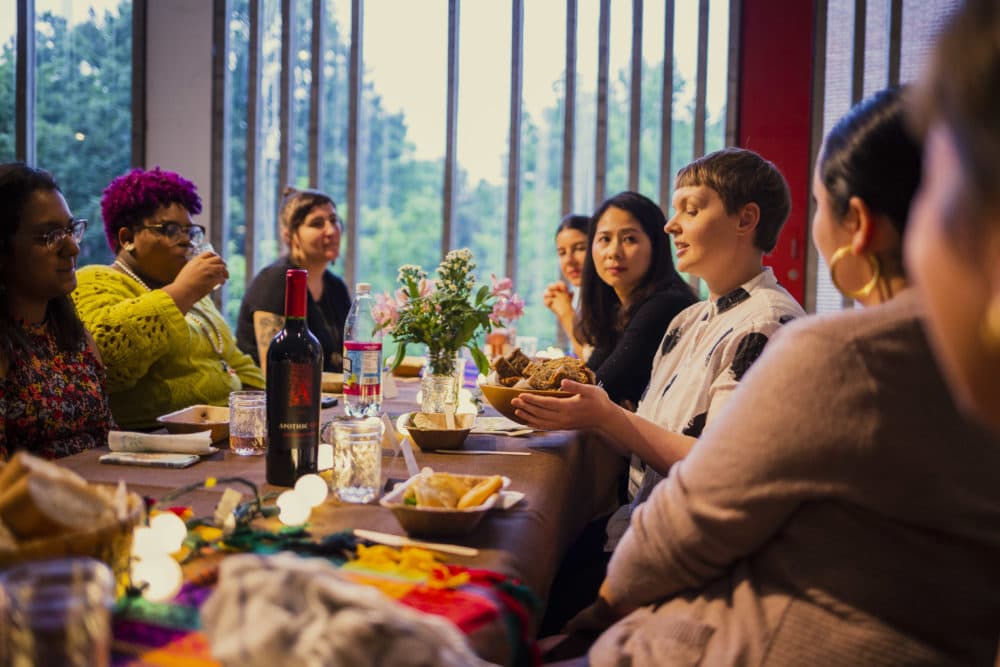 Cristina Aguilera, originally from Venezuela, shares tajadas, or fried plantains, a dish also inspired by her grandmother. Eating the plantains with others reminds Aguilera of her family life in Venezuela and missing her grandmother.
"I miss her a whole lot," she says, wiping away tears. "I knew this was going to happen, because I've been just nostalgic. I mean she's in Venezuela, and I haven't been able to go for like three years."
The night isn't just about grandmothers. Mel Taing brings mango and rice balls in honor of her roommate and best friend. Morgan, her roommate, Taing says, is like a chosen sister. She jokes — in between tears — that their favorite pastime is cooking and eating.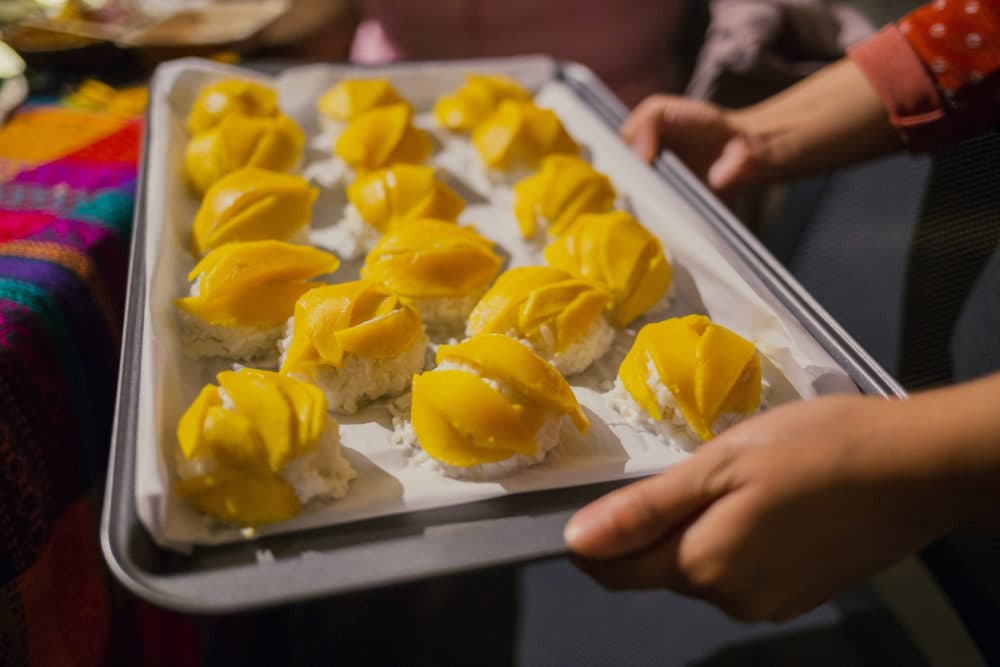 For Taing, the dinner is also a bittersweet reminder of her relationship with her actual sister.
"I have an older sister ... but we are not close at all. I'm going to get emotional but we haven't talked in almost two years," Taing says, crying, as the room listens intently. "And this is the kind of thing that we would love to eat and make together. It makes me very sad that we haven't connected, and we can't enjoy this kind of food."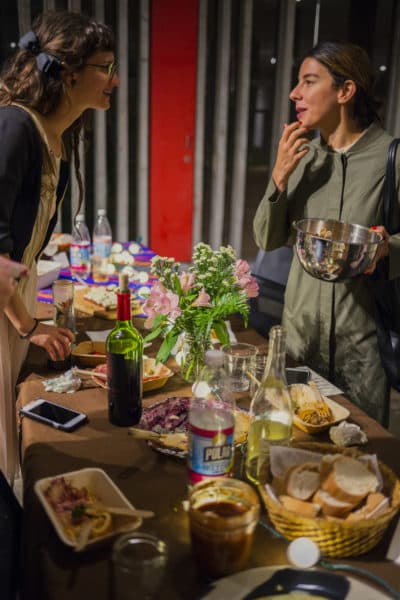 Then comes Huiling Zhu who shares dumplings. She remembers her grandmother in China denying her dumplings in favor of feeding the boys in the family — causing a big feud between her grandparents.
"So my grandfather was furious, and he thought that my grandmother was not taking good care of me," she explains. "And I was hungry. She didn't give me enough food to eat."
But Huiling isn't angry at her grandmother, and says she was a product of her time.
"Chinese people — especially the older generation always prefer boys to girls," she says. "I don't have hate in my heart because it's her, and it's very common."
There are women at the dinner from China, Turkey, Cambodia, Italy and beyond. After we eat, laugh and cry, I realize there's been a catharsis — that these women have unloaded some real feelings about home, about the beautiful and complicated nature of families, about what they take from the women in their lives and what they shed.
"It's not an event about networking. It is an event about creating friendships, and there's a kind of shared sisterhood in the way of these women [that] you don't know when you first sit down at the table," says Rydz. "They're mostly strangers, but by the end you feel like you know everyone pretty well because you've connected through not small talk but something bigger — something more meaningful."
As for me, I brought tacos — a piece of Mexico, of my family, of the women who love me and raised me.
Of home.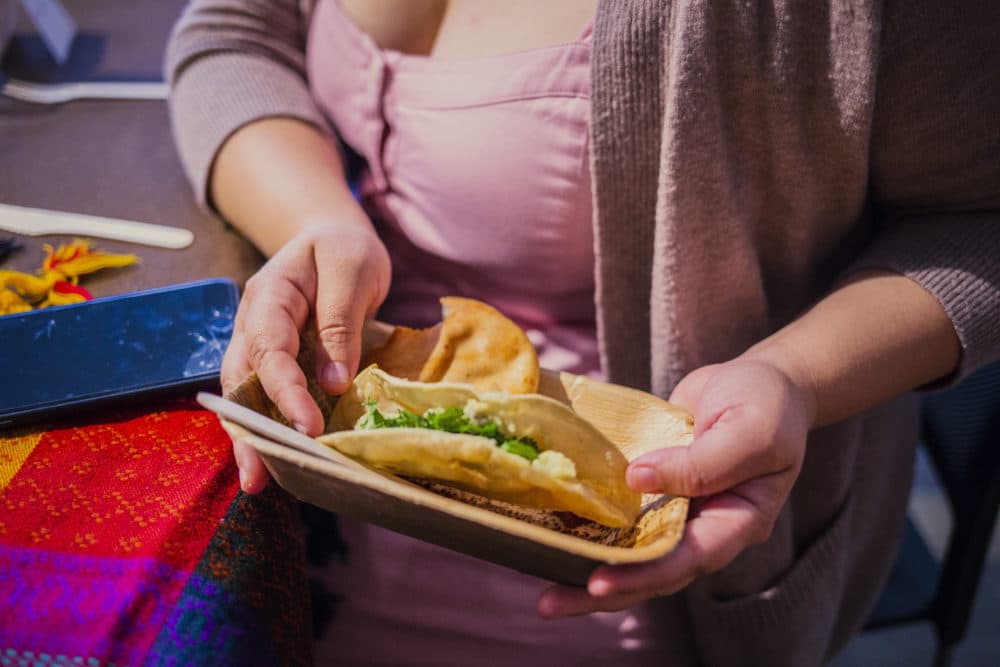 This segment aired on September 12, 2018.