Mass. Household Income Ticked Up Just 1 Percent In 2017
The median household income in Massachusetts ticked up 1 percent last year, rising slightly to $77,385, according to U.S. Census survey data out Thursday.
Median income, which is adjusted for inflation, increased more on the national level in 2017, rising by 2.6 percent to $60,336, according to the same survey.
Massachusetts' household income is among the highest in the country, behind only Washington, D.C., Maryland, New Jersey and Hawaii.
The state-level data released Thursday comes from the 2017 American Community Survey. A related but separate national-level census survey was released Wednesday.
The income growth last year represents a slowdown for Massachusetts. The 2016 survey found median household income jumped nearly 6 percent that year.
Some caveats: The data are based on surveys, so they have margins of error; there are a number of critics of the Census Bureau's methodology on income; and the one-year snapshots are not the same as wage growth, so, for instance, total income could rise as people may be more likely to work full-time hours than a prior year.
In Massachusetts in 2017, there remained big demographic disparities in income.
Here's median income among one-race households:
Asian: $91,150
Black or African-American: $46,925
Non-Hispanic white: $84,988
Hispanic or Latino: $41,995
The survey also calculated median household income among the the 25 most populous metropolitan areas.
The Boston metro area — which stretches north to southern New Hampshire — saw its median household income increase 1.8 percent last year, to $85,691. That's behind only the San Francisco and Washington, D.C., metro areas: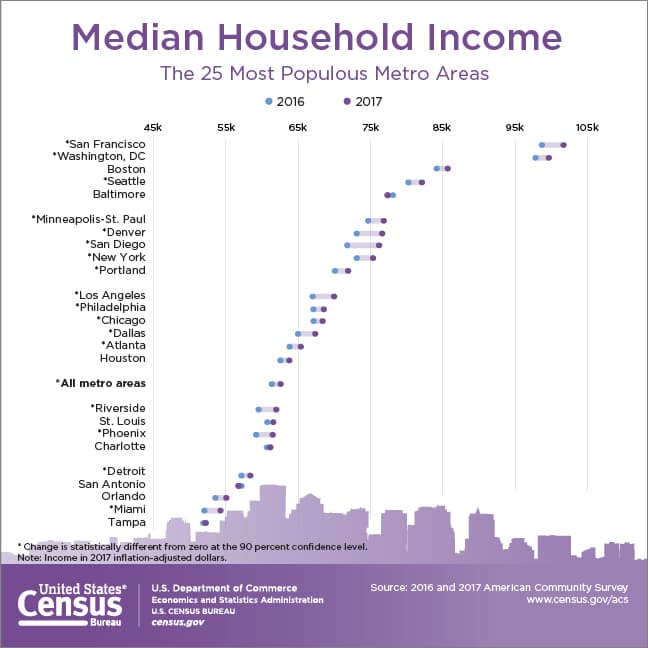 The survey out Thursday also included data on income inequality and poverty.
Massachusetts was one of four states — along with Alaska, Delaware and Pennsylvania — in which income inequality increased in 2017. That's after income inequality decreased in Massachusetts in 2016, the census found then.
The state's poverty rate remained virtually unchanged last year, ticking up 0.1 percent, to 10.5 percent — a rate lower than the national level of 13.4 percent.
And then, Wednesday's separate survey looked at health insurance coverage. The bureau found that the percentage of people in Massachusetts without insurance rose last year, from 2.5 percent in 2016 to 2.8 percent in 2017.
Among the largest metro areas, the Boston area continues to be tops in terms of health coverage: