Why Frankie Shaw Set Up Home Base In Boston For Season 2 Filming Of 'SMILF'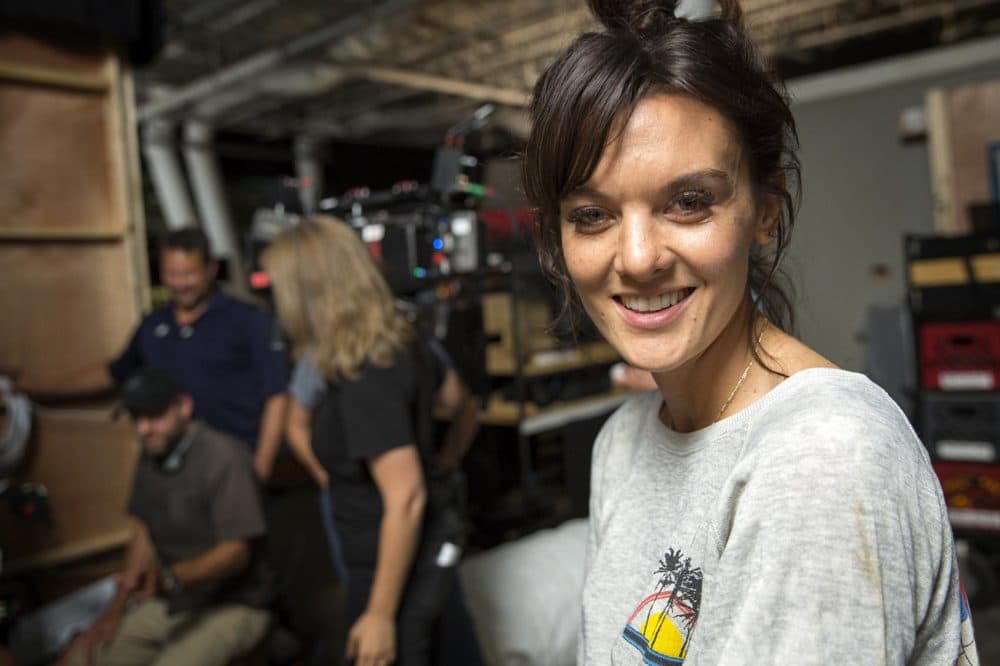 This article is more than 3 years old.
The narrow storefront and red awning at Dlalys Beauty Salon & Nails in Dorchester makes a great establishing shot for a TV show or movie. But it's rare for a production crew to try to get inside and film in such tight, but richly textured quarters. Yet that's what Frankie Shaw did for a scene in the upcoming season of her homegrown TV dramedy "SMILF."
The almost entirely local "SMILF" crew wraps 54 production days in Boston next week.
In its debut season last November on Showtime, only a few exteriors for "SMILF" were shot in Boston. But for Season 2, Shaw, the show's creator, showrunner and star, wanted to bring the production to her old "backyard." That means filming at a tucked away basketball court surrounded by triple-deckers similar to the one Shaw frequented in her youth.
Shaw, who plays Bridgette Bird in the show, says she wanted to bring Season 1 to Boston, but production in Los Angeles was easier because "it happens everywhere all the time." Then again, after having to frame out palm trees, there were also reasons to come home. "The original architecture is so gorgeous and just very specific to this town and you can't really replicate it anywhere else," she explains. "It just feels more authentic."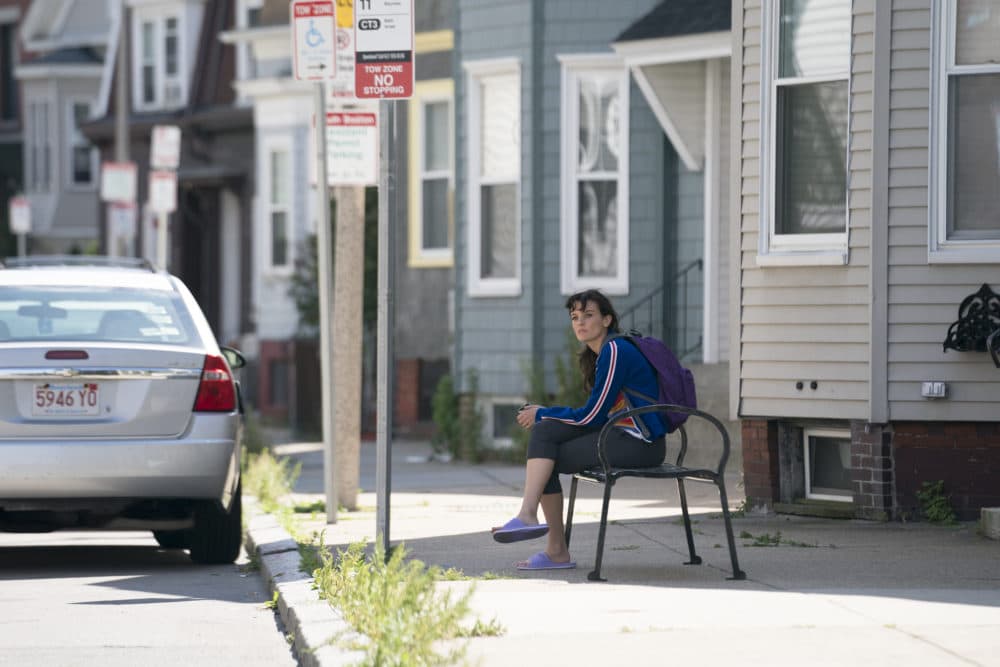 Shaw, 36, was born in South Boston, where her loosely autobiographical series about a financially scrappy single mother is set. (She soon moved to Brookline and lived there until college.) But Southie is where her grandmother, Mary, raised her mom and her mom's five siblings, some of whom either have had roles in the show or have inspired new characters for Season 2.
Behind the scenes, "SMILF" is also somewhat of a family affair. Shaw and her husband, Zach Strauss, a writer on the show, temporarily relocated from Los Angeles to a South End condo in early May when the writing team gathered to finalize scripts. By late June a crew of about 300 people, with about 90 percent from the Boston area, turned the former Boston Flower Exchange in the South End into homebase.
Other productions have used the Flower Exchange as a sound stage but not as extensively as "SMILF." On a recent visit, one cavernous warehouse looked outfitted as if for a casual wedding reception. Fold-up chairs surrounded a dozen or so long tables opposite a long buffet table stocked like a deli. A few walls separated the dining area from an enclosed interior set where riggings hang from the ceiling and lighting, sound and camera technicians mill around, their belts heavy with gear. In addition to drawing on local crew, Shaw says she required all department heads to hire at least half women or people of color.
Location manager Ryan Cook points out some bikes down a hallway around the corner. "That's because everybody lives nearby," he explains, including Cook. He has been handling Boston locations for productions such as "Black Mass" and "Ted" for the last decade. For "SMILF," he's done the legwork behind an array of on-site scenes such as shooting at a polo field in Hamilton and at Dlalys in Dorchester.
Securing some "SMILF" locations — like Pino's Pizza in Cleveland Circle — was a breeze according to Cook. "They actually remembered Frankie," he says of the owner. (Shaw grew up going there "literally every week.") "They've been doing this a long time and they remember a lot of faces," says Cook. Other locations either outright declined or required more finesse. Shaw acknowledges that the show's title (an acronym for "Single Mother I'd Like to F---") has been a factor.
In February, Shaw publicly defended "SMILF" against criticism by Boston City Councilor Ed Flynn for its "inaccurate portrayal" of mothers from Southie for its "degrading" and "crude" portrayals of their lives.
Shaw rebutted with a Facebook post: "In most popular movies and television, South Boston is generally portrayed as extremely violent, corrupt and notoriously racist. ... SMILF's Southie is about a woman striving for a better life for her kid. I have a feeling that the judgement comes from underlying gender-bias more than anything else. And I get it, these deep-seated unconscious judgements are centuries old and very hard to recognize…"
"If you just hear the title you might think it's like a gimmicky sex comedy, right?" Shaw wonders aloud. "The first two episodes have a lot more raunch and raw sex stuff than the rest of the season and especially this season we sort of go in a whole other direction."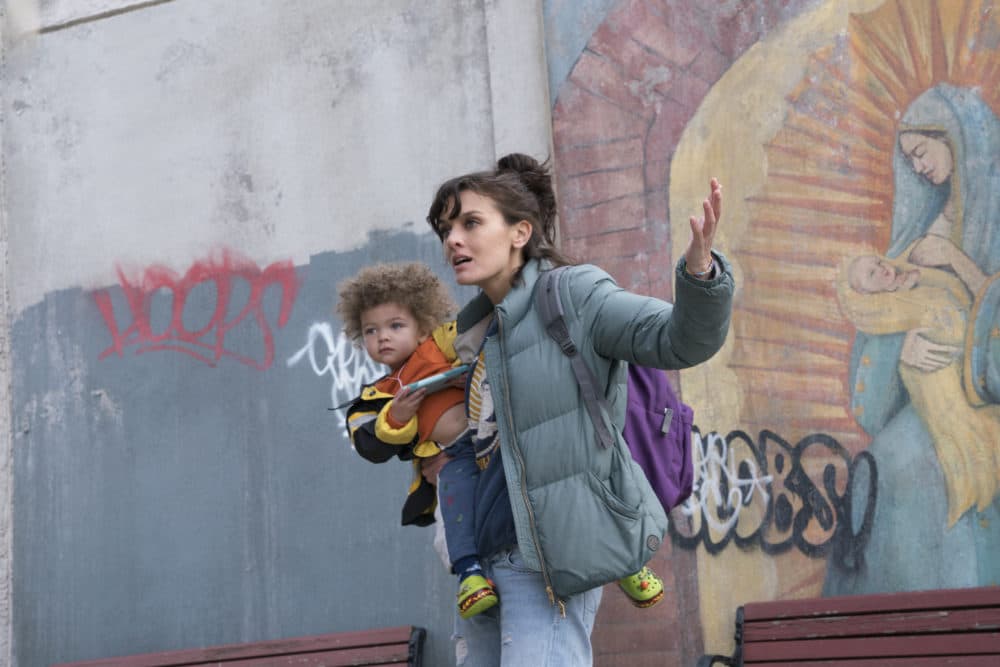 While plot details for Season 2 are still under tight guard, Bridgette's ambivalence about Catholicism may resurface. Shaw describes how she met with board members of one local church to encourage them to allow shooting a scene there. "We explained how actually our show is very much in alignment with Christ's values, with our activism, with our representing the poor … maybe if it was a different show, with a different title, a different subject matter, it wouldn't be the case."
In Cook's experience, in-person meetings with a show's creator are uncommon. "I told the church afterward, 'This the first time I've ever had a director come with me to one of these meetings and sit down for an hour on her off day to explain her story and advocate for herself.' " He thinks that's what made the officials give the OK.
"There's a lot of movies and a lot of productions that I've been on in the past that roll in and say, 'We're Hollywood, we're going to do what we want,' and sort of just like, 'Screw you' to everybody else." He says that hasn't been the case working on "SMILF." "We understand that we are guests in these people's neighborhoods and often we're filming in our own neighborhoods."
When trying to find the right hair salon he says that most directors would've walked in to Dlalys and said, 'This place is too small. Let's build it or go somewhere else.' "But Frankie walks in there and goes, 'I want to get this place on camera. Let's figure out how to make it work.' "
---
Season 2 of "SMILF" is tentatively slated to premiere in January 2019.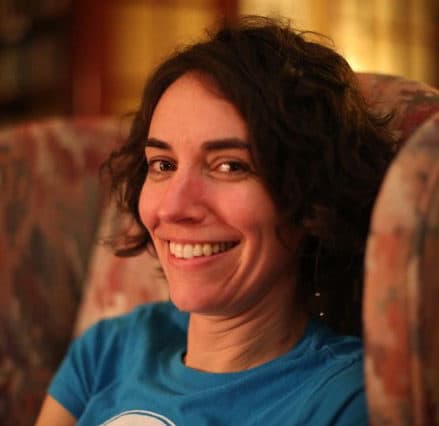 Erin Trahan Film Writer
Erin Trahan writes about film for WBUR.