To Stem Tide Of Childcare Staff Turnover, Providers Try Increasing Benefits
04:12
Play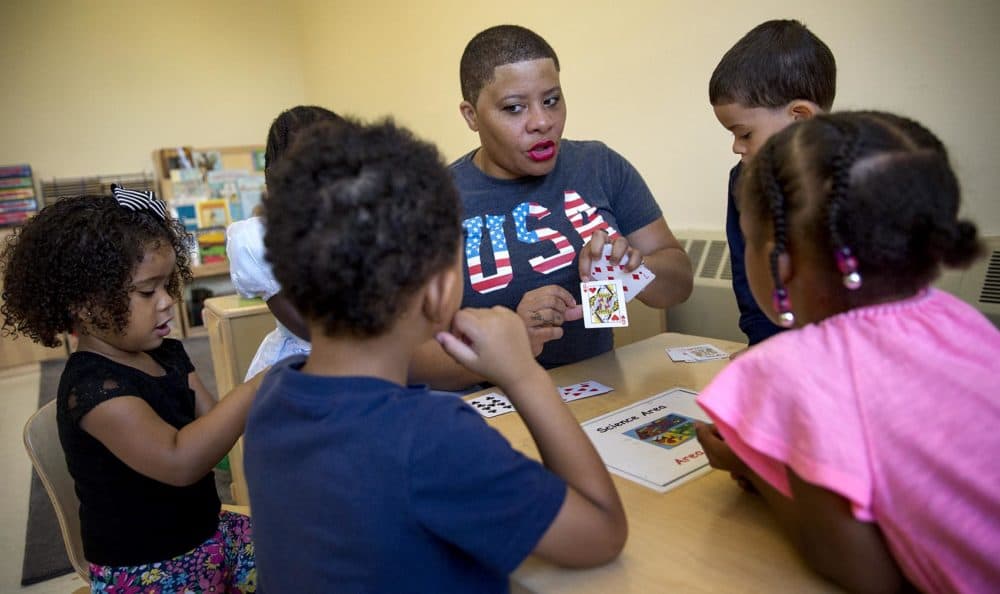 This article is more than 3 years old.
Keeping good employees is a challenge for any industry. But for childcare centers the struggle is particularly acute, with a roughly 30 percent turnover rate each year. In a field where institutional knowledge translates to better quality care, industry leaders are straining to find ways to keep their staff for longer than a few years.
Even just attracting people to become a childcare giver can be a tough sell. The job is physically demanding — often involving multiple energetic toddlers that you're tasked with not only keeping safe, but also imparting new skills. And doing all of that for an average of $14 an hour in Massachusetts.
It's these market conditions that are encouraging some experimentation. Administrators at the Bright Horizons Family Solutions daycare center chain, for example, are hoping free tuition might help.
"This is allowing me to finish my bachelor's degree while also working full time," said toddler teacher Chaley Webber. She had been planning to leave her full-time position in order to pursue a bachelor's degree. But because under this new program she can finish her early education degree at one of the four online schools for free, Webber has decided to stay with Bright Horizons — at least for now.
"I'm still planning on becoming a kindergarten teacher. But this is a really good opportunity," she said.
So Webber will stay at Bright Horizons at least until she finishes her degree, under this new program.
"We're hoping to reduce turnover which comes at a cost. We're hoping to recruit more efficiently which comes at a cost," said CEO Stephen Kramer. "So it's things like that that we believe are going to be true offsets for the investment that we're making."
But even tuition benefits have their limits. Action for Boston Community Development also helps people earn degrees in the field of early childhood education. But Yvette Rodriguez, who runs the organization's Head Start program, said she still faces strong competition from the public school system.
"A teacher in our site can make more money in the school system as a paraprofessional with a lot less responsibility," Rodriguez said.
Rodriguez said her organization, a federally funded nonprofit, can afford to pay a toddler teacher with a bachelor's degree about $20 an hour. Kindergarten teachers in Massachusetts public schools can make double.
"Sometimes the reality of living in a city like Boston is so heavy that you have to reassess your loyalty," Rodriguez explained.
So why can't providers just pay their staff more? Marcy Whitebook, the co-director of the Center for the Study of Child Care Employment at the University of California Berkeley, said part of the issue is that, unlike the public school system, early childcare is a separate market and mostly private.
"We're depending on what parents can afford to pay," she said. "And parents are already paying really high amounts."
To the tune of about $17,000 a year for an infant full time in this state, on average. That's among the highest in the country. But Whitebook explained margins for daycare centers are typically pretty slim. Rent, insurance and other fixed costs eat up a lot of that tuition money. So providers really aren't left with many options when it comes to paying staff more.
"Really the only thing you can do is jack up the cost for parents or put a ceiling on how much you pay people," Whitebook said. "And in many places we're doing both."
Some daycare centers in the region have been able to find some extra cash by teaming up to buy supplies and services such as accounting and payroll. And while those measures have allowed them to make investments back into their staff, some industry watchdogs like Whitebook say that still doesn't go far enough to really fix the issue of worker pay.
"We need to figure out how  to transform the way we finance this," she said.
And that's the big question facing communities facing communities today: when should public support for childcare begin and how big should that investment be? But until those policy questions are answered, it's up to the childcare centers to figure out the economics.
This segment aired on September 17, 2018.