New Boston Common Memorial Will Honor Martin Luther King Jr. And Coretta Scott's Love And Legacy
Resume
In a way, Boston is the place where Martin Luther King Jr. accelerated his life's work as a civil rights leader. The charismatic leader moved to Boston in 1951 to earn his doctorate in systematic theology at Boston University, and it was here that he met and quickly fell in love with Coretta Scott and solidified his own style of leadership.
"This is the first time he sort of stepped outside the limelight of his father. His father was quite a powerful and popular minister, Martin Luther King Sr. Boston is really the place that Martin established his identity as a leading thinker, a philosopher [and] as a religious leader," said Paul English, the founder of several software companies, including Lola.com and Kayak. English also founded MLK Boston, the nonprofit working with the city of Boston to build a memorial honoring Martin Luther King Jr. and Coretta Scott on the Boston Common. (View the memorial proposals from the five finalists here.)
King studied at BU's School of Theology between 1951 and 1955. While there, he served as assistant pastor at Twelfth Baptist Church in Roxbury, where he met his future wife, Coretta Scott, who was studying at the New England Conservatory. The memorial at the Common is meant to honor the Kings' love, their time and impact in Boston and their legacy today.
By January 1952, King Jr. had dated quite a bit. He wrote in his autobiography that he had started to become cynical because he wasn't particularly fond of the women he'd met. "He courted lots of women in Boston. I don't want to say he was a playboy but he was looking for a wife. So he met lots of other women, but [Coretta] rose beyond them all," said Rev. Liz Walker, pastor of Roxbury Presbyterian Church, and co-chair of MLK Boston.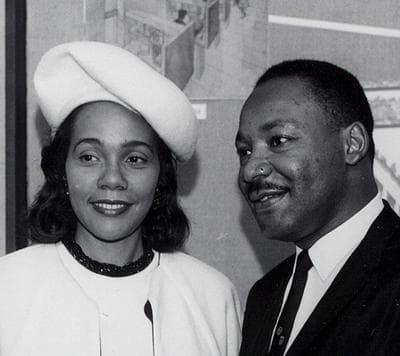 A mutual friend introduced King Jr. to Scott, who was studying at the New England Conservatory of Music. Her legacy has long been tethered to his, but she was a force for social justice in her own right. Before she met King Jr., Scott had traveled overseas advocating for world peace, she had helped organize Antioch College's race relations committee and her biographer described her as more politically active than King Jr.
"When they met he fell in love almost instantly," Walker said. "She did not, and I love that. So he had to kind of court her."
King Jr. wrote that he knew he wanted to marry Scott after their very first lunch together when they spoke about social justice. Letters from their early courtship and marriage reveal Scott often referred books for King Jr.
Scott grew up in Marion, Alabama, where white neighbors burned her childhood home. Though her father owned land and later a general store, she still faced poverty. "She came up in really horrible situation concerning race. Growing up in Alabama and having to pick cotton and really kind of struggling as a child. Her own sensibility about justice was profound because of her roots," Walker said.
Both of them from the South, the Kings recognized the more progressive attitudes of the North, but also its cloaked racism. King Jr. addressed this in a speech at a Ford Hall Forum in Boston in 1963:
The estrangement of the races in the North can be as devastating as the segregation of the South. It is one thing for a white person of good will in the North to rise up with righteous indignation when a bus is burned in Anniston, Alabama, with freedom riders ... but it is just as necessary as important for white persons of good will in the North to rise up with righteous indignation when a negro cannot live in their communities and neighborhoods because of certain restrictions and agreements.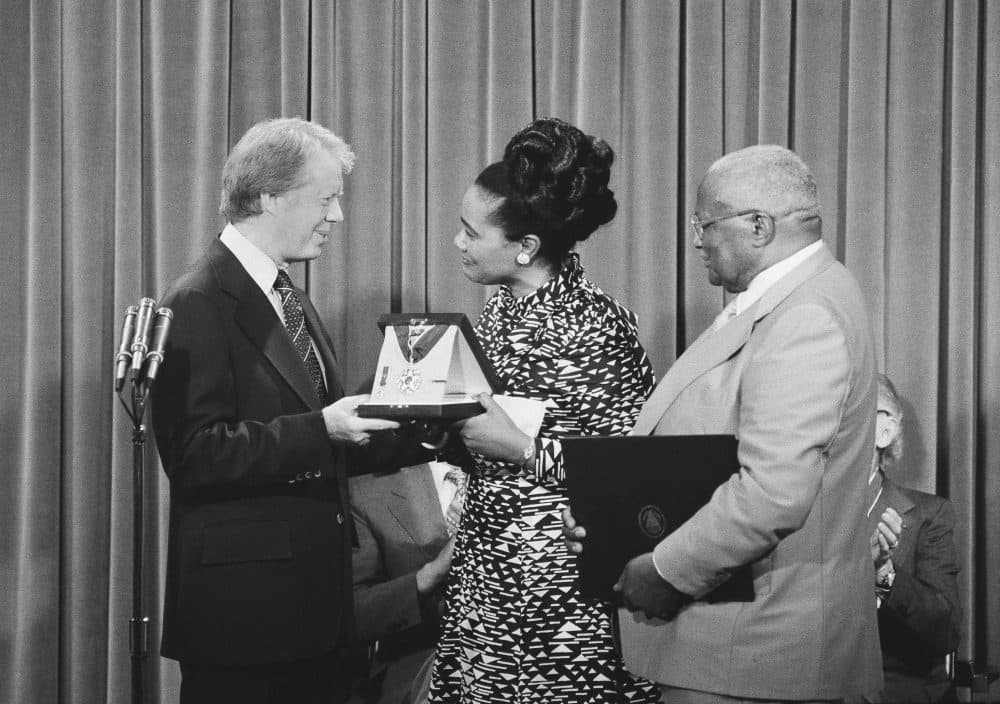 Later, Coretta was still mourning her husband's death when she took his place at Harvard University's class day in 1968 — the first woman to do so — calling on mostly white students to mobilize against injustice. "Your generation must speak out with righteous indignation against forces that are seeking to destroy us," she told them.
Erecting a memorial of the Kings on the Common ensures they take their rightful place in Boston's storied history, says English. "If you look at the Freedom Trail and think about who is there, I think Martin Luther King should be honored equally — if not more — as one of the leaders who have come out of Boston."
Rev. Walker said the memorial is also a call to action — a reminder the Kings' work is not finished here. "That battle is ongoing. What the Kings stood for is still real. Right now, it's almost as if their voices are as strong today as they were back — you know — 30, 40, 50 years ago."
The memorial serves as only one part of MLK Boston's plan to honor the Kings. The committee also plans on building an educational center, possibly at the new Dudley Square Library, that will serve as a training ground for local activists. It's also working on an endowment for MLK-related programming for Twelfth Baptist Church and the commission of a 25-minute documentary about the Kings in Boston.
English said MLK Boston aspires to raise $15 million for the projects. So far, the group has raised about $4.5 million. English said he had donated $1 million, and the Lewis Family Foundation had also donated $1 million.
This segment aired on September 18, 2018.