Wages Are Stagnant In New England, But Benefits Are Growing
The New England unemployment rate has been falling, yet competition for workers isn't driving higher wages. New figures from the U.S. Bureau of Labor Statistics may help explain why.
The average hourly wage in New England was $27.98 in June — 38 cents less than in the same month last year. That slight decrease is despite the region's jobless rate ticking down three-tenths of a percentage point, to 3.6 percent.
But overall compensation was up; it just took the form of better benefits packages, rather than higher base pay. Private companies in New England are paying more for health care and time off, and contributing more to retirement accounts.
The average hourly value of these and other benefits rose by $1.06 from June 2017 to June 2018, to $12.99.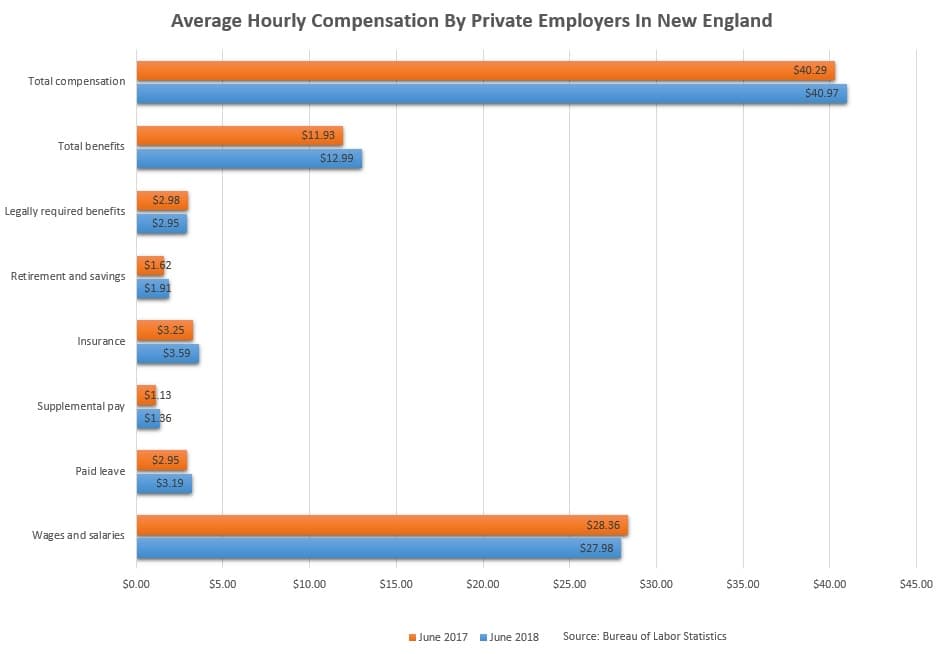 Matt Nagler, founder of BANKW Staffing in Bedford, New Hampshire, sees a broader effort by companies to redefine pay.
"This has been a trend for a number of years," he said. "Employers, when they're presenting packages, really talk about the total compensation."
Still, Nagler added, "there's a part of me that is surprised — since it is so unbelievably competitive in every industry because everyone is hiring — that we haven't seen a dramatic shift" in wages.