Community Divided Over A Proposed New Home For Roxbury Prep Charter High School
05:39
Play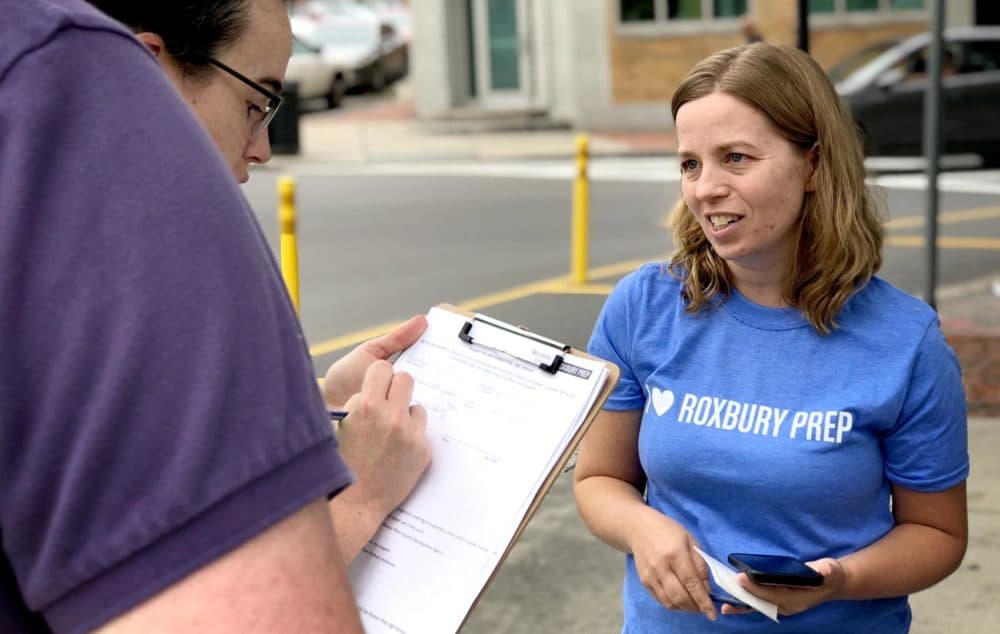 This article is more than 3 years old.
On a Saturday morning in Boston, the Roslindale farmer's market is about as mellow a scene as you can find.
But just outside its borders, there's an edge in the air, as one of the city's top-performing charter schools pleads its case for a new school building just down the street.
"I've been heckled at when I'm out canvassing in the neighborhood," says Rachel Young, a Roslindale resident who is collecting signatures and handing out lawn signs in support of the school. "I was sworn at just this morning. ... These are not the kind of conversations I want to be having with my neighbors!"
For months, Young has been arguing online and in person in favor of the project at 361 Belgrade Ave., on a lot occupied by the Clay Chevrolet dealership — right on the line between Roslindale and West Roxbury.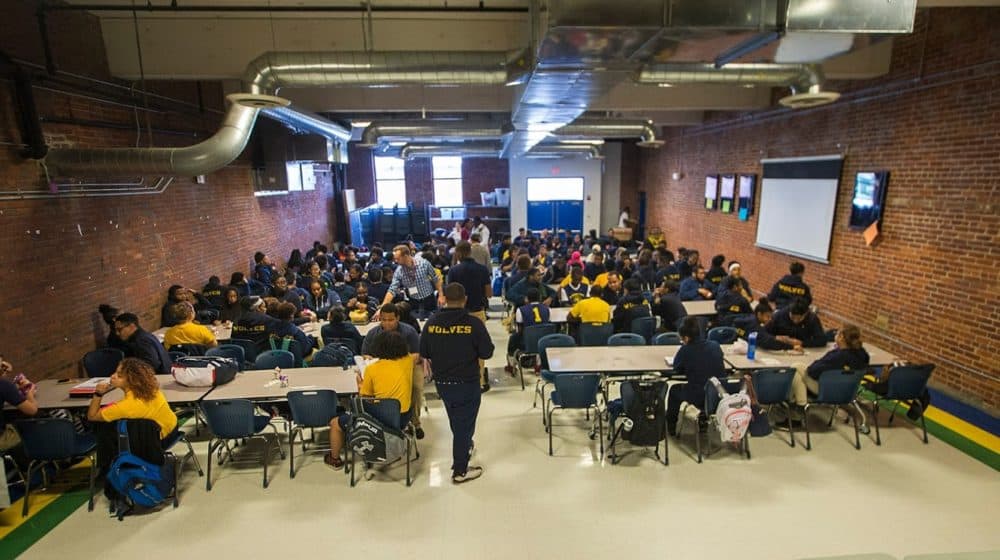 For the past few years, Roxbury Prep High School has been a schoolhouse divided: two campuses, five crosstown miles apart.
Half of its students go to school on Maywood Street in Roxbury, in a converted office building that the school is renting.
"This is only our 11th and 12th grade in this building," says Bridget McElduff, a Roxbury Prep staff member. "And we barely fit with what we have right now!"
Her tour begins in a medium-sized, all-brick room that does triple duty — as cafeteria, auditorium and art class. The room is packed with students during lunchtime — and it's still too small to fit more than half a grade's students.
Like many charter schools, Roxbury Prep emphasizes hard work and high expectations. Its hallways are kept quiet and its courses are rigorous. The Maywood Street building has been dressed up to reflect those goals — with Ivy League pennants and the school's top GPAs mounted on its walls.
For the past few years, Roxbury Prep High School has been a schoolhouse divided: two campuses, five crosstown miles apart.
But you can't help but notice the building's limitations: cramped stairwells, a conference room-turned-science lab and other tenants just on the other side of the wall.
Meanwhile, the school's ninth and 10th graders study in a former parochial school in Hyde Park. This can mean up to an hour in traffic for anyone who has to shuttle between the two campuses, including staff, student clubs and sports teams.
That disjointedness is Deborah Dunlap's one reservation about Roxbury Prep, where her daughter Olivia is a satisfied student in her junior year.
"I'm really sad that she's not getting a real high school experience," Deborah Dunlap says. "How close-knit can a school be if you've got ninth and 10th in one spot, and 11th and 12th in another?"
After a five-year search through 57 sites, Roxbury Prep landed on the Belgrade Avenue site. A rendering of the school they hope to build is hanging on the wall of the Maywood Street campus: a 96,000-square-foot building complete with a gym and a cafeteria, just steps from the commuter rail and bus routes.
They submitted their "letter of intent" to the Boston Planning and Development Agency in May.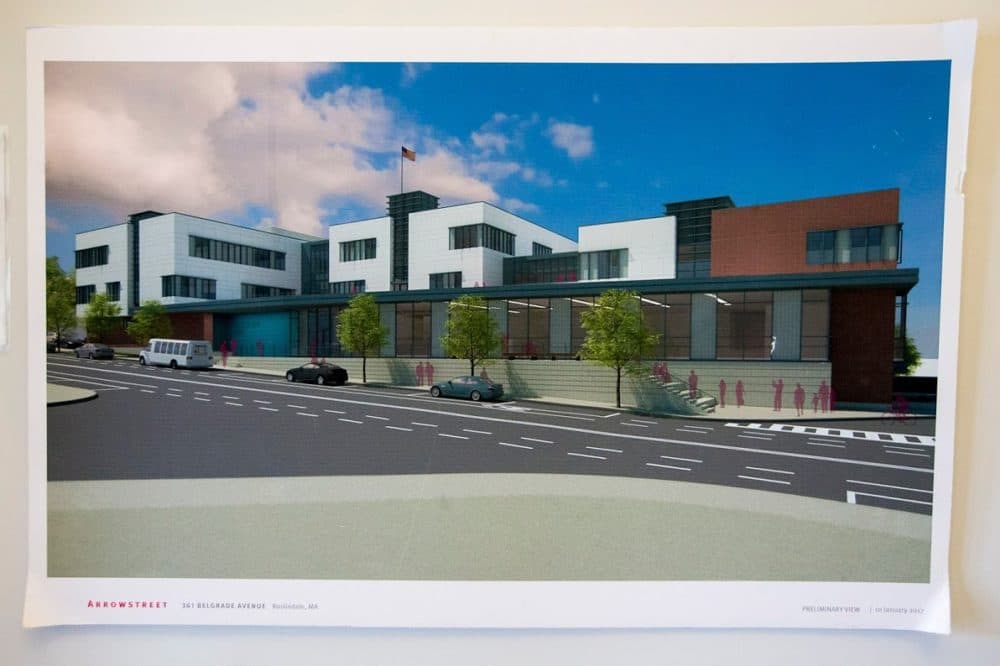 But almost as soon as the school began to push for the site early last year, some in the neighborhood pushed back.
"When we first started out, [the concern] was traffic. It was 'kids on our lawns, kids on our porch,'" Dunlap recalls.
Like 10 percent of Roxbury Prep families, the Dunlaps live in Roslindale. So they've watched as the fight over 361 Belgrade has balkanized their neighborhood. Lawn signs — some in support of the project, but even more against — have sprouted up everywhere. (You'd think it was a hotly contested political campaign.)
Sixteen-year-old Olivia Dunlap has also gone door-to-door for the school, though it won't be built until at least a year after she plans to graduate.
At times, many of her neighbors — whom she describes as "old and Caucasian" — seem to listen to her. It was inspiring: "A lot of people actually ask me questions about the school: What do I do, like what do I learn, how does it affect me and my future? It makes me feel like people actually want to hear my side."
Deborah Dunlap was especially moved when her daughter persuaded one resident to back the school: "I was so amazed that my baby, my daughter, was speaking the way she was. And for him to come back and say, 'Your daughter helped sway me,' that was a wonderful thing."
And Deborah says the school has modified its plans in response to community concerns. It added a covered outdoor space, where students could congregate before and after hours, and a drop-off area for parents.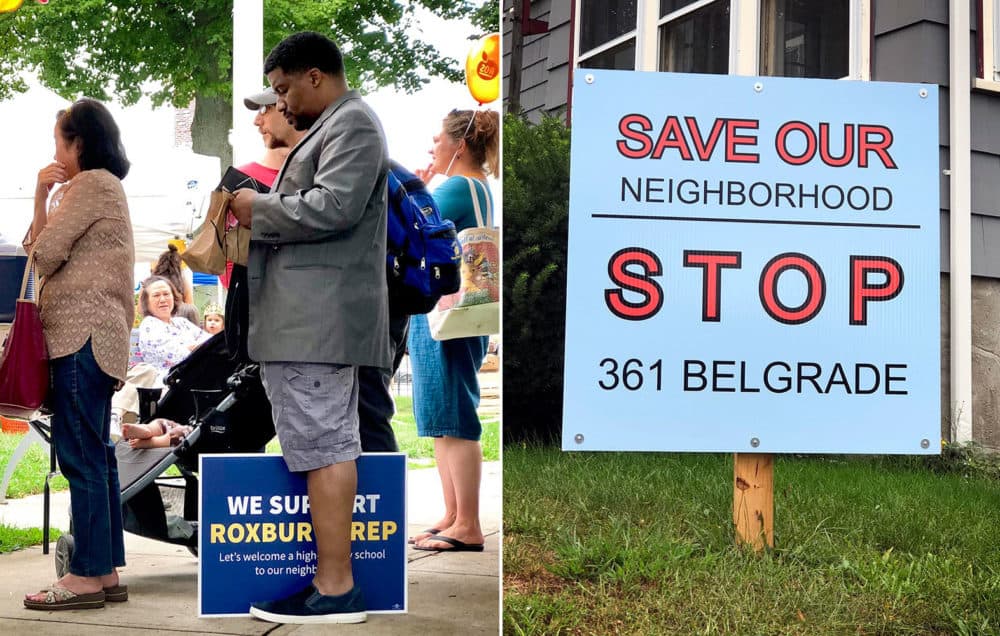 But after months of arguing, the "Stop 361 Belgrade" signs are still up. That's left the Dunlaps with a bad taste in their mouths.
Like when neighbors worry about 'traffic,' even though few of the school's students drive. Olivia says: "They pause when they say 'traffic.' Like, 'We don't want you here because of — traffic.' And it's just like — there's going to be traffic everywhere! Like, there's condos going up!"
It feels like code — like there is something under the surface of the neighborhood resistance.
Given the circumstances, it's not surprising that some school supporters detect a racial undercurrent in the opposition. Roxbury Prep's students are almost exclusively black or Latino, while the abutting neighborhoods — especially West Roxbury — are largely white.
An early petition to block the building warned it could make the neighborhood less desirable, or spoil its "suburban feel." One lawn sign put up on a block away reads: "Stop 361 Belgrade — Save Our Neighborhood."
Sara Harold is one of the directors of the Greater Belgrade Area Neighborhood Association (GBANA), a new group that was formed, in part, to oppose the Roxbury Prep building. Harold and her family live about a block from the proposed building site. She says the "Save Our Neighborhood" sign wasn't put up by a GBANA member, and she denies that the group is motivated by racial concerns.
"In this city as a whole, race is an issue; racism is an issue," Harold says. "But as far as the whole opposition to the project started and formed, race has not ever been a part of [it]."
Harold says her issue is space — not race.
She noted that the school expects to enroll 800 or so high school students at 361 Belgrade, along with staff. At about 120 square feet per student, that would make the school more densely packed than almost all of Boston's existing public high schools, according to a 2016 audit of school facilities.
"You're looking at about 900 commuting individuals to an acre lot. That's a lot of people to put in such a small space," Harold said.
Along Belgrade Avenue, as in much of the city, developers are building condos. Traffic snarls the Parkway intersection as it does most other parts of the city.
There's another tension at play: Roxbury Prep is a charter school. Harold says she doesn't have an opinion on that subject, but some in the community do oppose charter schools: either on principle in general or to the way they work in Boston today.
From the beginning of the building process, many were under the impression that the Roxbury Prep building would represent the flouting of the forceful "no" vote against charter expansion taken in 2016.
But state officials actually authorized Roxbury Prep to enroll up to 1,800 students back in 2011, long before that vote. This building would combine the two high-school sites, bringing about 800 students currently in the system into a single facility.
That's not good enough for City Councilor Matt O'Malley of West Roxbury. He was one of six elected officials to oppose the school in a May letter to the Boston Planning and Development Agency (BPDA), which will oversee the process.
In an interview, O'Malley echoes GBANA's concerns about space, and added that his "larger concern" is the growing sum of money that Boston pays out to charter schools each year.
It's worth noting that Roxbury Prep staff expect to reach 1,800 students in total enrollment at its three middle schools and the high school in the near future, regardless of whether the new school is built. That means the city would eventually end up paying the same amount in either scenario. For several years, the state has failed to meet its obligation to reimburse districts who lose students — and dollars — to charter schools.
O'Malley adds that he doesn't believe the "Save Our Neighborhood" sign, or other "ugly rhetoric" that has emerged in the community debate, is reflective of the neighborhood at large.
Meanwhile, Mayor Marty Walsh and other officials declined to take sides on the issue, noting that Roxbury Prep still has not filed a detailed plan for the building with the BPDA.
For now, the battle of Belgrade Ave. has reached a standoff. But it promises to flare up again as the process advances. First, would come that detailed plan, followed by community meetings that could be disputatious.
Still, it's a long, uncertain road to a groundbreaking.
This segment aired on September 21, 2018.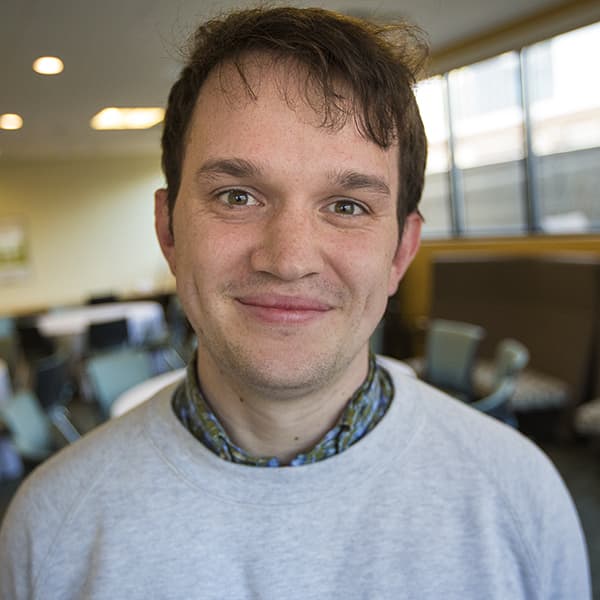 Max Larkin Reporter, Edify
Max Larkin is a multimedia reporter for Edify, WBUR's education vertical.