Police Officer Shot In The Leg In The South End, 3 People In Custody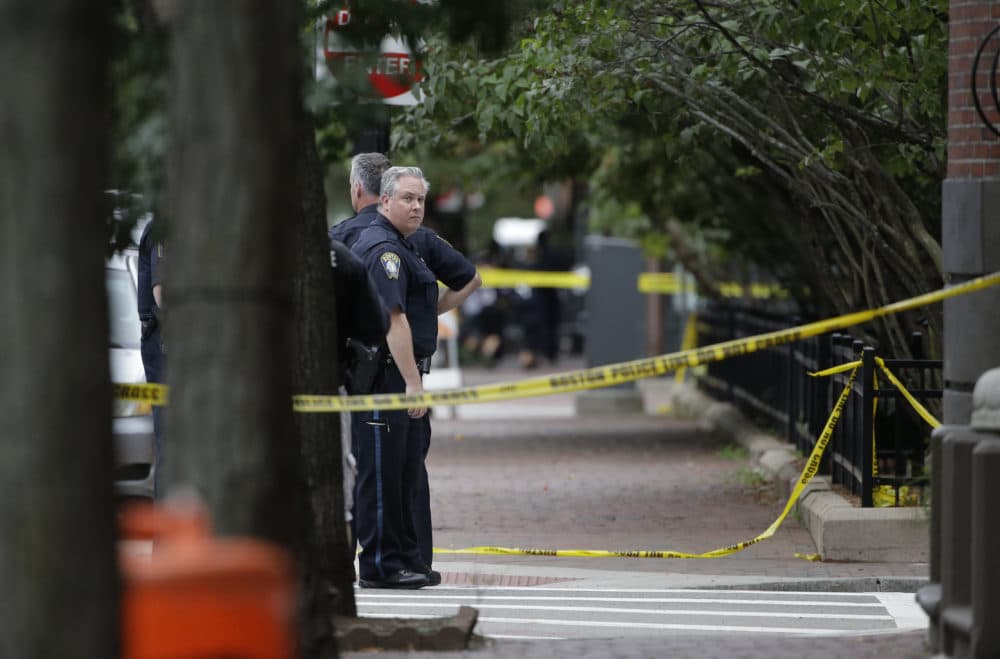 This article is more than 1 year old.
Boston police say an officer is recovering after being shot in the leg while on duty in the South End.
At a press conference Sunday afternoon, Boston Police Commissioner William Gross said members of the department's youth violence strike force were on patrol around 2 p.m. when they encountered three individuals who appeared to be in their 20s sitting on steps outside a building on West Springfield Street.
Gross said when the individuals saw the officers, they stood up and "were clutching at their waists, which is characteristic of an armed gunman."
The officers attempted to follow the individuals into a building, but Gross said one held the door closed against the officers. When the officers were able to enter, Gross said they were immediately fired upon.
One officer was shot in the calf and is being treated at Brigham and Women's Hospital. Gross said the officer is "doing fine," and that Mayor Marty Walsh visited the officer Sunday afternoon.
SWAT and hostage negotiators were called to the scene after police say one of the individuals entered an apartment.
"Thankfully it came to a peaceful resolution where the suspect was taken into custody. No injuries. No further shots fired," Gross said. Two other people were taken into custody.
"Our police officers work hard everyday to keep our residents safe, and this senseless violence will not be tolerated," Walsh said in a statement Sunday night.
Gross also called the incident intolerable.
"It's heart wrenching, you know? Folks are doing their job protecting the city, and that's the attitude these days? That we're coming up to talk to you — we're coming up — you can just fire upon us? That's heart wrenching," Gross said.
Sunday's incident follows the fatal shooting of police officers from Weymouth and Yarmouth earlier this year.
"There are too many guns on the street," Gross said. "I just wish we had unilateral gun laws between Massachusetts, New Hampshire, Vermont and Maine. That they were just as strict as Massachusetts. But unfortunately that's not the case."
Gross said police are seeking a search warrant and expect to recover a weapon.