1 Person Is Dead In Outbreak Of Acute Hepatitis A That's Sickening Dozens Of Mass. Residents
This article is more than 4 years old.
The Massachusetts Department of Public Health said Monday that 65 people have contracted hepatitis A statewide, and one person has died after acquiring the viral infection.
The health department says most of the individuals who have contracted the disease — which affects the liver and can cause severe illness — are homeless, struggling with addiction or both. It is encouraging local health departments to provide services and information to people who could be affected, especially those injecting drugs.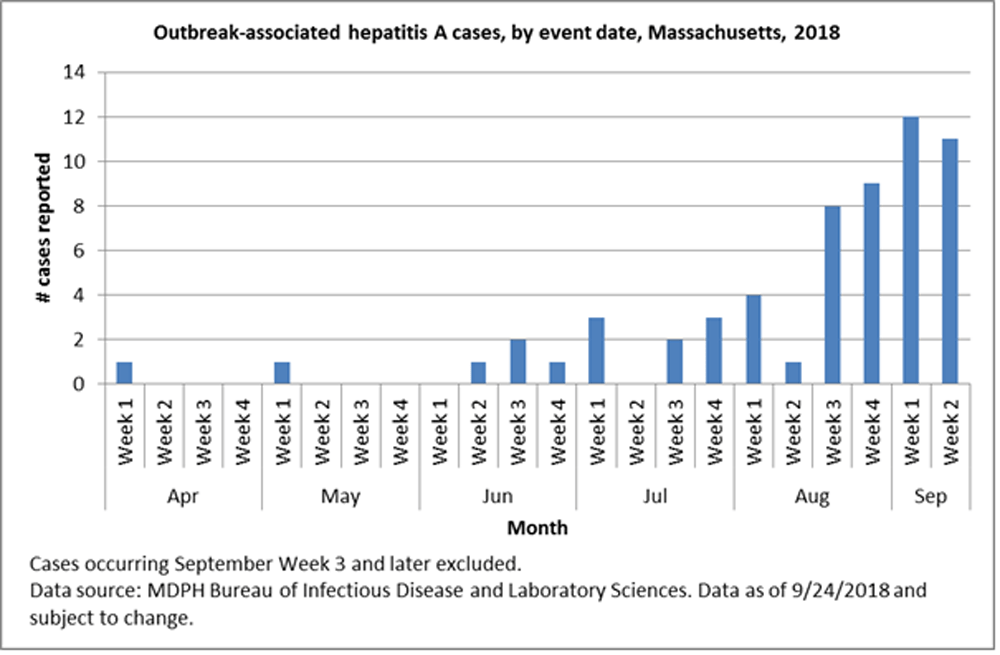 Of the 65 cases, the department said in a statement that "45 percent are located in Boston, with an increasing number in other cities and towns, including the Southeast and metro Boston areas."
Additionally, most people who have contracted hepatitis A also have symptoms of hepatitis C, a blood-borne infection often linked to injection drug use. The combination is making their illness more severe, the department said.
"We have seen a spike in cases of hepatitis A, with outbreaks being reported in at least 10 other states in similar populations, constituting thousands of cases nationwide," said Public Health Commissioner Monica Bharel in the statement. "As part of our statewide response here in Massachusetts, we are reaching out to all local health departments to encourage and assist their efforts to provide education and vaccinations for people at risk."
Hepatitis A is primarily transmitted through fecal-oral contact. Its symptoms include fever, fatigue, loss of appetite, stomach pain, nausea, diarrhea and jaundice. It can be prevented by a vaccination, which the department said it also plans to administer to at-risk people in the state. Hand-washing also helps prevent the disease.