Theresa-India Young Wove A Legacy Now On View At MassArt's Thompson Gallery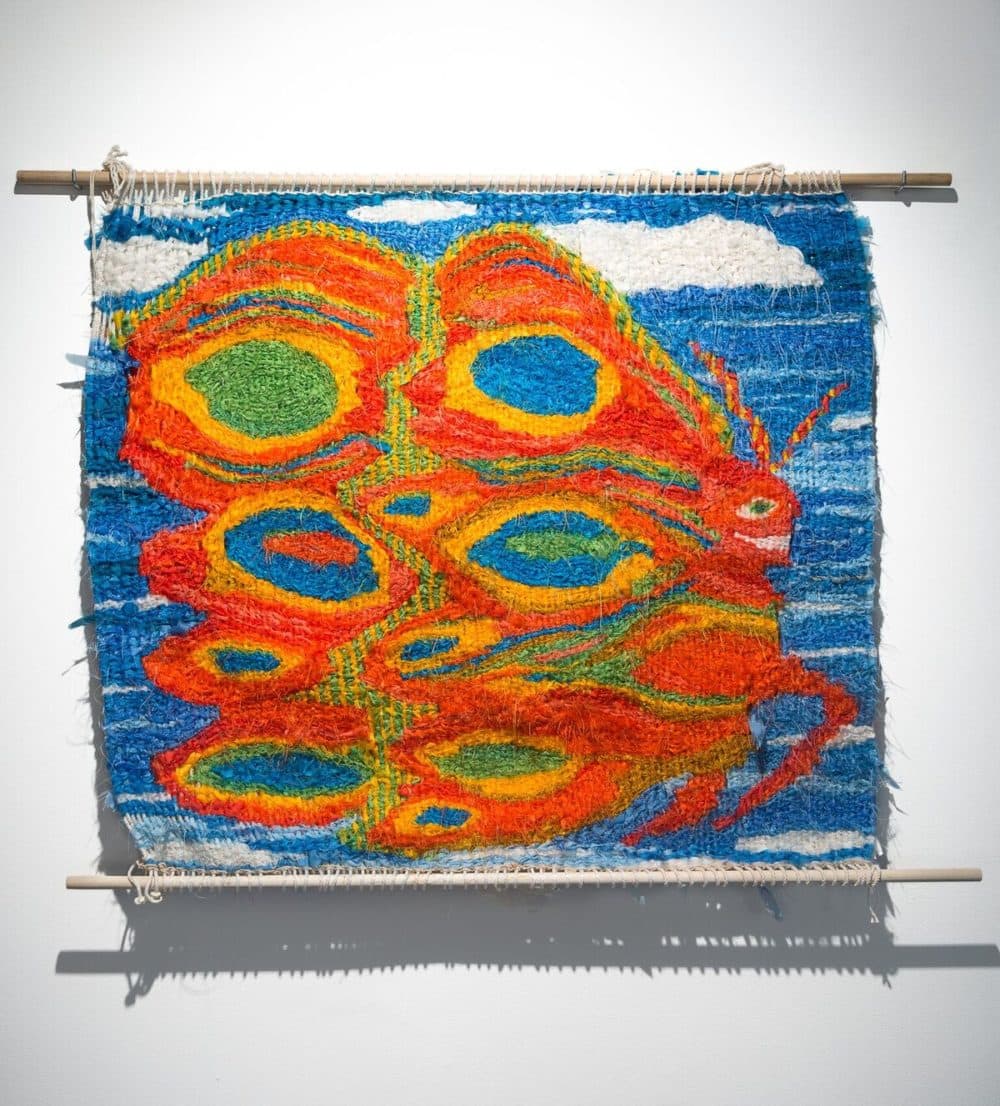 This article is more than 3 years old.
On long bus rides from New York City to New Paltz, where she attended the State University of New York, the young Theresa-India Young would soak up all the vibrant colors of nature, something easy to miss in the concrete and asphalt of the city.
"She would look at the terrain, and that was the beginning of it," says Jacqueline McRath, a close friend. "The oranges, the golds, the greens, the browns!"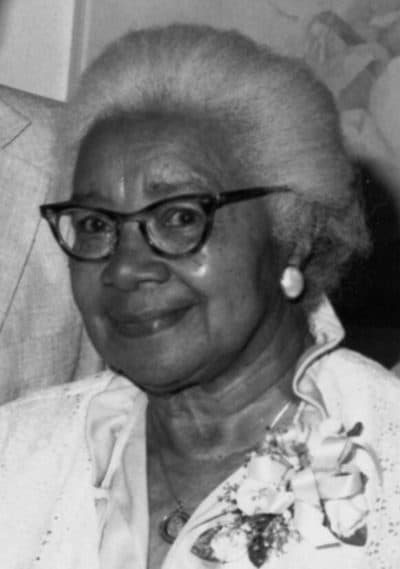 In time, Young would incorporate that love of nature into her work as one of Boston's most visible artists and educators. By the time she died in 2008, Young had amassed an impressive body of work as both a weaver and a ceramicist. She had immersed herself in an array of weaving traditions, and developed an encyclopedic knowledge of techniques, materials and methods from around the world. Her research took her to Ghana, Togo, Benin, Nigeria and the American Southwest, among other places, where she developed an expert knowledge of such weaving techniques as backstrap, ikat, kente, European tapestry and Navajo weaving.
At the end of her life, she had garnered a reputation not just for her art, but as an art educator who taught in every corner of the city — at the Museum of Fine Arts, The Peabody Museum, Lesley University, Wheelock College, the Cambridge Friends School, the Boston Center for the Arts, Roxbury Community College and the Elma Lewis School of Fine Arts. She also co-founded the Kush Club, a teen docent program established as a collaboration between the Nubian Gallery and Egyptian Department at the MFA and the Museum of the National Center for Afro-American Artists in Roxbury.
"What stood out about her work was she was a researcher," says Janet Kawada, a retired adjunct professor in the Fibers Department at the Massachusetts College of Art and Design, where Young also taught. "She had this love of historic textile processes and she went on to study that all over as she went through her art-making. That's what made her stand out. She wanted to pass that down to people… So if you learned weaving from her, you didn't just learn the process of weaving. You learned the background of weaving, what it meant to different cultures, why they used it. And that was very important to her."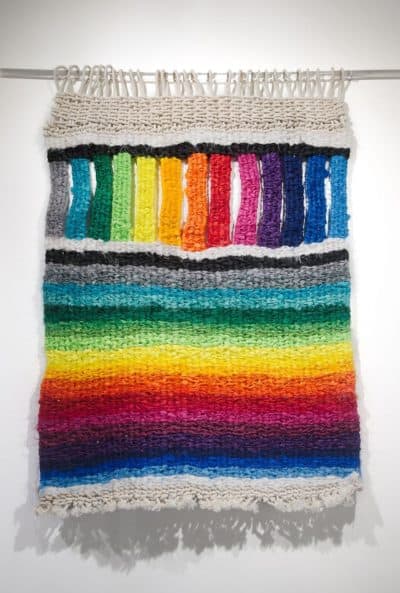 Before her death from cancer at the age of 58, Young decided to establish a scholarship fund in her own name. She shared her dying wish with her good friend McRath, now the executor of her estate. McRath approached MassArt about setting up the Theresa-India Young Scholarship Fund, and the first scholarship was given out in 2013.
This year marks the scholarship's fifth year (it was suspended for one year in 2017). The five recipients include Sarah Peloquin, Zoë Barbano-Grinder, Alexander Sebastianus Hartanto, Rachel Cass Oswald and Emma Welty. Their work, along with the work of Young herself, is now on display at the Thompson Gallery (formerly The President's Gallery), which has been newly renamed after alumna Frances Euphemia Thompson, one of the first African-American women to graduate from MassArt. The Theresa-India Young Exhibition christens the renamed gallery, which will be dedicated at an event on Tuesday Sept. 25.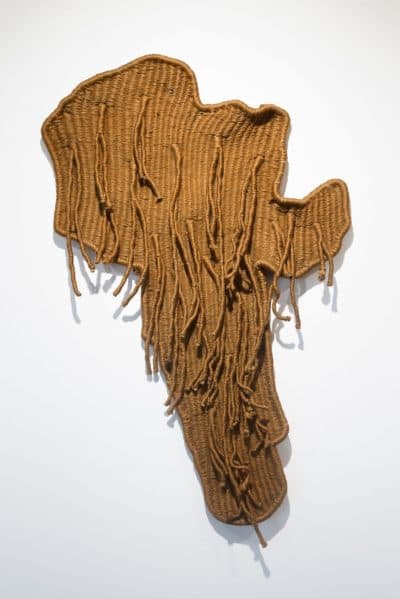 "Our students work really, really hard," says Kawada. "And Theresa-India Young recognized that. She knew that it didn't matter what color you were, or where you came from, she understood that art is a passion. But you also need to know where you come from and why it's done. And so, blending those two things integrally is important. We're very lucky that she decided that she wanted the scholarship to be at MassArt. We really are."
The recipients shown in this year's exhibition very much mirror the kind of dedication that Young showed in her work.
Emma Welty received the Young scholarship in 2013 and graduated in 2014. She says she first began incorporating knitted objects into art assignments as a teenager. Her teachers encouraged her to pursue fiber more seriously, which led to MassArt's Fiber Department.
"My practice is very research-heavy and I tend to be calculated as I make work," she says. "My sketchbooks are often filled with more math equations than drawings, as I am constantly trying to figure out how to translate the content of my research into an orderly, gridded structure. The woven structures that I am working with also allow me to break into a more sculptural space where I am not confined to the vertical and horizontal lines of the cloth's warp and weft, but where I can further expand into a conversation about objects."
In this show, her piece "Orphan Rug" is based on a small, sample-sized knotted rug that was found in her mother's belongings after her death. It was woven by her grandfather, who was an Armenian refugee during the 1915 genocide. The name, "Orphan Rug," comes from a knotted carpet that was made by Armenian children in an orphanage run by the Near East Relief organization after the genocide.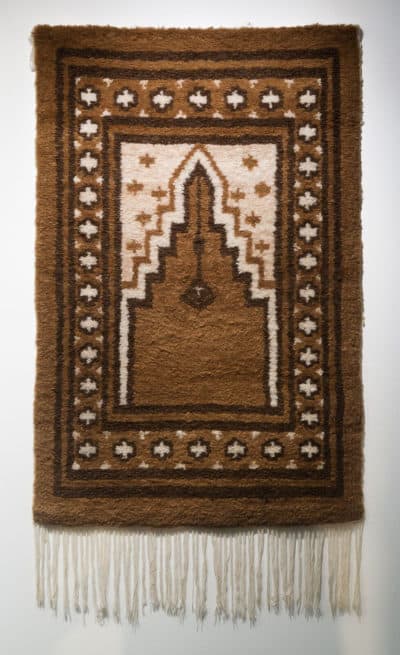 "The piece, which is a scaled-up version of the original pattern, served as a way to connect with my family's history and legacy of textile-making through the objects that have been inherited by my sister and myself," says Welty.
Rachel Cass Oswald describes herself as a maximalist fiber artist. Her fascination with fiber began with tying her own shoelaces and crafting friendship bracelets in childhood. She graduated from MassArt in 2015 with a BFA in Art Education and Fibers and now works as the Administrative Assistant in the Art Education Department while occasionally teaching workshops at Fiber Arts Boston (FABRIC). She is captivated by tapestry weaving and embroidery where she uses abstraction to touch on themes surrounding relationships, mental illness, and the odd experiences of life.
"Fiber artwork and textiles are able to activate our senses in a way that communicates memory and emotion," Oswald says. "The versatility of fiber is infinite; those who choose to work in textiles are not limited in scale, color, technique, application or utility. Fiber-based processes, like weaving, are simultaneously demanding and liberating. I found that once I gained a fluency in the process of weaving, that I was able to break certain rules in order to intentionally alter my cloth, creating unique visual effects."
In this exhibit, one of Oswald's pieces is called, "Distance Tapestry 1 and 2." The two tapestries, she says, are abstracted illustrations of emotional tension, spoken in a language of landscape, contrast, and pattern.
"The pieces are about my relationships to complex sensations such as loss, conflict, and desire. In general, my work seeks to translate negative into positive, darkness into light, trauma into joy. I'm constantly wrestling with that discomfort."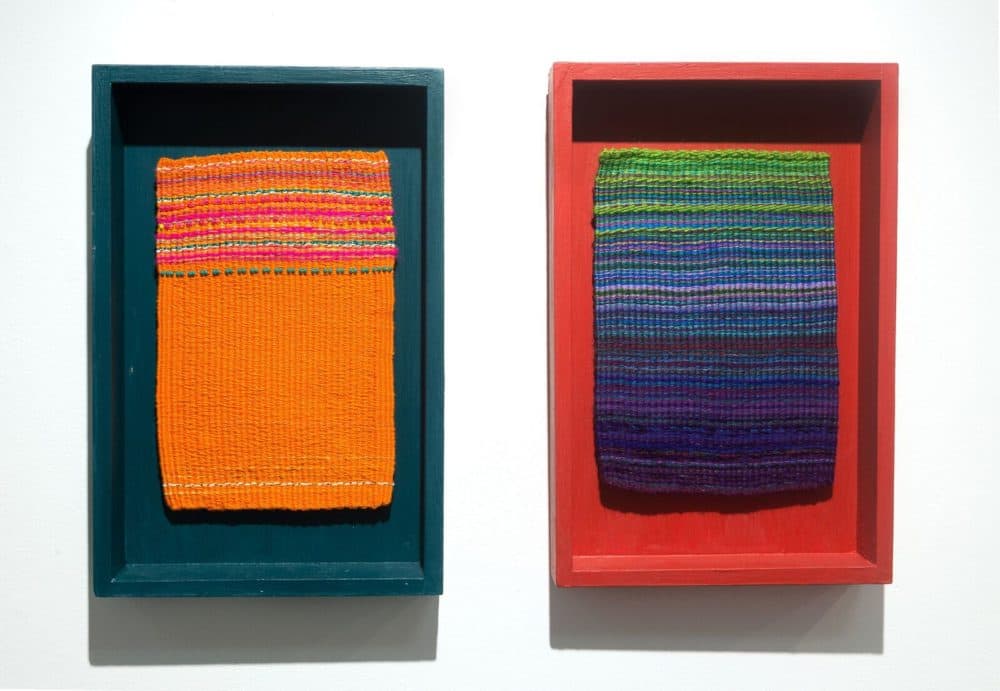 Alongside the scholarship recipients' work stands the work of Young herself. Her colorful "Butterfly" demonstrates her delight in nature. It was part of an unfinished series that included a spider, beaver and nesting birds. Her "Kuba Fetish" piece demonstrates her interest in traditional weaving and was part of her African series. Similarly, her "Roots" tapestry in the form of Africa, attests to her time spent studying on the continent, absorbing the weaving and basketry skills that would inform so much of her work. It was also a tribute to the countless Africans who were brought to the U.S. and other parts of the world as slaves.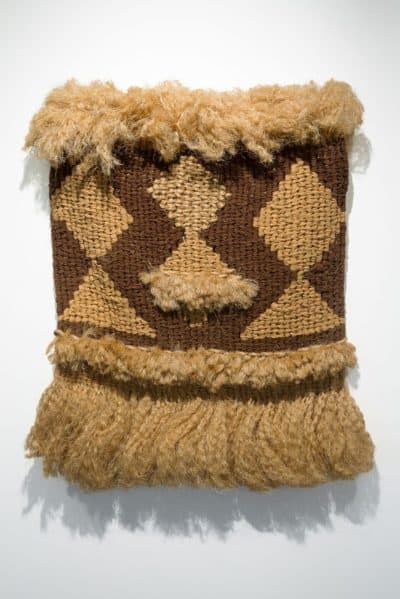 The exhibit helps to underscore the importance of the year as a turning point for the Theresa-India Young Scholarship Fund. Up until now, the Fund has scraped along year by year, trying to raise the $1,000 awarded to one upper classman in Fibers each year. The new objective is to raise at least $25,000 for an endowment which could allow the scholarship to become self-perpetuating. In addition, McRath has developed a GoFundMe page to raise money to help manage and organize Young's archives and estate which includes videos, sketchbooks tapestries and artwork that need to be framed. There is a lot to be passed on to younger artists, like Oswald.
"Theresa-India Young used her abilities as an artist and educator to connect with and understand cultures around the world," says Oswald. "Her legacy as an arts educator is substantial and is something to which I aspire."
Since receiving the scholarship, Oswald says she's discovered a number of parallels between Young and herself.
"Theresa's career as an artist also began when she was three years old, and she was also taught by her grandmother," says Oswald. "There's a also used making art as a way of working out her grief, particularly after the loss of her paternal grandmother in 1989. Even after Theresa's passing in 2008, her legacy is still inspiring young artists like myself."
---
MassArt will celebrate the renaming of the new Frances Euphemia Thompson Gallery at a dedication event on Tuesday, Sept. 25 from 6 to 7:30 p.m. The Theresa-India Young Scholarship Exhibition will be on view at the Frances Euphemia Thompson Gallery through Oct. 26. UMass Boston is also highlighting items from the Theresa-India Young collection, beginning with an opening reception on Oct. 17. 
---
Correction: A prior version of this story wrongly identified a photo of Frances Euphemia Thompson as Theresa-India Young. We regret the error.