Mass. Public Utilities Dept. Plans Evaluation Of Gas Infrastructure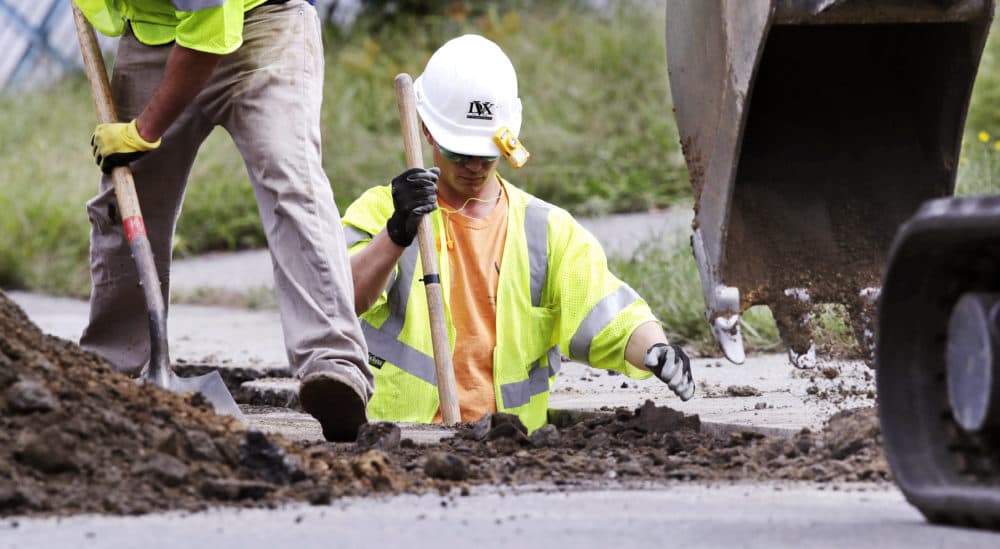 This article is more than 3 years old.
An outside evaluator will be hired to examine the safety of natural gas infrastructure across Massachusetts, an announcement the state Department of Public Utilities made two weeks after Merrimack Valley gas explosions, and as its regulators met privately with unions representing locked out gas workers to discuss safety complaints related to the on-the-job activity of their replacement workers.
The evaluator, who will be picked on an expedited basis with consultation from the federal Pipeline and Hazardous Materials Safety Administration, is going to be tasked with examining "the physical integrity and safety of the natural gas distribution system and the operation and maintenance policies and practices of all natural gas distribution companies operating within the Commonwealth," DPU said Wednesday morning.
Speaking to reporters at an MBTA event Wednesday afternoon, Gov. Charlie Baker described the evaluator's inquiry as "sort of a soup to nuts review of both current physical state of the infrastructure as well as the protocols that are being used by the companies and by DPU to oversee that physical infrastructure."
The announcement, which DPU said was being launched due to an "abundance of caution" rather than specific safety concerns, came as the Baker administration is in the early stages of a 60-day plan to restore natural gas service to Andover, North Andover, and Lawrence neighborhoods that were rocked by a series of gas-related explosions and fires on Sept. 13.
DPU Chair Angela O'Connor said the review by the independent evaluator "will further the Department's efforts by performing an additional examination of the physical condition and safety of the distribution system, as well as the operational and maintenance functions of natural gas companies." DPU said it will direct all natural gas distributions companies in the state to fund the evaluation.
DPU's move to bring in an outside expert to look at the gas distribution system came as representatives from United Steelworkers Locals 12003 and 12012, which represent about 1,250 locked-out National Grid gas workers, met with the DPU to discuss more than 100 gas safety complaints the unions have filed.
"Some of the more serious complaints are complaints that the result of what we observed, the activity or inactivity, could have led to the same type of situation that happened in the Merrimack Valley, overpressurization," USW Local 12012 President John Buonopane told the News Service after meeting privately with DPU officials. "We have numerous complaints about replacement workers either not doing what they're supposed to be doing or just not present when something's taking place that they should be present on."
On Tuesday afternoon, a public relations firm that works for the unions circulated a video that it said shows replacement gas workers watching the New England Patriots game on Sunday night at the site of what it said is a serious gas leak outside a Roxbury elementary school. Another union representative has circulated a list of 24 complaints that had been sent to DPU as of Sept. 6.
DPU has previously said that it "has multiple ongoing investigations into National Grid's alleged pipeline safety violations that stem from the complaints of Locals 12003 and 12012, as well as from other sources," but the DPU's capacity to ensure the safety of natural gas infrastructure has come under scrutiny recently with critics citing a shortage of inspectors.
Buonopane said he pushed DPU to provide "details and particulars about how they're responding to our complaints," but did not receive detailed information during the private meeting Wednesday. He said the unions plan to file Freedom of Information Act requests to obtain more information.
A spokesperson for the executive office that oversees the DPU said Wednesday afternoon that the meeting with the steelworkers' unions was held "to discuss a shared commitment to public safety and the ongoing review of gas pipeline-related safety" and touted DPU's announcement of an outside evaluator.
When asked if DPU's ongoing review had revealed any problems or concerns, the spokesperson reiterated that the review is ongoing.
On Sept. 11, Attorney General Maura Healey, citing National Grid's "troubling safety record," asked the DPU to conduct an investigation into National Grid's compliance with federal and state natural gas safety rules during the lockout. Buonopane said Wednesday that he pressed DPU to specifically investigate how National Grid has operated since it locked out workers on June 25.
"We really pushed them on the fact that we think it's important that the DPU follow through with what the attorney general requested, a complete and thorough public investigation into how National Grid is operating while they have 1,200 experienced workers locked out of their jobs — not only in regards to safety and the complaints we've made, but the levels of service," he said.
In a letter to Healey on Sept. 20, DPU said it is investigating the unions' complaints but did not directly address the attorney general's call for a National Grid-specific investigation. Healey's office took the response as a rejection of its request.
Senate President Karen Spilka, in an interview on WGBH Boston Public Radio on Wednesday, reiterated plans for oversight hearings regarding gas infrastructure safety, outlining the areas she wants to see reviewed. She did not specify a timeframe for the hearings, but said she has spoken with Sen. Michael Barrett and would like to conduct a joint hearing with the House, but is prepared to do it alone.
Spilka, an Ashland Democrat, said the hearing should focus on what happened in the Merrimack Valley and why, what role there is to play for the DPU or other state agencies to ensure safety, whether there are enough state inspectors, and what resources do impacted communities need.
"It's great they're getting space heaters, but how many fires start from space heaters as well? We don't want to continue to the tragedy," Spilka said.
Asked how she thought Baker was handling the situation in the Merrimack Valley, Spilka said, "I think overall, well. I think that there is more to be done. We need to really look at state agencies with a critical eye, what is their role and what more can we do."
State House News Service's Matt Murphy contributed reporting.
This article was originally published on September 26, 2018.