'PermaDeath,' An Opera About Playing A Video Game, Reveals Truths About How We Want To Live
The virtual world collides with the old Italian artform of opera in the latest extravaganza from White Snake Projects.
"PermaDeath," which opens this weekend at the Emerson Cutler Majestic, extends opera in multiple directions. The characters play a life-or-death video game that determines the fate of the protagonist, Sonny, who has progressively debilitating ALS. Gods and mythological personas like Apollo, Adonis, Niobe and Artemis move seamlessly throughout the plot, along with avatars and IRL characters — otherwise known as singers.
But it's not all fantasy; Sonny's real-life concerns — the physical needs, the health care expenses, the continual and gradual challenges — all of these are just as "real" as the video game itself. In fact, the final game in the opera, risking "permadeath," gets staged as a battle for her well-being.
Conceived by White Snake Projects founder Cerise Lim Jacobs, "PermaDeath" was composed by Dan Visconti. It's the latest in the annual series of productions by the company, which began with "Madame White Snake" in 2010 — an opera that won a Pulitzer Prize for Zhou Long's score. Daniela Candillari conducts "PermaDeath," and Maggie Finnegan sings the role of Sonny — the gaming champ hero of the story.
The team involved in staging is staggeringly varied. Director Sam Helfrich and dramaturg Cori Ellison are blending software developers, app designers, CGI specialists, even Faceware Singers — vocalists (Nathan Rodriguez and Jennifer Caraluzzi) whose real-time facial movements power the singing avatars that the audience will see and hear. Think computer graphics, and ventriloquism, mashed up.
Character design for avatars was done at Rhode Island School of Design, and extensive workshops were held at Boston Conservatory and New England Conservatory. Becker College students have developed apps (available on Google Play or Apple's App Store) for audiences to interact with the characters.
Visconti's work as director of Chicago's Fifth House Ensemble serves him well in "PermaDeath." That group staged the first-ever interactive video game concert, where the musicians respond to the audience's live game-play.
"I took a lot of inspiration from that experience," Visconti says. "But working with Cerise, while she's very innovative, she's also tied to the mythological past. It was her grounding in mythology that inspired me. All the video game characters are based on the Greek gods."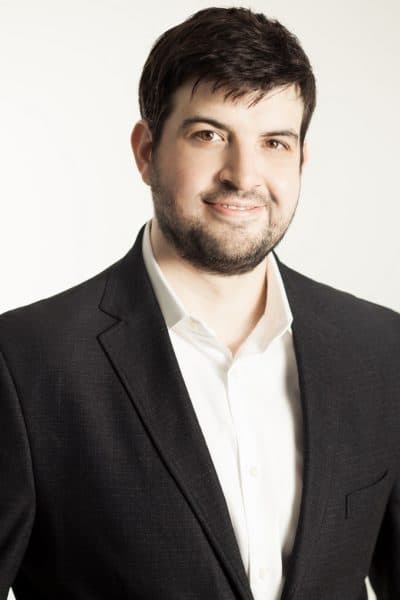 For Visconti, working on a half-virtual, half-realtime production has rewards — "a lot of people want to write on the hot topics," he says — but it's only part of the equation.
"Massively multiplayer online role-playing games, and epic fantasies — these games are some of my formative musical experiences," he says. "But all music gatherings, going back to the beginning of time, are about communal sharing. That's the challenge of virtual reality — it's very solitary. For me this opera is about connecting shiny new technology with people."
"Permadeath" features eight instruments in the pit, with some characters triggering some sounds, some instruments directly tied to the depiction of characters. "The Apollo character uses electric guitar," Visconti says, "but it's more like Hendrix than a lyre. The music has epic sweep, and lots of rhythmic vitality. I made a sound palate that comes from world music, some Middle Eastern ideas, and other sources."
But the opera does feature traditional arias — with the characters, especially Sonny, stopping the action to explore ideas in depth musically.
"Innovation not tethered to the past is not interesting," he says. "I love pausing time, for inner thoughts. I don't want to lose those things. There is a lot of continuous dialogue, but there is variation with traditional arias."
At the heart of the libretto — co-created by Jacobs and her son, video game creator Pirate Epstein — is Sonny's struggle with ALS. She uses a wheelchair. She's losing the ability to control her hands — the ultimate loss for a gamer. The story and its staging bring to the fore real-life concerns about ALS awareness, and Ron Hoffman, founder of Compassionate Care ALS, was engaged as an adviser for the creative team. Hoffman's organization counsels ALS patients in a variety of medical and life issues.
Hoffman met Jacobs in the initial phases of development for "PermaDeath." "At first Cerise sent me the manuscript, and we talked about how the characters would navigate having a neurological disease," he says.
Hoffman met with Finnegan, who plays Sonny, to provide technical counsel. The character is in the early stages of ALS.
"She still has her voice, but her legs are gone. She's in a wheelchair. But she's worried the most about her hands. That's what she does, she's a video gamer, and that's what defines her.
"She knows she's going to die, but she thinks 'When I can't use my hands anymore, I don't know if I want to be here.' That's the central theme, the red line: If I can't use my hands, I'm ready to go."
"As a culture we do not explore the end of life, and many of us aren't comfortable dealing with our own mortality."

Ron Hoffman, founder of Compassionate Care ALS
It's a situation that forms the core of Hoffman's work with Compassionate Care ALS. "The end of life piece is incredibly important. It's really no different than any other ALS patient faces, and it's what we do. Those choices — what to do when I lose this or that — we have to honor those choices. As a culture we do not explore the end of life, and many of us aren't comfortable dealing with our own mortality.
"Each of us gets to die. But you do not have to navigate the world alone," Hoffman says, "if you have no allies, you have to learn to ask. Sonny has learned to ask."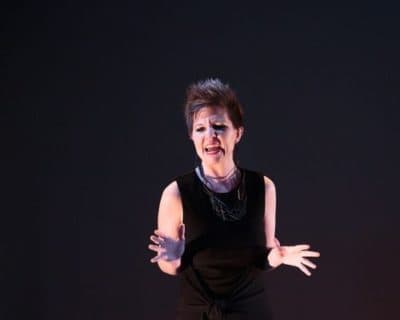 Finnegan finds Sonny's connection with her avatar Apollo to be something more than escapism. Sonny is invested in her online persona, and it pays her back.
"We see her at a pivotal point in her life," Finnegan says. "It's progressing; she shows more effects as the show goes on. Her relationship with Apollo is this part of herself that she wishes she could still be. He's a god; he can do anything. And he works to bring her out of her funk, and to help her grapple with her own mortality."
For Visconti, the relationship between Sonny and Apollo mirrors real-life concerns that ALS patients have.
"It's not with physical things — mobility, access, pain — but emotional connection," Visconti says about Sonny and Apollo. "There's a lot of isolation and frustration. Through the connection with her avatar, she imagines herself as something she is not. It's a spiritual relationship."
Hoffman also finds meaning in the Apollo/Sonny relationship, meaning that mirrors his thoughts on ALS patients and their need to seek out allies.
"There are a lot of nuggets in this opera," Hoffman says. "In Sonny's world, she has Apollo's world. Is it an illusion or a reality? I think it's something beautiful.
"We live knowing that we will die. It's a matter of what it looks like — whether we have taken care of our business. If we are willing to explore death as a rite of passage, just like when we are born — then we have created a sacred piece. It's something holy."
---
White Snake Projects presents "PermaDeath" at the Emerson Cutler Majestic from Sept. 27 through 29.