During An Overhaul In State Testing, Latest MCAS Scores Hold Steady
The latest MCAS scores show little change statewide, but they arrive at a moment of considerable change in the way Massachusetts evaluates students and schools.
Only about half of the students who took a new standardized test — the so-called "MCAS 2.0," first administered in the spring of 2017 — are "meeting or exceeding expectations." That's despite some modest improvements from last year's scores.
So far, only elementary and middle schoolers have taken that new test.
Tenth graders, for whom a satisfactory MCAS score is a graduation requirement, were still taking the "legacy" test — the roots of which trace back to 1993 — this past spring.
Ninety-one percent of those students scored "advanced" or "proficient" on the English/language arts section of the test, while 78 and 74 percent achieved one of those scores on the math and science tests, respectively. All that is closely in keeping with recent state averages.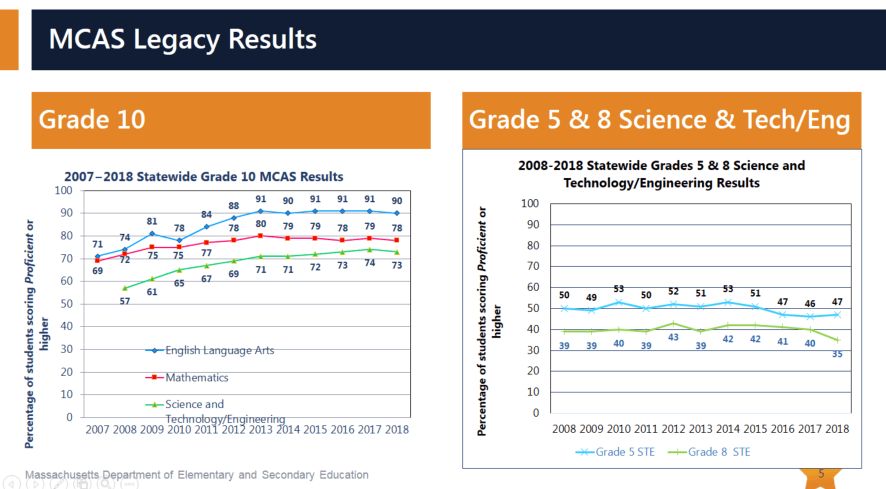 Next spring will be the first in which high school students are asked to take the new and more rigorous test, though the threshold score needed to graduate hasn't yet been set.
That double-MCAS quandary is just one sign that Massachusetts is in the middle of a complex and confusing transition when it comes to evaluating students and schools.
Under the Every Student Succeeds Act, a federal law passed in 2015, states were freed up to enact their own systems for school accountability, though annual testing and an emphasis on academic achievement are still required.
In Massachusetts, that paved the way for a new regime of singling out struggling schools for state intervention.
Officials will phase out the existing system of numbered "levels," in which Level 1 meant one of the state's top-performing schools and Level 4 meant a school targeted for state turnaround — principally on account of its low test scores.
Starting this year, Massachusetts officials will consider other factors, like a school's rate of graduation and of chronic absenteeism, in addition to test scores when they determine whether or not it is meeting state targets.
(A consortium of six school districts is currently experimenting with still-broader understandings of school quality, and state officials say they are watching those experiments.)
This new and broader view of school quality could leave some schools surprised at their classification.
For instance, the MATCH Charter School — a "Level 2" school under the old system, which meant it was meeting state standards — is now classified "in need of focused/targeted support" owing to its low graduation rate.
But the new accountability standards don't represent a seismic change of status for many schools. The latest report found that 30 schools were "in need of broad/comprehensive support" from the state under the new system — including 10 in Boston. Those 10 schools align closely with the 10 Boston schools designated as Level 4 in 2016.
There has been some turnover among the city's schools. One school — the John Winthrop Elementary School in Dorchester — exited turnaround status this year due to its improved performance and the Mattahunt Elementary School closed and reopened as an early education center. Two former Level 5 or "chronically under-performing" schools — the Paul Dever Elementary School and UP Academy Holland — are now simply designated as "in need of broad/comprehensive support," pending next year's report.
The new report found 233 schools in need of focused or targeted support, including 45 in Boston. The schools so named in Boston largely line up with the 47 schools designated as Level 3 in 2016.
But state officials warned against making any such comparisons.
Jeff Riley, the state's new commissioner of elementary and secondary education, took pains to say that these new scores — and the accountability classifications that travel with them — should be treated as a fresh start, against which schools' future performance can be judged.
Of the scores on the new MCAS test, Riley said: "That's not enough time to really establish what's happening, which is why we are treating this as a true baseline year. We're not trying to make too much judgment on it at this point."
Toward that end, Riley has decided not to designate any more schools as under-performing based on this year's data — though four schools have managed to exit "turnaround" status due to their improved performance. Alongside the Winthrop Elementary in Boston, those include the Chestnut Accelerated Middle School and Milton Bradley Elementary School in Springfield and the Elm Park Community School in Worcester.
This article was originally published on September 27, 2018.