70 Percent Of Mass. Residents Think Narcan Should Be Widely Available In Workplaces, Poll Finds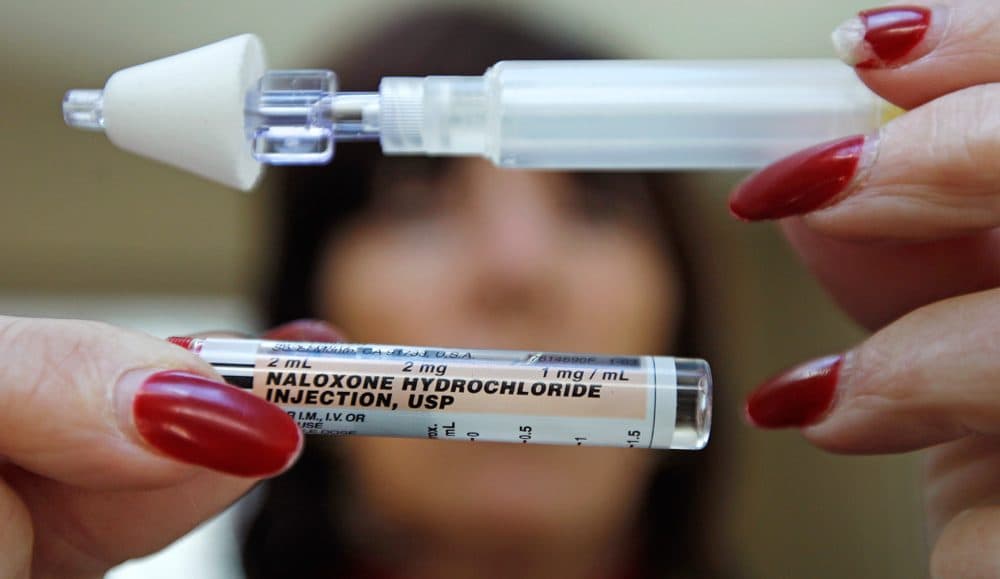 This article is more than 4 years old.
Seventy percent of Massachusetts residents believe the opioid overdose reversal drug known as Narcan should be widely available in workplaces, according to new poll results.
The poll was conducted by Anderson-Robbins Research and released by Blue Cross Blue Shield of Massachusetts Thursday.
Anderson-Robbins interviewed 507 Bay State residents in September as part of its poll, which also found that half of residents think the opioid epidemic is getting worse and four in ten respondents know someone who has overdosed.
Blue Cross Blue Shield of Massachusetts also announced an "opioid toolkit" service for its workplaces and for employer customers. Four Blue Cross customers - Shawmut Construction, New England Regional Council of Carpenters, the city of Brockton, and the town of Ware - are participating in a pilot program to test the effectiveness of the toolkit.
"The city of Brockton has been a leader in the fight against opioid overdose deaths," Brockton Mayor Bill Carpenter said in a statement. "We're on the front lines of this public health crisis and we're committed to providing the education and training needed to help stem this epidemic."
A law Gov. Charlie Baker signed on Aug. 9 seeks to expand addiction prevention measures and access to treatment.
Among other provisions, it requires doctors to check the state's prescription monitoring program when prescribing benzodiazepine, calls for the Department of Public Health to issue a standing order for the overdose-reversal drug naloxone from a pharmacy, and requires emergency departments to offer medication-assisted addiction treatment.