Street Art Moves Inside For 'Midnight Funk' At The Dorchester Art Project
They are four friends who knew each other casually through art. After a while, they began to notice that they always seemed to land in the same group shows.
"We would always be nice to each other and compliment each other," says Rixy Fernandez, a freelance art educator and muralist. "You know, Instagram emojis, just supporting one another."
Pretty soon, following each other on social media and seeing each other at shows led to conversations about their artistic vision.
"There's a lot of similarities," says Fernandez. "And we realized every time we've done events together or gone to shows, it just never exactly catered to who we are. … We just wanted full control and range in making our own show."
And now they've got that. Fernandez, Sagie Vangelina, Mattaya Fitts and Curtis Williams have come together for their very own exhibit called "Midnight Funk" which opens on Oct. 8 at the Dorchester Art Project. The show, which runs until Oct. 31, is their vision alone. For this, they didn't have to fit into some curator's box. The show includes both works on canvas as well as murals painted directly on the wall and is billed on Facebook as a collection of "dynamic visuals" from "a dope group of emerging artists" who, it is suggested, tend to work late at night, when the imagination runs most freely.
"Although our styles are different we felt there was a common thread between our works," says Williams. "When the opportunity to have a show together came, we jumped at the chance."
And what these artists, all in their 20s, have in common is clear. Here, the sensibility is "street" — they like working large in public spaces — and they present a potent blend of graffiti art, Japanese anime, mural art and plain old doodling, transformed into something more. They often work with the same bright cartoon colors and enjoy the use of a defined line. And like earlier artists who did street and cartoon art but who also attended art school (Keith Haring comes to mind), they often nod to fine art influences.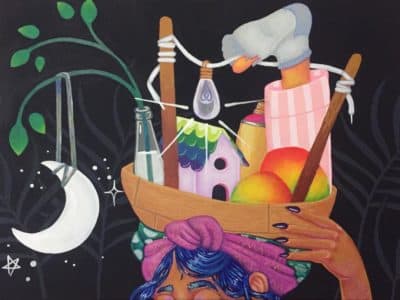 Picking up on each other's colors and styles is "something that happens when friends start to fall into each other a little bit," reflects Fernandez, especially when it comes to color. "We're just all very interested in a lot of the same things but know how to differentiate it. So even if we all did something that was green and we use the same paint, we would still be able to make it our own staple."
Other commonalities include a sense of freedom and self-expression, but also an awareness of political and social issues. In fact, all four artists were part of the "Fiesta en la Calle" mural festival at Punto Urbano Museum in Salem this summer. Punto Urbano brings art to residents of the "El Punto" neighborhood through an open air museum featuring high-impact, large-scale murals by both international and local street artists. The art is meant to inspire and beautify a section of town where residents are all-too-often left out of the conversation. And that very much reflects what this group seeks to do with their own art.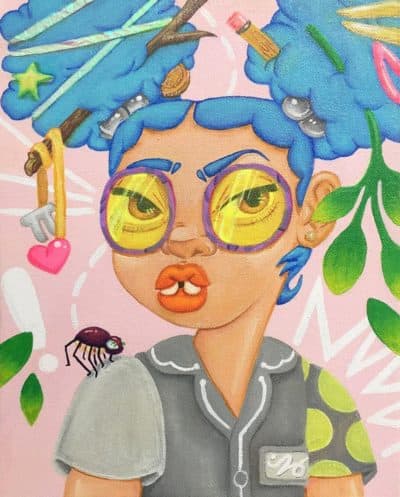 Fernandez says cartoon art and anime were a particularly big influence as a kid, and it's easy to see that in her current work. Now, just a year shy of finishing up with a degree in studio art at UMass Boston and working as an art teacher at the Brooke Charter School in Mattapan, she has seen her art expand beyond cartoon doodles to large scale murals, paintings and even sculpture. Her work almost always features women and girls who might be doing everyday things, or super human, fantasy things — such as jumping rope while simultaneously holding the jump rope with their feet.
"I really just wanted to work on creating another little world with my own characters, my own people, their own actions," she says.
The girls in her work are often a stand-in for herself.
"Or I'll try to recreate a person typically I have a personal connection with," Fernandez says. "Maybe it's like a little girl that I see in my neighborhood or I'm thinking about like my inner child self which is like the little girl with the blue hair."
Sagie Vangelina is a Rhode Island native who recently graduated from Wentworth Institute of Technology where she majored in industrial design. Her work is about "identity, love, balance and contrast" and features repetitive lines and shapes that lend her pieces almost a 1970's psychedelic feel. In fact, her work is reminiscent of album covers from that era.
"I am heavily influenced by my own life journey," she says. "As I grow and change so does my work. I embrace obstacles in my life by enhancing them in my work. From one decision or mistake, it leads to another choice and that ripple effect is what I love to show."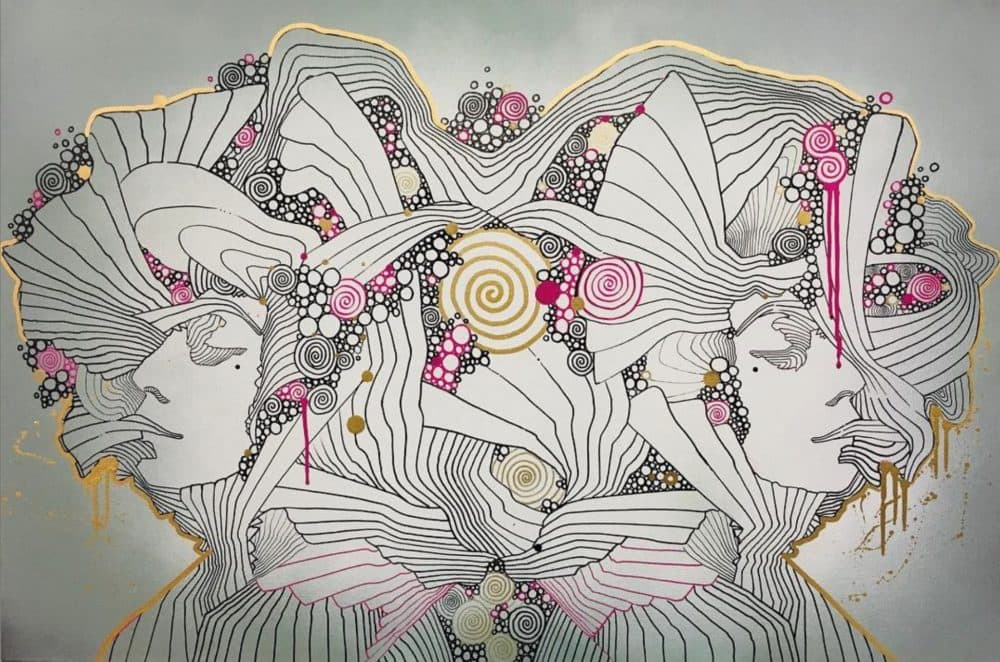 Mattaya Fitts is a graduate of MassArt. She now works in marketing and communications at a nonprofit, but still finds time to paint broad-brush muscular portraits of African-American women.
"My influences vary, but at the core of my work is always women," she says. "As a woman, it's important for me to make art from a female gaze. Lately, I've been trying to depict moments of stillness in the midst of chaos."
Currently, Fitts says she's been looking at the works of African-American artist Charles White who often painted portraits of African-American subjects, British photographer Nick Knight, American realist Edward Hopper, American portrait painter John Singer Sargent and Kenyan-born contemporary artist Wangechi Mutu.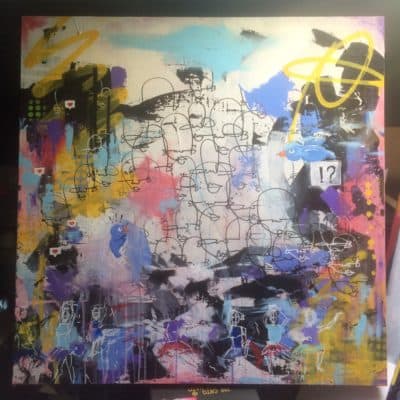 Curtis Williams, who moved to Boston from Florida four years ago for Boston's art scene, is showing ink drawings, which he says deal with "iconography and imagery from my generation." That includes, he says, social media and pop culture references, as well as drawings dealing with the age-old topic of love. On Williams' Instagram page, you will find micropen drawings of such cartoon icons as Samurai Champloo and Batman. His paintings feature elegant scrawls and graffiti imagery superimposed over, and hiding beneath, broad chunks of vivid color that bring to mind both the work of Jean-Michel Basquiat and Keith Haring. Both of those artists with graffiti roots were influenced by "fine art" painters like Cy Twombly (in Basquiat's case) and Jean Dubuffet and Pierre Alechinsky (in Haring's case). (Those "fine art" artists, it should be noted, were themselves influenced by graffiti and outsider art, so the cycle of inspiration is circular and never-ending.) Williams, however, counts contemporary counterparts such as Philadelphia artist Nosego Goodwin, California artist Greg Craola Simkins and Chicago artist Hebru Brantley as his source of inspiration.
One room at "Midnight Funk" is given over to canvases, while the other displays only murals, where Williams says the four are "essentially doing one giant piece together." The atmosphere is meant to be safe and welcoming to those who sometimes feel turned off by what can sometimes feel like the elitist snob appeal of a SOWA gallery. In fact, the gallery will host a closing night party where patrons will be free to dance surrounded by colorful murals.
"With street art you don't always know who the artist is," says Fernandez. "What I've found is that too often in art that's inside of spaces and centers and museums, they're more popular just because of the name."
At "Midnight Funk" there are no brand names and no snob appeal. It's street art, straight up.
---
"Midnight Funk" runs from Oct. 8 to Oct. 31 at the Dorchester Art Project. The (free) opening reception is on Oct. 13 from 5 to 8 p.m. A Midnight Soul Train Closing Party will be held on Oct. 27, from 9 p.m. to 3 a.m., with a $5 admission.