Terezín Music Foundation's Legacy Of Elevating Musical Voices From Holocaust Continues In Spirit With Afghani Composer
Almost three decades ago, Mark Ludwig, a violist in the Boston Symphony Orchestra, founded the Terezín Music Foundation to preserve the music written by the composers who were held in a Nazi concentration camp.
Composers like Hans Krása, Viktor Ullmann and Gideon Klein were all held at the Theresienstadt (Terezín) concentration camp during World War II and were later transported and murdered at Auschwitz.
In 27 years, the foundation has grown significantly, preserving, recording and performing the music of these mid-century musical voices who perished during World War II.
But Ludwig still felt the mission of the foundation was incomplete. "We want to preserve the past, but also to show how it does connect in our world today — how these things resonate in the contemporary context."
He soon began commissioning living composers to add to the foundation's legacy, without directing the themes of the work. "I never ask someone to write a piece related to the Holocaust. It's always something where they believe in their own voice," he says.
One new voice that forms part of Ludwig's vision belongs to 23-year-old Afghani composer Milad Yousufi. His "Refuge," is said to be the first classical string quartet ever written by an Afghani composer and will be part of the TMF's annual concert at Symphony Hall on Oct. 8.
Yousufi's story is one of both natural talent and tenacity.
Now living in New York City and studying at the Mannes College of Music, Yousufi did everything he could to learn about classical music in his native country — where the Taliban officially banned music from 1996 to 2001 and unofficially in intermediate periods throughout Yousufi's life.
Born in 1995 during the civil war in Afghanistan, Yousufi didn't have a piano — "so I drew one on a piece of paper, and pretended to practice," he says. Without access to performances or recordings, he took inspiration where he could find it. "The first classical piece I ever played was 'Für Elise' by Beethoven," he says. "I heard it on an ice cream truck, and I played it from memory."
When Taliban rule was lifted for a short time, he studied at Kabul's one music school — "I was 12," he says, "and when I enrolled we had one piano, with fifty students." He still was able to study enough to win a piano competition in Germany. He traveled some more. "I was thirsty to learn, and I got to travel in Europe, for music purposes," he says.
He eventually taught briefly at the Afghanistan National Institute of Music, and served as conductor and pianist with the Afghan Youth Orchestra. The ensemble traveled to the United States, first in 2013, and returned several times. But during a visit in 2016 "my friends and family told me I couldn't go back. They told me that I had to stay to survive. I had nothing but a backpack."
He's been here since. He enrolled at Mannes, studying with American pianist Simone Dinnerstein and working with ethnomusicologists on an ambitious project — a 12-volume study of Afghani folk music.
"I'm ready to publish the first volume," he says. "It's about 300 pages. We don't have any notation system, so I had to adapt the western style to notate the quarter notes and slides."
Yousufi's "Refuge," written in one continuous movement, will be performed at the symphony hall concert by members of the Boston Symphony Orchestra.
"It's the first classical quartet in the history of Afghanistan," he says. "It's inspired by Afghan style, but the influence is also western." Shaped by Indian musicians who were once invited to palaces, Afghan music prominently features ragas.  Yousufi's quartet is also laced with ancient Greek modes.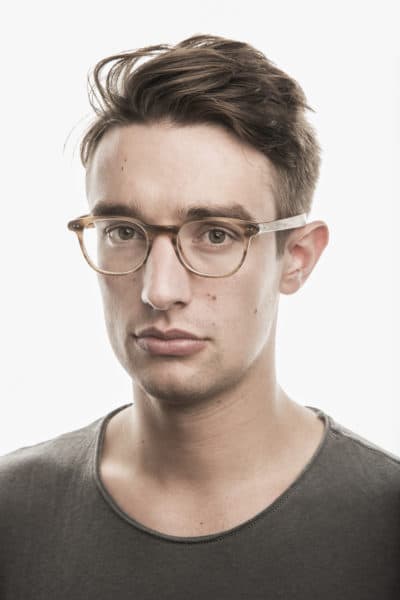 Dinnerstein plays a major part in the rest of the TMF's Symphony Hall program. Along with works by Satie, Glass and Schubert, she premieres composer Ellis Ludwig-Leone's "Sanctuary," inspired by paintings by his own parents, and by Dinnerstein's father as well. Ludwig-Leone, who is Mark Ludwig's cousin, was hesitant of the commission at first, but was convinced when he saw a painting of Simone as a child. "What really struck me was one painting, 'Gregory's Party,' done about 30 years ago. It's of Simone, she's five or six, in a white room surrounded by toys, in the middle of a doll tea party. It was very directly about immediate family. That helped me focus."
For Mark Ludwig, the two young composers are the future face of the Terezín Music Foundation, which he sees as a metaphorical sanctuary for the creation of new work. "Commissioning works extends the legacy of Terezín," he says. "We have more than 30 commissions now, and that is the direction we are committed to, moving forward."
"What does sanctuary mean in our country?" Ludwig asks, thinking about his commissions. "In this country, we are dealing with this in our own context. So is the rest of the world. As to this whole wave of xenophobic thought—well, the music will speak for itself."
---
The Terezín Music Foundation presents "Sanctuary," with pianist Simone Dinnerstein performing works of Milad Yousufi, Ellis Ludwig-Leone, Erik Satie and others on Oct. 8 at Symphony Hall. For tickets and information visit www.tmfgala.org or call 857-222-8263.