Baker Against Ballot Question To Boost Nursing Staffing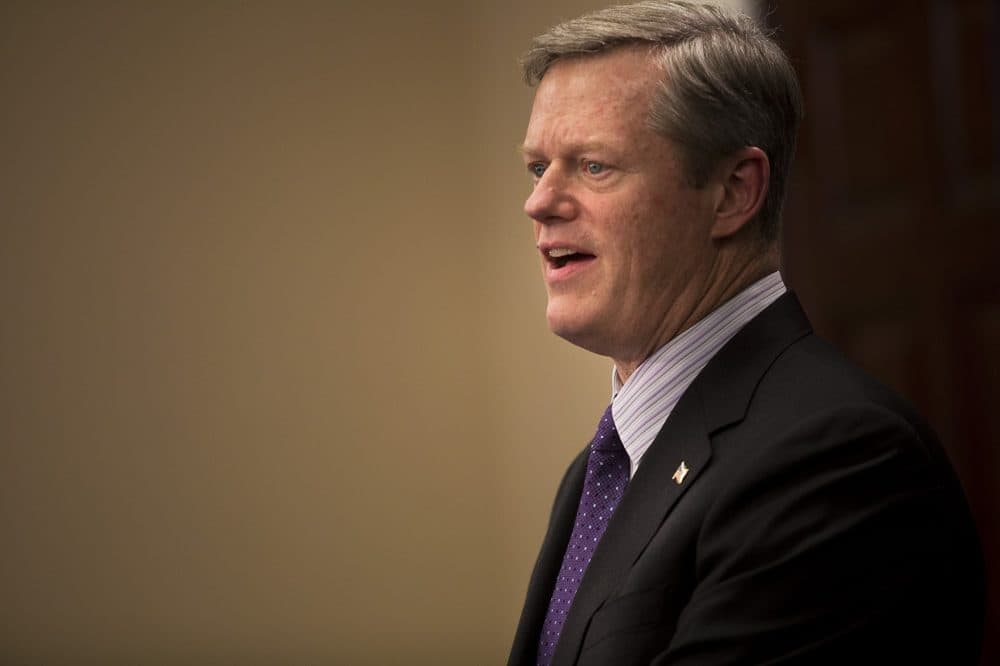 This article is more than 4 years old.
Gov. Charlie Baker weighed in Wednesday on one of this year's most contentious election issues, indicating that he planned to vote against a ballot question that would set minimum nurse to patient staffing ratios.
The governor had been waiting to see the results of a report produced last week by the Health Policy Commission, which he said he read over the weekend.
"Based on the results of that report, I'm going to vote no on Question 1. I'm going to vote no because the Health Policy Commission report raised three issues that I was, frankly, not aware of," Baker told reporters at an unrelated event downtown on Wednesday afternoon.
The Health Policy Commission analysis estimated that implementing the nurse to patient staffing ratios called for in the ballot question would cost the health care system between between $676 million and $949 million and would require 2,286 to 3,101 additional full-time nurses to be hired.
In addition to cost, Baker said that he had been unaware "that Massachusetts has a higher nurse-to-patient staffing ratio already than the state of California does," where a similar law was put into place.
Finally, Baker said he was concerned that "many community hospitals and some nursing homes and even some rehab hospitals would have their operational future put in jeopardy if that law were to pass."
"Many of these community hospitals are critical care access providers in their districts," Baker said.
Supporters of Question 1 say it would improve patient care and reduce medical errors, assert that hospitals can afford to invest in more nurses, and claim that opponents have used scare tactics to stir up opposition to the proposal.
"It is incredibly disappointing – but not surprising – to see Gov. Baker make a decision to oppose Question 1 based on a flawed, one-sided report by the Health Policy Commission. But moreover, his concern about community hospitals and services for our most vulnerable is disingenuous, recognizing that during his tenure, nearly a dozen programs have closed," said Kate Norton, a spokeswoman for the Committee to Ensure Safe Patient Care, which is the group behind Question 1.
Norton cited the closure of hospital units in places like Leominster, and also said the claims about current nurse staffing in Massachusetts as compared to California are "100 percent inaccurate."
"Hospital executives have been consolidating power and profits for years under the watchful eye of the Baker administration and the HPC. This profit-driven industry and the executives behind Question 1 continue to make decisions in the interest of their bottom line, and not in the interest of the patients," Norton said.
Baker's opponent, Democrat Jay Gonzalez, supports Question 1. According to his campaign manager, Kevin Ready, Gonzalez addressed the initiative last year as it was in its early stages.
"We need to ensure that there isn't cost cutting going on that is compromising the health and safety of patients. I do think this is a worthwhile issue," Gonzalez said at a campaign event last year in Pittsfield.
Both Gonzalez and Baker are former insurance executives. The trade group that represents insurers in Massachusetts is opposing Question 1.
In late September, the governor visited Harrington Hospital in Southbridge where he helped break ground on Harrington HealthCare System's emergency department. Baker said that Harrington, for dozens of communities in that region of the state, is the primary, emergency, mental health and substance abuse care provider.
"They said to me they would have a heck of time, that they did not believe they probably could implement the law if it were to pass as written which sort of set off an alarm bell for me," Baker said.
New polling released on Wednesday showed that support for Question 1 might be starting to erode.
The UMass Lowell/Boston Globe poll conducted last week found 51 percent of likely voters opposed nurse staffing requirements as outlined in Question 1, while 43 percent support the measure. Past surveys have found the question to be a toss up, or a slight advantage for the proponents of the ballot measure.