Tsarnaev's Handwritten Hospital Interrogation Answers Revealed In New Court Filings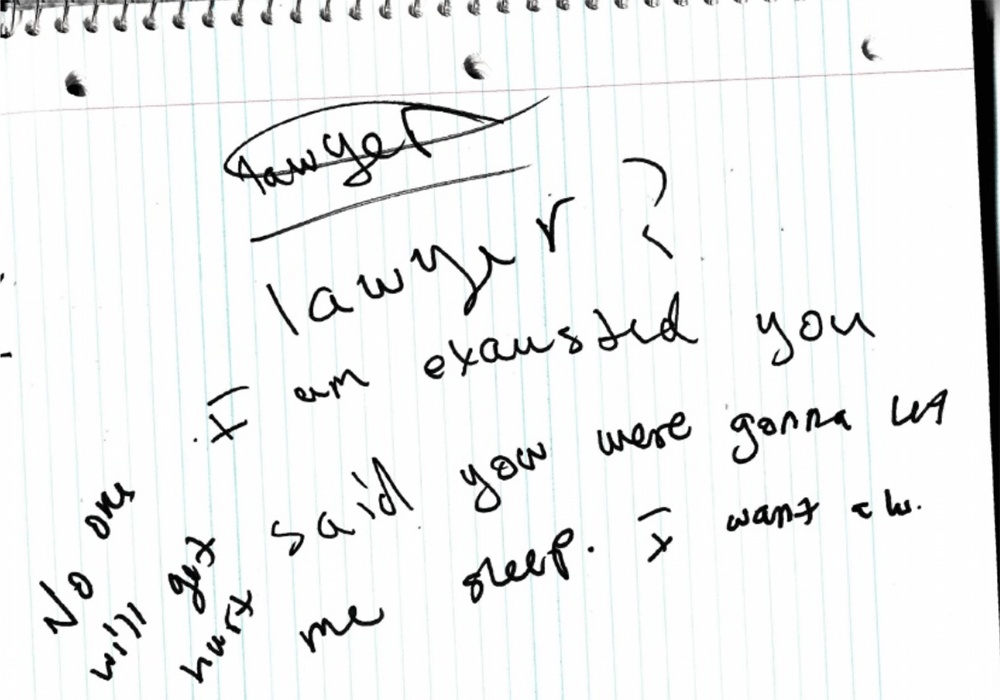 This article is more than 4 years old.
A trove of documents filed in federal court as part of Boston Marathon bomber Dzhokhar Tsarnaev's appeal includes 79 pages of handwritten notes a grievously wounded Tsarnaev wrote as he was interrogated by federal agents after his capture.
Before Tsarnaev was convicted and sentenced to death, his trial attorneys in 2014 sought to suppress the statements he made to federal agents while he was in the hospital. At the time, he was suffering from gunshot wounds — including to his head, face and throat — and was unable to talk, his lawyers wrote, because of a tracheotomy.
Tsarnaev, then 19, and his older brother, Tamerlan, placed two bombs at the finish line of the 2013 Boston Marathon. They walked away before the bombs went off, killing three and injuring scores more. Days later, on April 18, they killed MIT police officer Sean Collier and engaged in a shootout with police in Watertown that led to Tamerlan's death. Dzhokhar was found in a boat in a Watertown backyard the next day, April 19.
Agents began questioning Tsarnaev in his hospital room at Beth Israel Deaconess Medical Center on April 20. He was charged with the bombing on April 22.
The newly released records show Tsarnaev's scrawl on a spiral-bound notebook, but not the agents' questions.
He repeatedly asks to rest, and for a lawyer. At one point he wrote, "I am tired. Leave me alone. I want a l," before his pen stops. "Listen buddy I know my rights no one is at risk," he writes later.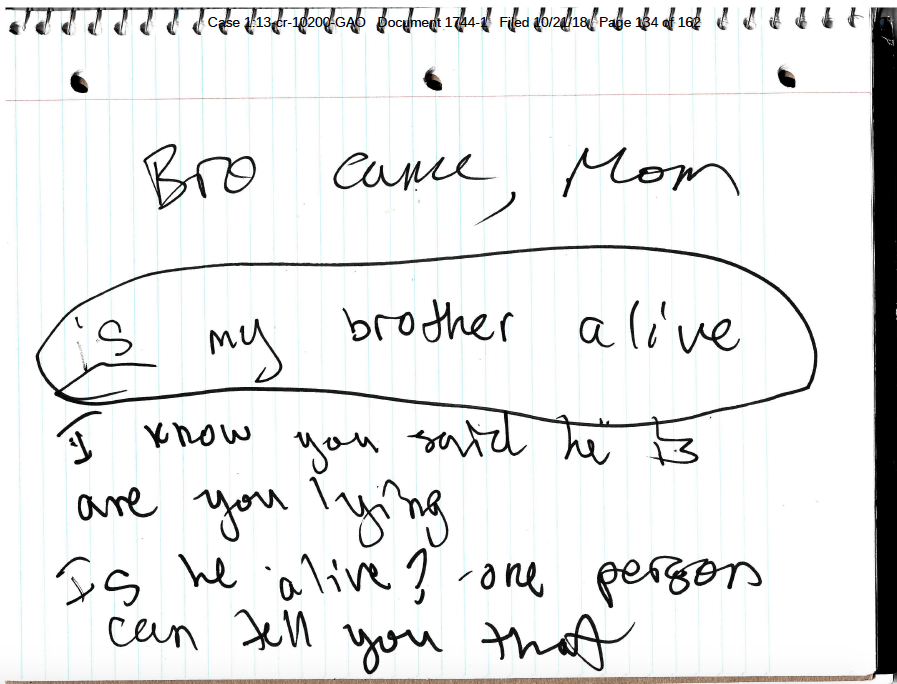 Tsarnaev writes that nobody is at risk. "No bombs," and "No one will die."
He asks repeatedly about his brother, writing at times, "Where is my bro?" and, "do you have my bro?" He wrote, and circled, "Is my brother alive?"
Tsarnaev writes that "Were [sic] at war my friend" and later wrote about the American presence in Afghanistan and Iraq.
Tsarnaev, now 25, was sentenced to death in 2015 and is now at the federal supermax prison in Florence, Colorado.
Read the notes here: