How Striking Hotel Workers Are Getting By, Without Paychecks
03:55
Play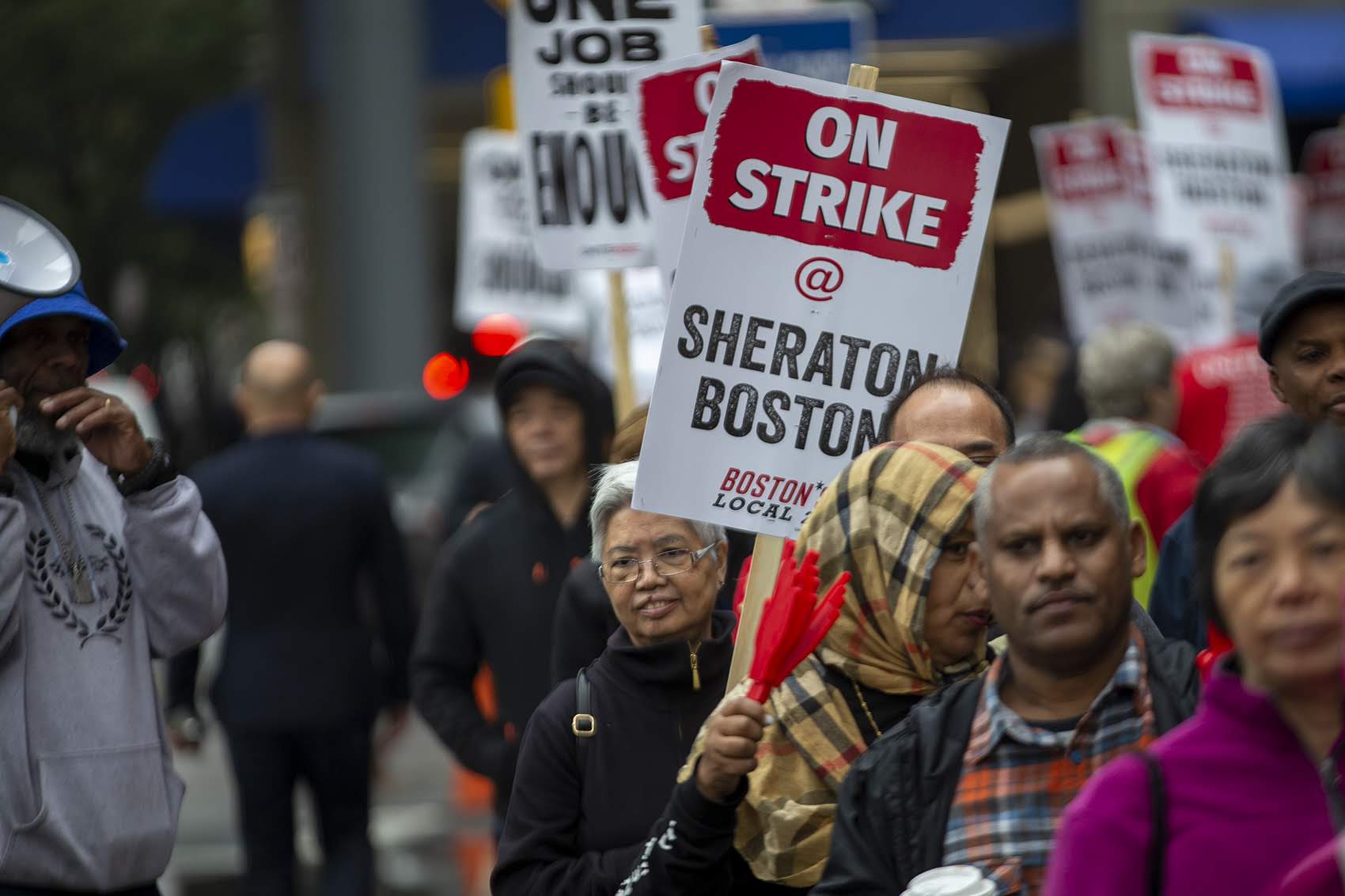 This article is more than 2 years old.
Union workers at seven Marriott hotels in Boston have been on strike for almost four weeks. Now their monthly bills are coming due.
Many of these housekeepers, cooks and other striking workers have a hard time making ends meet, even when they are on the job. That's why they went on strike in the first place.
Getting by without paychecks is an extra challenge.
"We are struggling with the bills," said Sorinelda Pabon, 56, a housekeeper at the Westin Boston Waterfront. "We don't have even money for food, to pay my bills, to pay my rent, to do nothing."
Day after day, Pabon leads coworkers in a rhythmic march outside her workplace. She's picketing for a new contract with higher pay, expanded health care coverage and added job security.
Like many of the 1,500 local Marriott employees who walked off the job earlier this month, Pabon has applied for unemployment insurance. But she isn't receiving benefits yet — and might not ever. Participating in a strike can disqualify workers from unemployment assistance.
Members of Unite Here Local 26 aren't waiting to find out if they're eligible. They're looking for help elsewhere.
"It's hard, but thankfully my husband is working, and also the people from the union help us a lot," housekeeper Rosa Martinez, 38, said in Spanish, translated by union organizer Rachel Kleinbaum.
Outside donations — totaling about $80,000 — funded a recent grocery drive. Years of union dues have built up a bank of money that is now available to workers who picket at least 20 hours a week. The union's executive committee recently voted to raise the weekly stipend from $300 to $400.
It helps, but it's still not enough to cover the average rent in Greater Boston, which is more than $2,300 per month.
Gustavo Rosario, a senior cook at the Element Boston Seaport District and a father of three, said he's explained the strike situation to his landlord.
"This first month, he's going to work with me," Rosario said. "But moving into the next month, we need to come up with something."
That might mean taking a temporary job for the holiday season.
At 38, Rosario said he could carry the load of another job while also hitting the 20 hours of picketing he needs to collect the union stipend.
It's a different story for 71-year-old Mei Leung, a housekeeper at the Sheraton Boston.
"No, no, no, I'm so old," she said. "Cannot do two jobs. In my life, it's very hard to control the bills."
Leung nevertheless calls herself "lucky." She has an adult son who helps support her.
Beyond family assistance, donations and stipends, workers are getting creative, said union treasurer Carlos Aramayo.
"I know there's been a lot of informal banding together of folks who are on the picket lines," he said. "People know each other because they work together every day, and they're friends with each other, and they really want to care for each other."
A prime example is Joey Brandao. He's a cook at Aloft Boston Seaport District, but during the strike, he's become an unofficial social worker. Many of his colleagues speak English as a second language. He helps them fill out paperwork for things like food stamps and utility discounts.
"Typically, I'll spend about 20 minutes, 30 minutes counseling them," said Brandao, 25. "I have my personal laptop, and I'll have the union computer in front of me. I'll do two applications at one time."
Marriott declined an interview request, saying, "We do not negotiate in the press." The company added that all of its hotels — including those in cities such as Detroit and San Francisco, where workers are also striking — remain open.
This segment aired on October 29, 2018.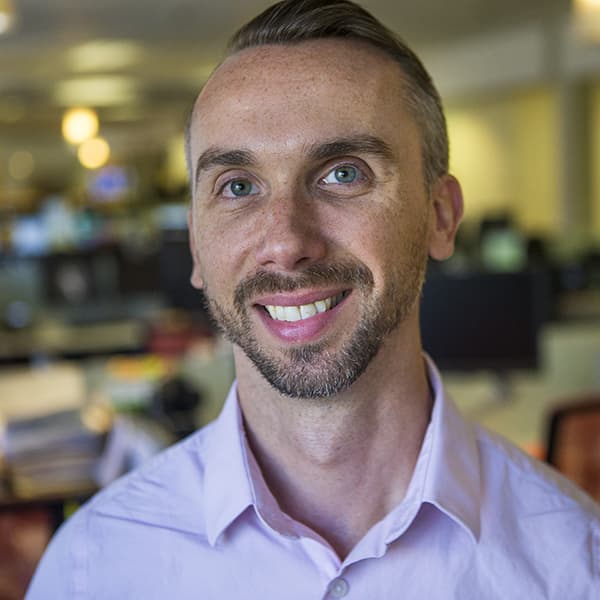 Callum Borchers Reporter
Callum covers the Greater Boston business community for Bostonomix.