Athletes With Disabilities Share Mixed Feelings After Nike Signs Runner With Cerebral Palsy
Resume
Nike has enjoyed positive press coverage this month for signing a University of Oregon runner named Justin Gallegos to an endorsement contract. Gallegos has cerebral palsy.
Nike brought a film crew to capture the emotional moment when a company executive surprised Gallegos with the contract at the end of a cross country race.
Footage aired on "NBC Nightly News," was posted online by Sports Illustrated, and quickly racked up views on YouTube, where commenters said they were moved to tears.
But some local athletes with disabilities have mixed feelings about the deal and the way it was marketed.
The Nike video shows Gallegos crying tears of joy. At one point, the company exec tells him, "In our eyes, you're just a Nike athlete" -- like Serena Williams, LeBron James or Colin Kaepernick.
Yet something seems a little off to Johanna Beyer.
"Yeah, while I was watching it, I was like, 'Wait, where does he get to read it or decide if he actually wants that contract or not?' " said Beyer, a postdoctoral fellow at Harvard University who lost her right leg to bone cancer more than a decade ago.
Competing for her native Austria this summer, Beyer won a silver medal in an event for athletes with disabilities at the World Rowing Championships.
We met for breakfast with other athletes and coaches on one of the final days of practice before this year's Head of the Charles Regatta. The event included dozens of competitors with disabilities.
Full disclosure: I have cerebral palsy and trained as a rower with some of these interview subjects in the past.
They said they're happy for Gallegos and glad to see Nike recognize his running accomplishments. But they're a little uncomfortable with the company's approach.
"Man, that's great, but is it a real contract? Is it tokenism?" said Ellen Minzner, who coached a U.S. crew that won silver at the 2016 Paralympics. She said Gallegos "wasn't treated like an adult."
"I can't say that I have seen an open athlete presented a contract for any type of organization in that manner before," added Jenny Sichel, the coxswain in Minzner's boat. "If somebody presented me with a contract, I would react the same way [as Gallegos]. But if I sat down and negotiated a contract, I would be more like, 'OK, you want me; I want you. Let's see what we can figure out.' "
To Beyer, Minzner and Sichel, the Nike contract looked more like a donation than a business transaction. Gallegos signed on the spot. He told WBUR there was no negotiation and said he can't reveal what he'll be paid — or even if he'll be paid — beyond free Nike gear.
Gallegos did say he is satisfied with the deal.
"Me signing and that moment occurring in front of my own teammates — it was a very emotional moment," he said. "It was very fun, and I'm actually very happy [with] the way it played out."
Nike declined repeated interview requests.
Gallegos and Nike have had a relationship for a couple of years. The company helped launch the crowdfunding campaign that covers part of his tuition at the University of Oregon, Nike founder Phil Knight's alma mater and a popular training ground for elite runners.
Gallegos has helped test and promote Nike's FlyEase running shoe, which features a zipper on the heel for easy on and off. The shoe isn't only for people with disabilities, but it's a nifty adaptation for someone with cerebral palsy, which can impair coordination, flexibility and strength.
"Nike has been great supporters of the disability community," said Rinat Kisin, a program coordinator at Link 20, a Newton-based advocacy group for people with disabilities.
In a letter to Nike, Link 20 commended the company for signing Gallegos and developing the FlyEase shoe.
But the group also criticized the marketing video that featured Gallegos, saying its language carried the "unfortunate connotation that people with disabilities should be viewed as a matter of charity."
"It's literally the first sentence that you see that says, 'This is Justin, and Justin suffers from cerebral palsy,' " Kisin said. "And to me, that was like, 'This is wrong.' "
Gallegos later wrote on Instagram that he does not "suffer" from CP.
"And I do agree that the wording needs to be changed and needs to be better," he added in an interview. "But the guys who made this — they made it with the very best of intentions."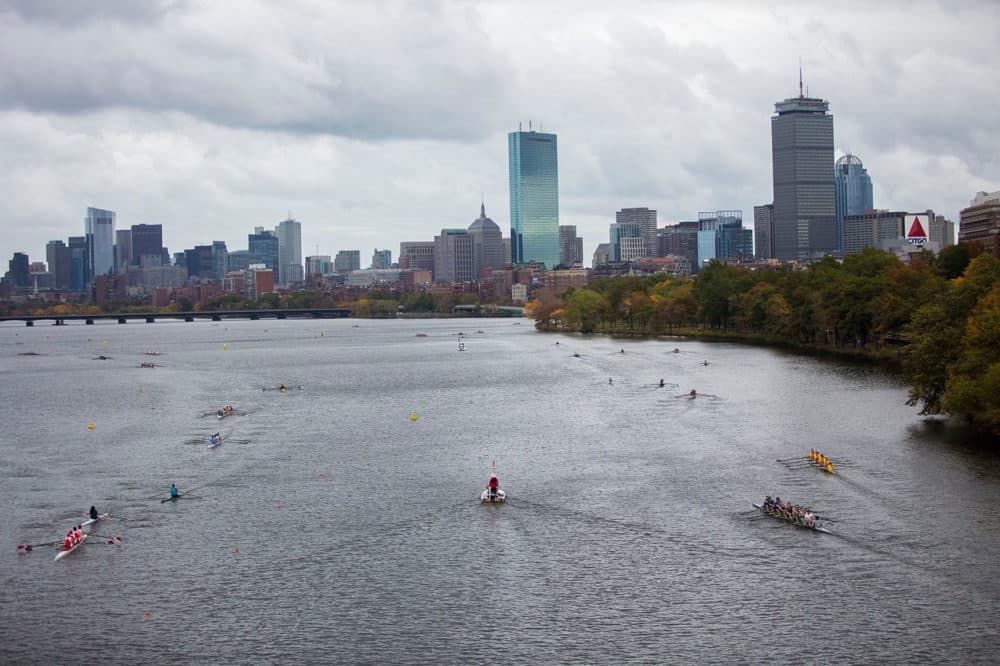 Paralympic silver medalist Danielle Hansen raised another issue when we met along the Head of the Charles race course.
"I have yet to see a video that includes a disabled athlete that is not using sad music that people are supposed to cry over," she said. "I want to see something that's empowering the disabled community and that's not pitying us or making us seem like a charity case."
Hansen has Erb's palsy. She and a crew of seven other rowers — all with disabilities — beat 32 able-bodied teams en route to a fifth-place finish in their Head of the Charles event.
On the subject of race results, let's address a question that may be on your mind: Is Gallegos actually a high-level athlete or just a nice guy who tries hard?
Consider this: 2,480 people ran the Eugene Half Marathon in April. Gallegos beat 60 percent of them. He finished in 2 hours, 3 minutes and 49 seconds.
As someone with the same diagnosis as Gallegos, I can tell you that's a remarkable, cardiovascular feat.
Andy Wigren, a financial analyst at Fidelity and a below-the-knee amputee, said well-meaning people can come off as condescending when they don't realize how athletic someone with a disability really is.
"There was a 5k that I ran earlier this year and, before the race, somebody came up to me and said, 'Oh, my God, you're so inspiring. It's amazing that you do this,' " Wigren recalled. "So the first thing I did is said, 'There is no way you're going to beat me in this race.' ... This was in my mind. I stayed with him the entire way and blew by him in the last quarter mile and [set a personal record.] He fired me up."
Some athletes with disabilities are hoping Gallegos's future work with Nike showcases more fire — and fewer tears.
This segment aired on October 30, 2018.